Destination weddings have become increasingly popular in recent years, offering couples a unique and memorable way to celebrate their love but however, as this trend continues to grow, it raises a question that many may hesitate to ask: Are destination weddings considered rude?
So, let's embark on this journey to unravel the truth behind destination weddings and whether they are perceived as rude or not.
Are Destination Weddings Really Rude? The Truth About Etiquette
Photo: Canva
While destination weddings are not inherently rude, they do require some extra consideration for your guests. Here are a few tips to ensure your exotic nuptials are as thoughtful as they are glamorous:
Give guests ample notice – 1 year is ideal. This allows time for travel planning and budgeting.
Understand that not everyone can make it. Don't take it personally if some decline.
Offer to help cover big costs like flights or hotel rooms for a very close family/bridal party.
Choose a location central to where most guests live. Avoid far-flung places.
Provide detailed travel information to make logistics smooth for attendees.
With some mindfulness around guest convenience and comfort, it's completely possible to have a destination wedding that feels special rather than alienating. Focus on celebrating your love with those who can make it, and find other ways to include those who can't. Bon voyage!
Common Misconceptions About Destination Weddings
Despite their rising popularity, there are still some common misconceptions about destination weddings. Here are a few things that are simply not true:
Myth: They are only for eloping couples – Destination weddings can be any size, from intimate to grand affairs.
Myth: It's inappropriate to have one – If done considerately, they are perfectly acceptable.
Myth: They are selfish – Focusing on what will make you happiest on your big day isn't selfish.
Myth: Guests won't have fun – Provide group activities and guests will have a blast.
Myth: They are impossible to plan – Hire a travel agent or wedding planner for smooth sailing.
The truth is destination weddings are a great way to combine a vacation with a wedding. With thoughtful planning and understanding of guest constraints, they can be pulled off wonderfully.
How to Have a Destination Wedding Without Offending Guests
Having a destination wedding doesn't have to be rude if you're considerate of your guests. Here are some tips:
Give plenty of advance notice – 1 year or more if possible, so guests can save up and request time off work.
Be flexible with dates – Avoid holiday weekends, school breaks, or important events that could conflict.
Provide group transportation and lodging discounts – This makes the trip more affordable and convenient.
Understand who may not be able to come – Don't take it personally if some can't make it due to health, budget, or family reasons.
Offer virtual attendance options – Live stream or provide photos/videos to include those who couldn't attend.
Keep events simple and relaxed – Don't cram the itinerary so people have time to enjoy the destination.
With some care taken to accommodate guests, a destination wedding can be a wonderful shared experience instead of a burden.
Tips for Making Destination Weddings Accommodating for Guests
Hosting a destination wedding comes with the responsibility of ensuring guests can comfortably attend. Here are some additional tips to make the experience smooth for your loved ones:
Research group rates and blocks at nearby hotels. This simplifies booking and you may get discounts.
Provide a recommended packing list based on weather, activities, and formality. This prevents guests from under or over-packing.
Have events at guest-friendly times. Avoid excessively early mornings or late nights when jet lag may be an issue.
Plan some optional activities together. This could include group tours, spa visits, or restaurant reservations.
Print out helpful travel information. Share transportation schedules, contact numbers, maps, and local recommendations.
Follow up post-wedding with photos and thanks. Show appreciation for those who made the journey.
By putting yourself in your guests' shoes, you can make destination weddings as special for them as they are for you.
Budget-Friendly Ways to Host a Destination Wedding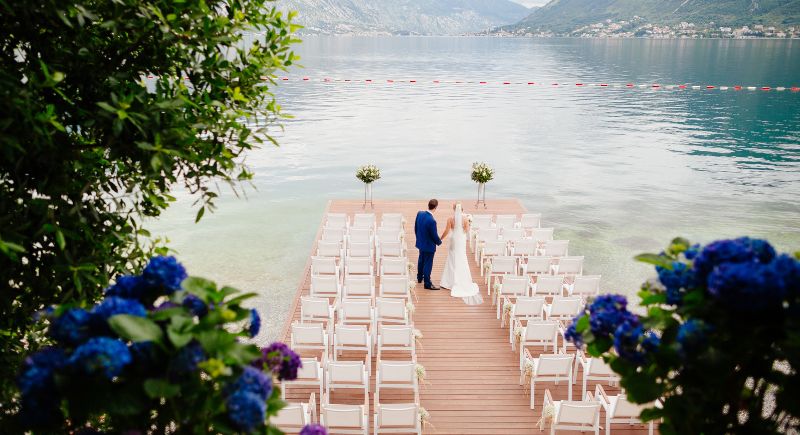 Photo: Canva
Destination weddings can be affordable with some creative planning. Here are tips to keep costs down while still having your dream event:
Travel during the off-season when rates are lower.
Opt for a less expensive destination like Mexico or the Caribbean.
Negotiate group rates with vendors by booking multiple services.
Simplify decor by using local flowers and linens.
Have the ceremony and reception at the same venue.
Consider brunch or cocktail receptions instead of plated dinners.
Provide welcome bags with local snacks and coupons rather than costly swag.
Create online invitations and wedding websites to save on printing.
Offer affordable shuttle services between the hotel and venue.
With strategic planning, you can have an intimate destination wedding within budget. Focus on bringing your closest family and friends together in a beautiful place, and don't sweat the small stuff.
How to Announce Your Destination Wedding Tactfully
Sharing your destination wedding plans requires sensitivity to your guests' budgets and schedules. Here are some tips for announcing your plans tactfully:
Give plenty of advance notice – ideally 6 months to a year – so guests can save and request time off work.
Be transparent about expected costs for travel and lodging. Provide estimated group rates if available.
Note that attendance is optional and no gifts are required. This alleviates pressure on guests.
Set up a wedding website with all the venue, travel, and accommodation details in one place.
Offer to help coordinate group flights or book blocks of hotel rooms at discounted rates.
Suggest vacation time add-ons so guests can make a whole trip out of it.
Express your understanding if some guests are unable to make it due to circumstances.
With open communication and empathy for guests' situations, you can announce your destination wedding plans while preserving relationships. The important thing is sharing your special day with those who can make it, not making demands.
Appropriate Destination Wedding Invitations and Wording
Destination wedding invites require thoughtful wording to set expectations. Here are some tips:
Note the location upfront: "Join us in Cancun, Mexico to celebrate our wedding!"
Include accommodation details: "Rooms have been reserved at the Sunset Resort."
List any group travel you've arranged: "We have a group flight departing on Friday."
Be clear if ceremony and reception are separate: "Ceremony at Beach Chapel, reception to follow at the Cliffside Restaurant."
Mention attire: "Formal resortwear requested."
Provide a website link with all relevant trip details.
Add an RSVP by date so you can finalize numbers.
When addressing the invite, only list those specifically invited, not "and guest" which can be unclear. On your RSVP card, do offer an option for guests to include names of those attending.
With a destination wedding, be upfront about the location and trip expectations. This allows guests to make informed decisions about their attendance and plans.
Creative Ideas for Destination Wedding Guest Gifts
Photo: Canva
Showing appreciation for those who travel to your destination wedding is a thoughtful gesture. Consider these creative guest gift ideas:
Welcome bags with sunscreen, sunglasses, beach towels, water bottles, and hangover kits
Monogrammed straw hats, koozies, or reusable water bottles
Local snacks and treats like chocolates, cookies, or jerky
Custom flip flops with the wedding date and location
Beach bags or totes filled with magazines, books, and puzzles
Tourist guidebooks highlighting top attractions and restaurants
Handwritten notes thanking each guest for making the trip
Photo frames with a printed picture of the couple and space for a wedding photo
Candles, lip balm, lotion, or other small pampering items
No matter what you choose, opt for useful items your guests can enjoy during the wedding festivities or bring home as a lasting memory. Prioritize convenience, comfort, and portability when selecting destination wedding guest gifts.
How to Politely Decline a Destination Wedding Invite
Declining a destination wedding invitation can feel awkward, but a gracious "no" is better than not responding. Here are some tips for politely declining:
Thank the couple for including you. Express how honored you feel to be invited. This shows you care about their big day.
Give a reason if you feel comfortable. For example, "As much as I'd love to celebrate with you, finances are tight right now." Or, "My work schedule won't allow me to get away at that time."
Keep it short. There's no need for a lengthy explanation. A few sentences politely declining is sufficient.
Offer congratulations and well wishes. Let them know you'll be celebrating from afar and thinking of them on their special day.
Consider sending a gift. If within your means, you may want to send the couple a small token of congratulations.
Follow up if you can make it after declining. If your situation changes, reach back out to see if they have room for you to still attend.
Being open and honest in your response allows the couple to have an accurate guest count. As long as you maintain a tone of care and respect, declining a destination wedding invite can be completely painless.
Real Couples on Keeping Destination Weddings Classy
Destination weddings can be glamorous, but keeping them classy comes down to thoughtful planning. Here's advice from real couples on maintaining elegance at a faraway affair:
Research venues thoroughly. Prioritize sites with great reviews for service, food, and ambiance. A reputable venue sets the tone for the whole event.
Be considerate with your guest list. Recognize the travel commitment you're asking of loved ones and keep that in mind. You want attendees who can wholeheartedly celebrate.
Send invitations early. Give guests ample time to request off work and make travel arrangements. The earlier the better.
Provide detailed information. Share recommendations on flights, accommodations, attire, and anything else to help them prepare.
Plan inclusive events. Organize group excursions and meals to foster connection amongst your far-flung guests.
Thank attendees. Show appreciation for their time, money, and effort to celebrate your marriage in a special destination.
By factoring in your guests' needs and putting care into the details, you can have a sophisticated destination wedding filled with meaningful moments.
Frequently Asked Questions
Are destination weddings considered rude?
Destination weddings are not inherently rude. They are a personal choice made by the couple based on their preferences and circumstances. However, some guests might find them challenging due to travel costs and logistics.
Is it rude to have a destination wedding and expect guests to pay for their travel?
While it's common for guests to cover their travel expenses for a destination wedding, it's essential for couples to be considerate. Offering affordable accommodation options, providing ample notice, and understanding if some guests can't attend due to financial constraints is courteous.
What are some alternatives to a destination wedding to avoid potential rudeness?
If you want to celebrate with loved ones but avoid the challenges of a destination wedding, consider alternatives such as a local celebration, a smaller destination elopement followed by a reception at home, or a virtual wedding for remote guests.
Are there any cultural differences regarding destination weddings and rudeness?
Cultural norms and expectations can vary. Some cultures embrace destination weddings, while others prioritize local and traditional celebrations. It's crucial to be aware of your cultural context and communicate with guests accordingly.
Conclusion
While destination weddings can present challenges, with proper communication and planning they don't have to be considered rude. Give guests advance notice, provide travel details, be flexible, and understand not everyone may be able to attend. Factors like cost, travel, and bringing kids do require extra consideration.
Destination weddings are a personal choice, and as long as you handle them thoughtfully, they can be a great option. The key is being considerate of your guests while still celebrating your big day in a place that's special to you. With care and communication, destination weddings don't have to be rude.