Spooky and elegant halloween wedding ideas, where the macabre meets the romantic, and where dark elegance and whimsical enchantment come together to create a wedding day that is both haunting and unforgettable.
Couples seeking a unique and unforgettable wedding experience have found inspiration in the hauntingly beautiful aesthetics of Halloween.
Halloween, with its timeless allure of mystique and intrigue, has emerged as a captivating theme for weddings.
Here, we invite you to explore a treasure trove of ideas and inspiration that will empower you to craft a wedding day that is both spine-tingling and stylish.
So, brace yourself for an enchanting journey as we uncover 27 extraordinary ways to infuse your wedding with the spirit of Halloween, balancing the eerie and the elegant in perfect harmony.
1. Black and Orange Color Scheme with Pumpkins and Candles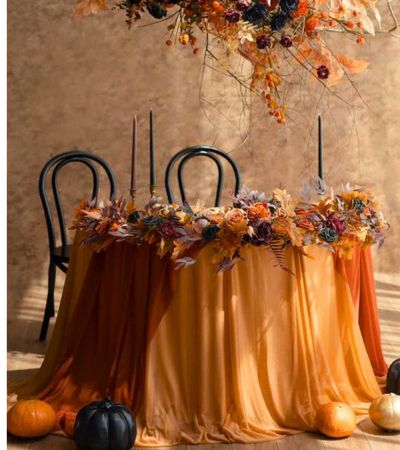 Embrace the classic Halloween colors with a black, orange, and purple color palette. Adorn the venue with pumpkins, candles, and other autumnal accents for a stylishly gothic flair. Consider floating candles in glass jars or carved pumpkins with candles inside to illuminate your tables and aisles with a creepy glow. This moody and elegant look pairs perfectly with the Halloween season.
2. Elegant Masquerade Ball with Masks and Feathers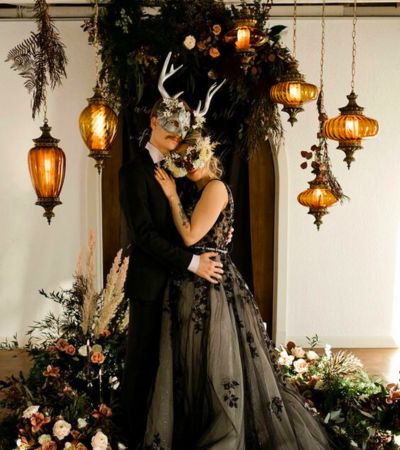 Photo: Canva
Host a glamorous masquerade ball wedding with ornate masks and feather accents. Require your guests to wear Venetian-style masks and opt for a feather-adorned bouquet and feather centerpieces. Rent chandeliers and candelabras to decorate your ballroom venue. Consider having live music and hiring servers to pass fancy hors d'oeuvres during cocktail hour. This idea adds an air of mystery and intrigue to your special day. Just be sure to provide baskets of masks for any guests who may have forgotten theirs!
3. Tim Burton's Nightmare Before Christmas Theme
For couples who love Tim Burton films, a Nightmare Before Christmas wedding theme is a delightfully spooky idea. Use black and white stripes, pumpkins, and creepy-cute details inspired by the movie. Make your invitations look like the iconic poster art featuring Jack Skellington. Ask your baker to create a wedding cake that resembles a stack of pumpkins. Scatter plastic Jack and Sally figurines around your reception tables. Use deep purple uplighting to create a haunting atmosphere.
Even your wedding attire can get in on the theme – think a black lace wedding dress with striped accents. This theme is perfect for couples looking to put a darker, quirkier spin on their Halloween wedding.
4. Haunted Mansion With Ghosts and Cobwebs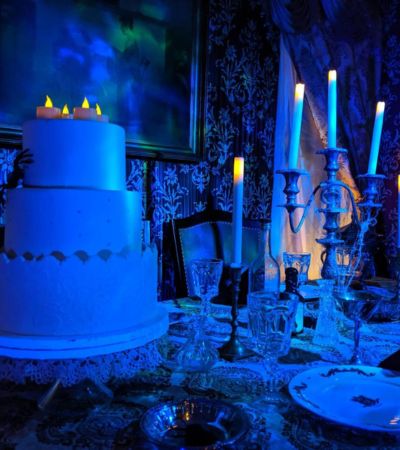 For an elegantly eerie Halloween wedding, transform your venue into a haunted mansion. Drape cobwebs over chandeliers, candelabras, and floral arrangements. Place flickering battery-operated candles throughout the space to create a spooky ambiance. Ask your florist to design centerpieces featuring black roses and other dark blooms. Greet guests with a fog machine at the entrance.
Consider having staff dressed as ghosts, vampires, and other Halloween creatures. During the reception, project black and white horror films onto walls. Serve "potions" in test tubes and cauldrons at the bar. The opportunities are endless for bringing the haunting vibes of a decrepit old mansion to your special day.
5. Vampire-Themed Gothic Wedding With Blood-Red Roses
For a darkly romantic Gothic wedding, lean into moody vampire vibes. Decorate the ceremony space with candelabras holding blood-red roses. Ask bridesmaids to wear black lace dresses and carry bouquets of deep burgundy blooms. Groomsmen can wear capes or vest accessories with a Victorian Gothic flair. Exchange vows in a cathedral with stained glass for dramatic effect.
Adorn reception tables with black tablecloths, candelabras, and place settings featuring designs of bats, full moons, and other nocturnal symbols. Serve a signature cocktail named after a famous vampire like Dracula. End the night under strings of marketplace lights for a mysterious ambiance. This richly theatrical theme adds Gothic drama and intrigue to your unforgettable night.
6. Witchy Wedding in the Woods With a Cauldron Cake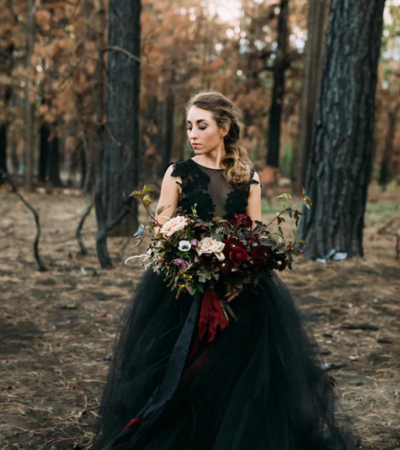 For an enchanting woodland wedding, create a magical ambiance with natural elements. Exchange vows beneath a floral arch or canopy of trees for an organic ceremony backdrop. Incorporate autumnal touches like acorns, leaves, and hay bales into your decor. Ask bridesmaids to carry bouquets wrapped in burlap and lace. Adorn the reception with glowing lanterns, scattered pumpkins, and centerpieces of autumn foliage. Serve seasonal drinks like mulled cider and pumpkin martinis.
Display the wedding cake on a tree stump "altar" and design it to resemble a witch's cauldron, complete with edible potion bottles and broomsticks. As the sun sets, light a bonfire for guests to gather around and roast s'mores under the stars. This rustic, whimsical theme brings a playful spin to your woodland wedding.
7. Zombie Wedding With Bride and Groom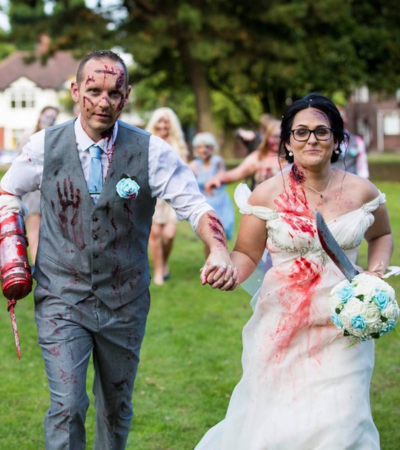 For a delightfully creepy wedding, go all-out with a zombie theme. Get ready for your big day together and have a makeup artist transform you both into zombies, complete with fake blood and peeling skin. Exchange vows while dressed in tattered formalwear with a zombie officiant. Carry a bouquet of dead flowers down the aisle littered with leaves and debris. Seat guests at tables marked with gravestone signs and serve appetizers like "brain tarts" and "finger sandwiches."
Give favors like zombie survival kits in mini coffins. Dance the night away surrounded by cobwebs, flickering candles, and a playlist of Halloween hits and monster mashups. End the night with a dramatically dripping, red velvet zombie cake. Embrace the darker side of wedded bliss with this ghoulish and gory wedding theme.
8. Halloween Costume Wedding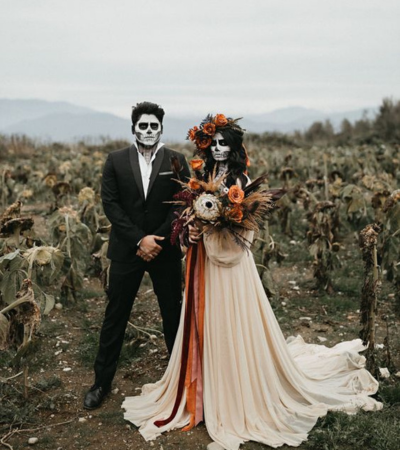 For a delightfully playful wedding, require your guests to come dressed up in their favorite Halloween costumes. Send invitations with a "Costumes Required" dress code. Provide costume ideas or themes to get everyone on board. Greet your guests in your own fun couples costume, like a witch and warlock, vampire couple, or bride and groom Frankenstein. Pose for photos surrounded by your creatively costumed family and friends.
Decorate with jack-o-lanterns, spiderwebs, and other festive touches. Serve Halloween-inspired foods like "mummy dogs", "witch's brew" cocktails, and cake pops decorated like eyeballs and pumpkins. Favor bags can include Halloween candy, temporary tattoos, glow sticks, and other treats. Let your inner child run free on your big day by making it one big costume party with your nearest and dearest.
9. Spooky Cemetery Wedding With Fog Machines and Tombstones
For gothic romance lovers, a cemetery wedding surrounded by fog and tombstones sets the perfect eerie mood. Scout out an older, picturesque cemetery as your ceremony and reception venue. Decorate the grounds with homemade styrofoam tombstones and hang creepy-crawly accents from tree branches.
Set up a fog machine to cloak the area in a haunting mist. Exchange vows next to a large aged tree draped in lace and illuminated by candlelight. Serve "blood" red wines and beers along with ghostly pale foods like mashed potatoes and chicken cordon bleu.
Give guests LED candles in glass jars to light their way along spooky wooded paths between the ceremony and reception. Play Halloween sound effects and pipe in foreboding organ music as you share your first dance. Offer photo booth props like top hats, capes, and black roses for memorable ghostly portraits. Your spine-tingling soiree will be the talk of the town!
10. Haunted Hotel Wedding Venue Decorated With Spiders and Bats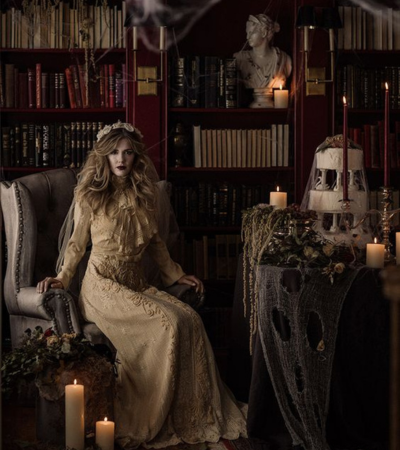 For couples seeking a delightfully creepy wedding venue, consider hosting your nuptials at a historic haunted hotel. Deck the halls with cotton spiderwebs, plastic bats, and strobe lights to transform the space into a haunted house. Scatter small pumpkins containing LED tealights along the aisle and hang paper lanterns from the ceiling.
Drape gauzy purple fabric over doorways and chairs for an ethereal look. Serve appetizers like deviled eggs and meatballs with tongs shaped like severed fingers. Offer a signature cocktail named after the hotel's infamous ghost. Provide photographers with smoke machines to capture eerie portraits throughout the decaying hotel.
End the night with a dramatic exit through a fog-filled hallway. Your spine-tingling soiree at a haunted hotel venue will provide you and your guests with memories to last a lifetime.
11. Beetlejuice Inspired Wedding With Black and White Stripes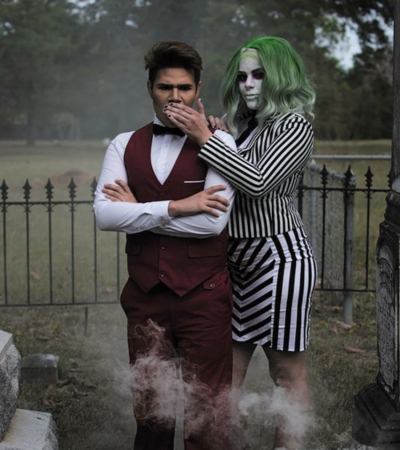 Channel the ghostly charm of Beetlejuice at your wedding by incorporating black and white stripes throughout the decor. Use boldly striped tablecloths and napkins in black and white. Make striped paper flowers for centerpieces out of black and white crepe paper.
Ask bridesmaids to wear black and white striped dresses and carry bouquets of black and white flowers. Craft striped signs to direct guests to the ceremony and reception. Serve black and white striped cake pops and cookies for dessert.
You and your spouse can even wear black and white striped attire! Play the Beetlejuice movie soundtrack during the reception to complete the theme. With creative touches, you can host a stylishly ghoulish Beetlejuice inspired wedding filled with black and white stripes.
12. Día de Muertos Wedding With Sugar Skulls and Marigolds
Incorporate the vibrant spirit of Día de Muertos into your wedding with decorations featuring sugar skulls and marigolds. Use sugar skull motifs on your invitations, signs, and wedding cake. Make centerpieces overflowing with marigolds, the traditional flower of Día de Muertos. Encourage guests to wear face paint or masks with sugar skull designs.
Decorate the ceremony and reception area with papel picado banners. Serve traditional Día de Muertos foods like pan de muerto and champurrado. Ask the DJ to create a playlist with Latin American music to keep energy high on the dancefloor. With touches of bright colors and nods to Mexican culture, your wedding will capture the lively essence of this spirited holiday.
13. Addams Family Themed Wedding in a Gothic Mansion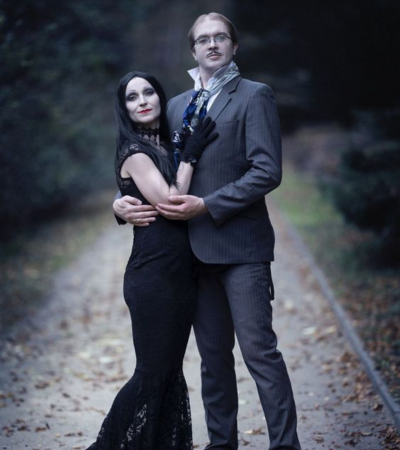 Channel the spooky yet charming Addams Family for your wedding theme. Hold your ceremony and reception at a gothic mansion or estate for the perfect setting. Incorporate black accents, and creepy decorations like cobwebs and floating candles, and have the wedding party wear black attire. Serve eyeball martinis and other creepy foods at the reception.
Use an Addams Family quote, a lyric from the show's theme song, or a detail like their address for your invitations. Surprise guests by releasing bats at the end of your ceremony. With kooky Addams Family elements throughout your wedding, you'll create a delightfully eccentric and memorable event.
14. Hocus Pocus Wedding With a Salem Witch Vibe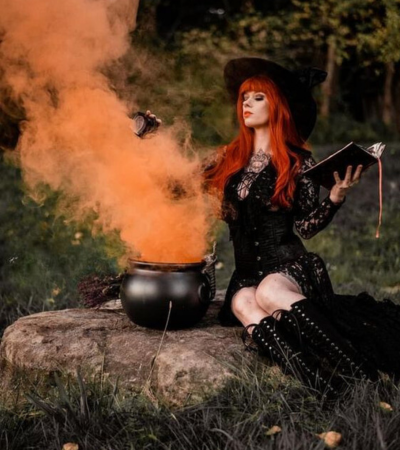 For couples who love Hocus Pocus, planning your wedding around a Salem witch theme is a spooktacular idea. Hold your ceremony outdoors under a harvest moon, with the wedding party dressed in black robes. Incorporate details like brooms, cauldrons, potion bottles, and spell books into your decor. Serve Witch's Brew cocktails and other Halloween-inspired foods like pumpkin ravioli or spider cupcakes. Ask your florist to design bouquets with autumnal flowers and herbs.
Print your invitations on aged parchment paper and seal them with black wax. Scatter dried leaves down the aisle and hang string lights above candlelit lanterns to create an enchanting ambiance. With touches inspired by the Sanderson sisters throughout your wedding, you'll brew up a bewitchingly fun event.
15. Ghostly Wedding With Phantom Bride and Groom Illusions
For an eerily elegant wedding, go with a ghostly theme. Use tons of sheer fabric, floating candles, and string lights to create a haunting atmosphere. Project ghostly illusions of the bride and groom around the venue using holograms or video projections. Scatter rose petals that have been dried and dyed black for a creepy effect. Serve bone-shaped cookies, Blood Orange cocktails, and other spooky treats. Ask your florist to make bouquets using black or blood-red roses.
Prop up old portraits of "ancestors" around the reception hall and hang wispy cobwebs from the ceiling. Print your invitations on parchment paper using a creepy font and seal them with black wax. With chilling details throughout, your wedding will be a phantom-filled affair to remember.
16. Haunted Carnival or Circus Wedding Under a Big Top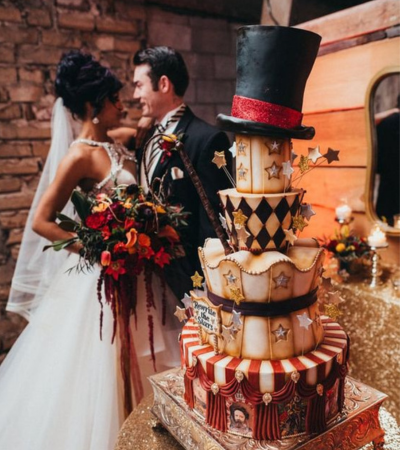 Bring the thrills and chills of a haunted carnival to your wedding day. Host your ceremony under an eerie big top tent decorated with spiderwebs, evil clowns, and jack-o-lanterns. Serve carnival fare like caramel apples, candy floss, and hot dogs from food trucks or carts.
For a creepy twist, make signs with blood-red lettering and have servers dress up as zombies or vampires. Scatter hay bales covered in tattered cloth around the venue for spooky seating. Use a calliope version of your processional music and have the flower girl and ring bearer dress up in creepy costumes.
With twisted carnival games, ghost train rides, and haunted house photo booths, your guests will feel both scared and entertained.
17. Harry Potter Themed Wedding at Hogwarts or the Burrow
Bring the magic of Harry Potter to life at your wedding! Transform your ceremony and reception venue into Hogwarts or the Burrow with floating candles, potion bottle centerpieces, and signs welcoming guests to Platform 9 3/4. Incorporate wands, brooms, and spellbooks into your decor.
Serve butterbeer and pumpkin pasties alongside traditional cuisine. Ask your officiant to wear wizard robes and use Harry Potter themed vows. Have your wedding party walk down the aisle to the iconic Hedwig's Theme. Scatter chocolate frogs at each place setting and use Bertie Bott's Every Flavor Beans as wedding favors.
With the right touches, your guests will feel like they've been transported straight into the wizarding world for a magical celebration.
18. Scooby Doo Wedding With Creepy Villains and Monsters
Bring some spooky fun to your big day with a Scooby Doo themed wedding! Decorate the ceremony and reception with creepy trees, cobwebs, and monster statues reminiscent of the haunted mansions and amusement parks Fred, Daphne, Velma, Shaggy, and Scooby explored. Have table centerpieces featuring crystal balls, potion bottles, and candelabras wrapped in cobwebs.
Serve Scooby Snacks as wedding favors. Ask your officiant to wear a ghost or monster mask and jump out to scare your guests as you say your vows. Play the Scooby Doo theme song for your reception entrance. Let your bridesmaids choose costumes like Daphne or Velma, while your groomsmen can channel Shaggy and Fred.
And don't forget to feature Scooby himself – whether as a special cake topper or cutout for photos! With the right details, you can bring the whole Scooby gang to life for an unforgettable celebration.
19. Black-Tie Halloween Masquerade Ball in a Historic Mansion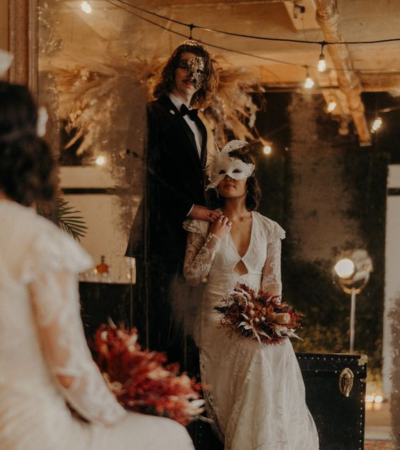 For a glamorous Halloween wedding, consider hosting a black-tie masquerade ball in a historic mansion or estate. Send ornate invitations requesting guests arrive in their most elegant attire complete with a mask. Decorate the ballroom with candelabras, spiderwebs, and bouquets of black roses.
Serve gothic inspired cuisine and cocktails like "witch's brew." During the reception, have guests participate in traditional ballroom dances like the waltz and tango while wearing their masks. End the night with unmasking at midnight to reveal everyone's identities. This sophisticated soiree evokes mystery and romance with a Halloween twist.
20. Tim Burton's the Nightmare Before Christmas Wedding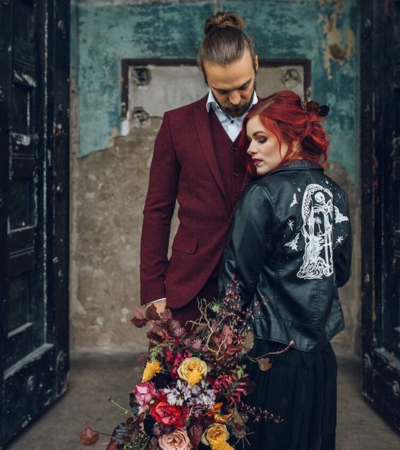 For couples who love the darker side of Halloween, a Nightmare Before Christmas wedding theme is the perfect choice. Send pumpkin shaped invitations with a photo of the bride and groom recreating Jack and Sally's famous pose on Spiral Hill. Decorate the venue with black and white stripes, hanging moons, and tall birch trees like a forest from the movie. Serve Halloween fare like spider cupcakes and pumpkin pie alongside Christmas cookies for dessert.
Ask the groom and groomsmen to wear black suits with bat bow ties, while bridesmaids don bold red gowns. During the reception, play music from the film's soundtrack and show movie clips on a projector screen. End the night with a sparkler exit beneath an archway decorated with hanging jack-o-lanterns. This creepy meets Christmas bash will delight Tim Burton fans.
21. Purple and Black Halloween Color Scheme With Ravens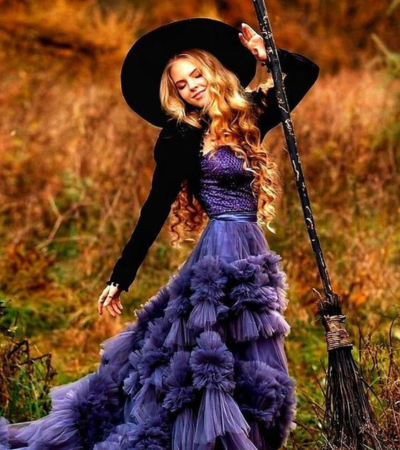 For a tastefully spooky Halloween wedding, consider a color scheme of rich purple and black accented with silvery cobwebs and ravens. Send out invitations on black paper with purple calligraphy and a wax seal stamped with a raven. At the venue, drape the chairs with purple chiffon and decorate the tables with candelabras dripping with cobwebs and floating black candles. Ask your florist to make bouquets of deep purple flowers like calla lilies and arrange them in black vases on each table.
For a gothic flair, hold the ceremony in an old cathedral with stained glass windows. As favors, give mini bottles of purple wine with custom raven labels. With moody purple lighting and details inspired by Edgar Allan Poe, this color scheme is perfect for literature lovers.
22. Edgar Allan Poe Inspired Gothic Literary Wedding
For book lovers, an Edgar Allan Poe inspired wedding adds dark romantic flair. Incorporate quotes from Poe's works into your invitations and decor. Host the ceremony in an old library or bookstore for ambiance. Ask bridesmaids to carry bouquets of black roses tied with raven feather embellishments.
Create a Poe-themed signature cocktail like "The Raven" or "The Tell-Tale Heart." Scatter books around the venue opened to pages with Poe passages. Name reception tables after Poe's poems and short stories.
Favor ideas include black quill pens, raven bookends, and custom bookmarks with wedding details. For dessert, make a tiered cake decorated with sugar quills and fondant ravens. With moody purples, blacks, and romantic candles, this theme is hauntingly beautiful for literature fans.
23. Haunted Hayride Wedding in a Pumpkin Patch or Corn Maze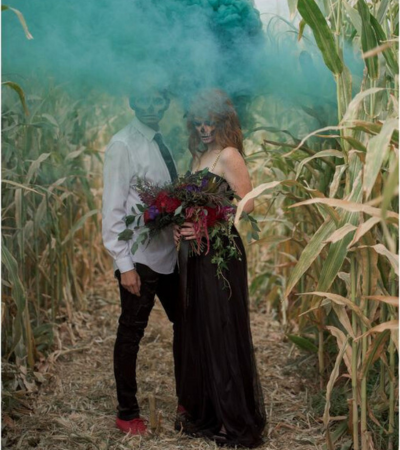 Bring some autumnal spookiness to your wedding by hosting it at a local pumpkin patch or corn maze. Schedule your ceremony to begin at dusk and say your vows by lantern light against a backdrop of hay bales and fall foliage. Give guests hot apple cider as they arrive and have the flower girl toss candy corn down the aisle.
Rent a tractor and hay wagon to transport guests to the reception area for a haunted hayride. Decorate with bales of hay, corn stalks, pumpkins, and string lights. Serve seasonal treats like caramel apples, pumpkin pie, and mulled wine. End the night with s'mores by a bonfire. This rustic theme blends a cozy autumn wedding with fun Halloween touches.
24. Spooky Elegant Wedding in a Castle or Mansion Venue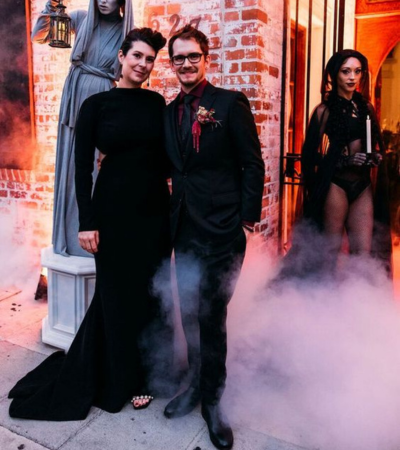 For gothic romance, host your nuptials at a majestic castle or stately mansion. Gothic architecture lends an air of elegance while allowing you to add creepy accents. Invitations with a wax seal instantly set the mood. Ask bridesmaids to wear black lace dresses and carry bouquets of deep purple flowers.
The groom and groomsmen can wear suits with subtle orange or purple details. Say your vows in the mansion's grand hall or courtyard. Floating candles and candelabras create a haunting glow for the reception.
Serve pumpkin ravioli and chicken cordon bleu for dinner. Display succulents and orange roses on the tables. A towering black wedding cake with edible sugar bats or spiders provides a scary-chic focal point. End the night watching classic monster movies in the mansion's home theater. From the attire to the decor, this look blends romance and spookiness for an unforgettable affair.
25. Halloween Themed Elopement in Salem, Ma
For an intimate Halloween wedding, elope to Salem, Massachusetts. This New England town is known for its rich witch trial history, making it the perfect backdrop for your special day. Start with getting ready at the historic Hawthorne Hotel before heading to your ceremony spot.
Options include the Salem Witch Museum, the Old Burying Point Cemetery, or the Cathedral of Trees in the Salem Willows Park. Say your vows surrounded by autumn foliage or under the moonlight.
Capture romantic black-and-white photos on the streets of Salem. Stop by the Salem Witch House where bridal portraits will have a spooky vibe. Pick up a small pumpkin pie from Salem Pie Company to enjoy as your mini "wedding cake." End the night by joining other visitors on a haunted history tour. From location to attire, this unique elopement embraces Halloween flair.
26. Halloween Cruise Ship or Yacht Wedding and Reception
For a frightfully fun wedding at sea, book a Halloween-themed cruise or yacht. Transform the ship into your own haunted mansion with creepy cobwebs, floating candles, and moody purple lighting. Scatter pumpkins around the venue and use floral arrangements with deep orange and black hues.
Serve Halloween-inspired cocktails like witches brew punch. The wedding cake can showcase bright orange flowers, spiders, or ghosts. For attire, the bride can wear a black or deep purple gown. Bridesmaids can channel their inner witch with black dresses and brooms. Grooms and groomsmen can opt for vampire capes with their tuxes.
Halloween décor sets the perfect spooky mood. End the night watching a scary movie on the deck under the stars. From invitations to entertainment, a cruise ship or yacht venue provides a hauntingly unique backdrop for exchanging vows.
27. Halloween Micro Wedding or Mini-Mony With an Intimate Vibe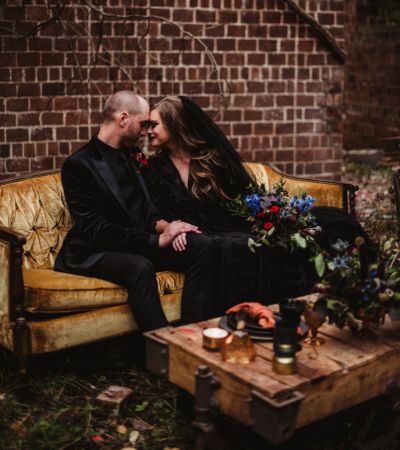 For an intimate Halloween wedding, scale things down to a micro wedding or mini-money. Keep the guest list small and opt for a cozy venue like a restaurant, historic inn, or private residence decked out in Halloween décor. Incorporate personal touches like handwritten place cards calligraphed on little tombstones.
Serve seasonal appetizers like pumpkin soup shooters and spiderweb bruschetta. The mini cake can take the shape of a creepy haunted house, complete with ghostly accents. Bridesmaids can wear black lace dresses, while the groom and groomsmen sport orange boutonnieres.
For the ceremony backdrop, construct an archway entwined with fall leaves, twigs, and string lights. Keeping things small allows you to focus on what matters most—celebrating your love surrounded by your nearest and dearest on this spooky wedding day.
Frequently Asked Questions
Are Halloween-themed weddings suitable for any time of the year?
While Halloween weddings are often associated with autumn, you can have a Halloween-themed wedding at any time of the year. The key is to focus on the elements that make Halloween special to you and your partner.
How to ensure my Halloween wedding still feels like a traditional wedding?
You can maintain the traditional wedding vibe by incorporating classic wedding elements such as a white wedding gown, formal attire for the bridal party, and a heartfelt ceremony. You can then weave in the Halloween theme through decor and details.
Is it a good idea to get married on Halloween?
Getting married on Halloween can be a fun and unique way to celebrate your big day. It allows you to get creative with your wedding theme and decor. However, it's important to consider that some guests may have other plans for Halloween or may not want to dress up. Discuss it with your partner and close family and friends before deciding.
Are Halloween-themed weddings suitable for any time of the year?
While Halloween weddings are often associated with autumn, you can have a Halloween-themed wedding at any time of the year. The key is to focus on the elements that make Halloween special to you and your partner.
Conclusion
Remember, the beauty of a Halloween wedding lies in its versatility. Whether you opt for a subtle nod to the spooky or go all-in with a hauntingly elegant ambiance, the choice is yours. Let your love story take center stage while infusing it with the magic and mystique of Halloween. As you embark on this enchanting journey, may your wedding day be filled with joy, love, and a touch of the supernatural, creating memories that will haunt your hearts forever.