The wedding tux is the quintessential symbol of formal elegance, a garment that has graced the most memorable moments in the lives of countless grooms and wedding parties.
It's not just a suit; it's a statement of commitment, a reflection of personal style, and a timeless tradition that transcends generations.
This blog will walk you through some of the most classic and elegant tuxedo options to help you look your best on your big day.
Whether you're a groom preparing to say "I do" or a wedding planner seeking to guide your clients to sartorial excellence, join us as we unravel the magic of the wedding tuxedo and uncover the secrets to choosing the perfect one for your special day.
1. Classic Peak Lapel Tuxedo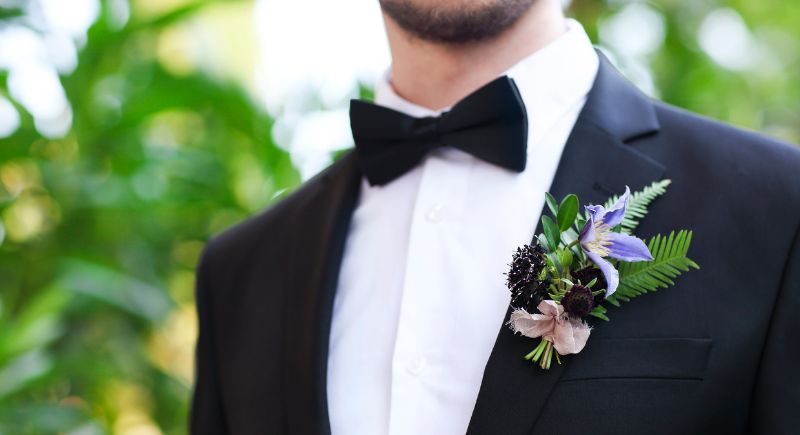 Photo: Canva
The peak lapel tuxedo is a timeless and traditional choice for grooms. This style features a peaked lapel that angles up to a point, creating a formal, polished look. Opt for a single-breasted jacket with one to three buttons for a slim, tailored fit. Pair it with a white tuxedo shirt, black bow tie, and black shoes for a classic black-tie ensemble. This wedding tux look will never go out of style.
2. The Notch Lapel Tuxedo
Another timeless tuxedo option is the notch lapel style. With its wide, rounded lapels that meet the collar at a 90-degree "notch", this look is a bit more modern than the peak lapel. The notch lapel offers a clean, sharp silhouette that pairs nicely with a slim-fit jacket. For your wedding tux, opt for a two-button notch lapel jacket, paired with a cummerbund or vest, bow tie, and black patent leather shoes. This notch lapel tuxedo is perfect for a groom seeking a stylish, contemporary look on his big day.
3. Slim Fit Shawl Collar Tuxedo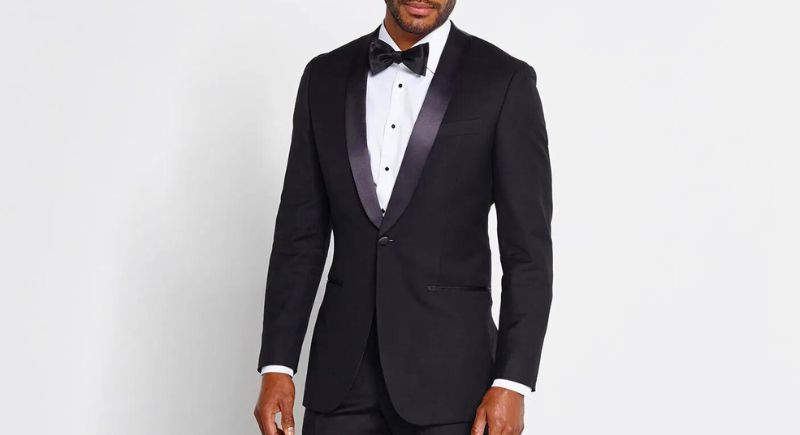 If you want a tuxedo that is sleek and modern, consider the slim fit shawl collar tux. This style features a collar that gracefully drapes over the shoulders in a continuous curve, without lapels or notches. The slim fit cut creates a tailored, sharp silhouette. Opt for a single button closure for a minimalist aesthetic. Pair this shawl collar tuxedo jacket with flat front pants, black shoes, and a black bow tie for a refined, contemporary black tie ensemble. This look is perfect for the fashion forward groom seeking an alternative to traditional peak and notch lapel tuxedos.
4. Black Watch Tartan Tuxedo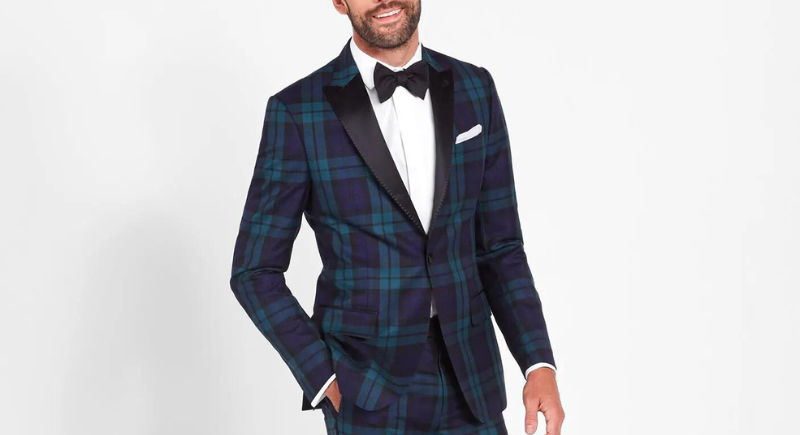 If you want a tuxedo that strikes a balance between classic and contemporary, the black watch tartan tuxedo is an excellent choice. This style features a medium lapel width and a tailored, trim cut through the shoulders, chest, and waist. The result is a shaped silhouette that flatters without being too restrictive.
The Black Watch Tartan Tuxedo: Classic elegance meets timeless Scottish heritage in this striking formal attire. Crafted with meticulous attention to detail, this tuxedo embodies sophistication and impeccable style. This is ideal for formal events, weddings, or special occasions where you want to make a lasting impression.
5. Double Breasted Tuxedo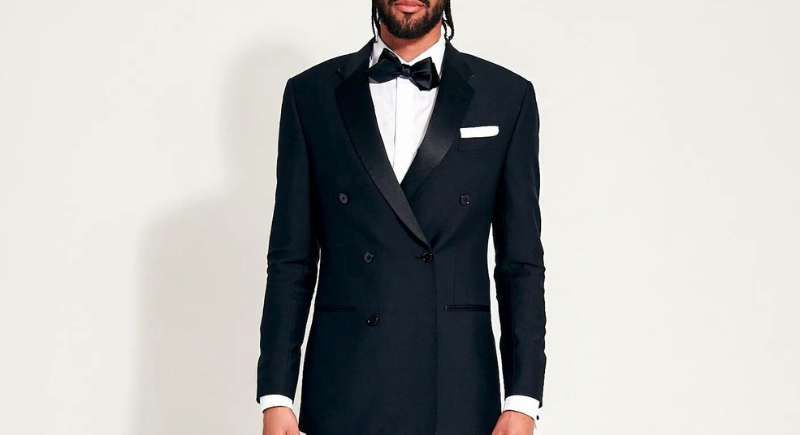 Exude refined elegance in a double breasted tuxedo. This classic tuxedo style features a six-button front with wide peak lapels. The double breasted jacket provides a formal, structured look perfect for black tie events.
A double breasted tuxedo jacket has a wrapped, tailored appearance thanks to the extra fabric and layering across the front. Complete the double breasted tuxedo look with a formal white shirt, black bow tie, and patent leather dress shoes. Suspenders or a cummerbund can add a stylish accent while also providing support. Avoid a waistcoat or vest, which tends to be too bulky with this jacket style. A double breasted tuxedo makes a striking statement at any black tie affair.
6. Ivory Dinner Jacket Wedding Tux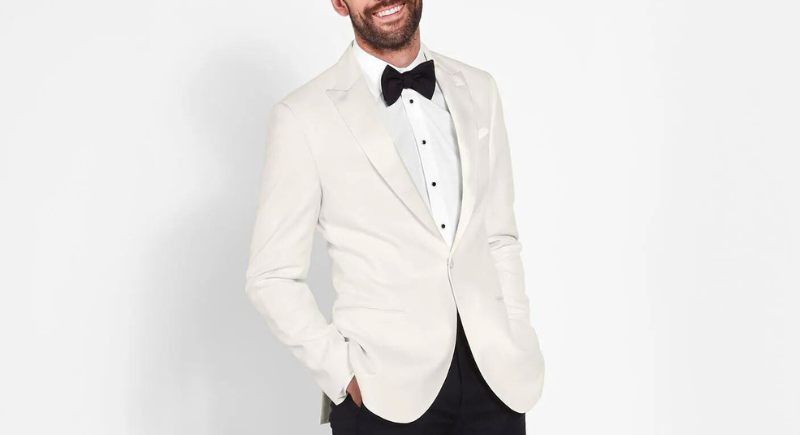 The ivory jacket provides an eye-catching focal point, setting you apart from the sea of black tuxedos. Often called a cream tuxedo, the ivory color exudes sophistication. Pair with black tuxedo pants, a cummerbund, and a bow tie for a striking monochromatic look.
An ivory dinner jacket works well for a wedding tuxedo. It allows the groom to stand out while maintaining a formal style. For a summer wedding, an ivory dinner jacket is ideal to complement the season's light colors and fabrics. The ivory jacket can also be dressed down slightly by omitting the cummerbund.
Avoid pairing an ivory jacket with a black peak lapel, which tends to look mismatched. The lapel should lie flat and hug the neck smoothly. Inspect seams and buttons for quality craftsmanship. Complete the ivory dinner jacket tuxedo with a white formal shirt, black bow tie, and black patent leather shoes. Just maintain timeless tailoring and accessories to keep the look refined.
7. Midnight Blue Wedding Tux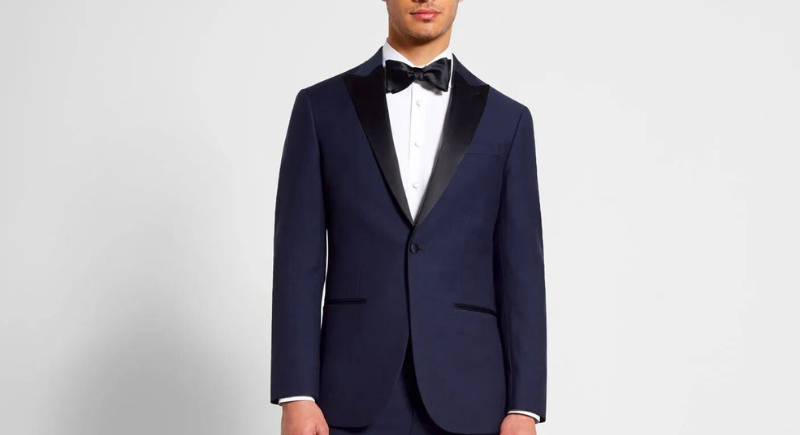 Looking to stand out from the crowd at your next black tie event? Consider a midnight blue tuxedo for a stylish alternative to classic black. A midnight blue dinner jacket provides a rich, eye-catching color without being overly bold or bright. The dark navy hue is formal enough for black tie attire while offering a subtle twist.
Pair a midnight blue jacket with black tuxedo pants, a cummerbund, and a bow tie. The contrast between the jacket and black accents creates a sharp, polished look. For a more unified outfit, wear a matching midnight blue cummerbund and bow tie.
A midnight blue tuxedo works well for grooms and groomsmen. The blue jacket allows the groom to stand out while coordinating with the rest of the wedding party. It also photographs beautifully against lighter wedding colors and settings. Make a stylish statement and stand out from the crowd in a rich midnight blue tuxedo. The color provides the perfect balance between traditional formalwear and modern style.
8. Maroon Velvet Tuxedo Jacket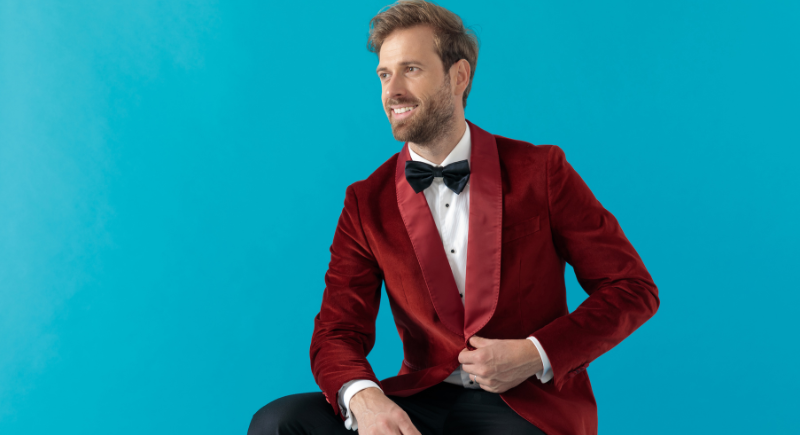 Photo: Canva
For an ultra glamorous look, consider a maroon velvet tuxedo jacket. The rich, jewel-toned velvet fabric exudes luxury and sophistication. While a velvet dinner jacket may seem unconventional, it provides a stunning alternative to the standard black tux.
A maroon velvet jacket has an inherently formal vibe while still being eye-catching. The color is bold yet elegant. Velvet also photographs beautifully, capturing the lush, tactile texture. Pair a maroon velvet tuxedo jacket with black pants or go bold with maroon velvet pants as well. For a coordinated look, add a cummerbund, bow tie, and vest in a matching maroon hue. Or try a black bow tie and cummerbund for an accent color.
Make a suave red carpet-worthy entrance at black tie events in a maroon velvet tux. This posh and eye-catching jacket offers a fresh formalwear option.
9. Midnight Pin Dot Tuxedo 
The Midnight Pin Dot Tuxedo is a sophisticated and stylish choice for any groom or wedding party looking to make a timeless and elegant statement on their special day. This meticulously designed tuxedo combines classic elements with modern details, making it a versatile and fashionable option for weddings and formal events.
The Midnight Pin Dot Tuxedo is a classic black-tie ensemble with a twist. Crafted from high-quality materials and featuring a subtle yet eye-catching pin dot pattern, this tuxedo exudes refinement and sophistication. The ensemble typically includes a jacket, trousers, a dress shirt, a bowtie or necktie, and optional accessories like a vest or cummerbund.
When wearing the Midnight Pin Dot Tuxedo for your wedding, you'll not only look dashing but also feel confident and comfortable. Its classic yet contemporary design ensures that you stand out on your special day, making it a memorable choice for the groom and groomsmen alike.
10. Grey Tonal Check Tuxedo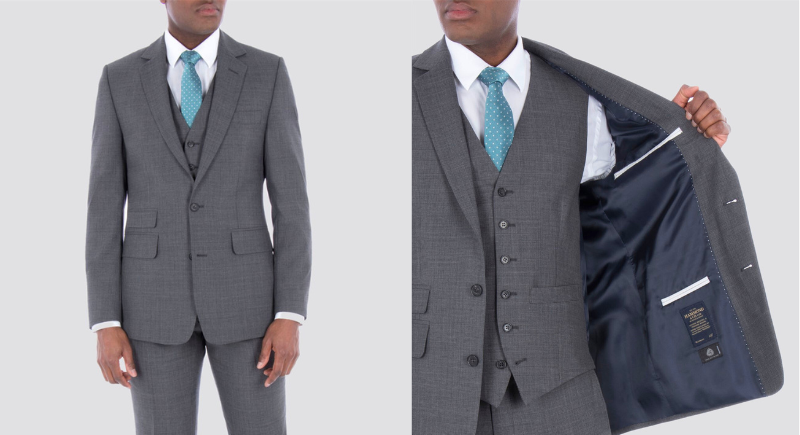 A tonal check pattern adds subtle texture and dimension. The grey palette gives a modern edge while remaining classic. Checks in lighter silver grey have an elegant feel, while darker charcoal checks are bold and modern.  Scale it appropriately to your body size as well. Keep the check tonal for a cohesive effect. Avoid loud plaid patterns.
Pair a grey check jacket with solid black or grey tux pants for a streamlined look. If you prefer, go for a full suit with matching check pants. Just be sure the pattern scale aligns properly.
Accessories like a black bow tie, silver cufflinks, and white pocket square balance the grey. Black patent leather shoes keep the focus on the suit pattern. Avoid distracting accessories that compete visually. A grey tonal check tuxedo has a refined look for an evening wedding or formal event. The subtle pattern adds interest without overwhelming it. It's perfect for the groom seeking something stylish yet traditional.
Be sure to work with a skilled tailor to get the right fit. Subtle waist suppression and clean lines are key for a sharp silhouette. With attention to scale and fit, a grey tonal check tuxedo is a dapper option for making a stylish impression on your big day.
11. Light Grey Wedding Tux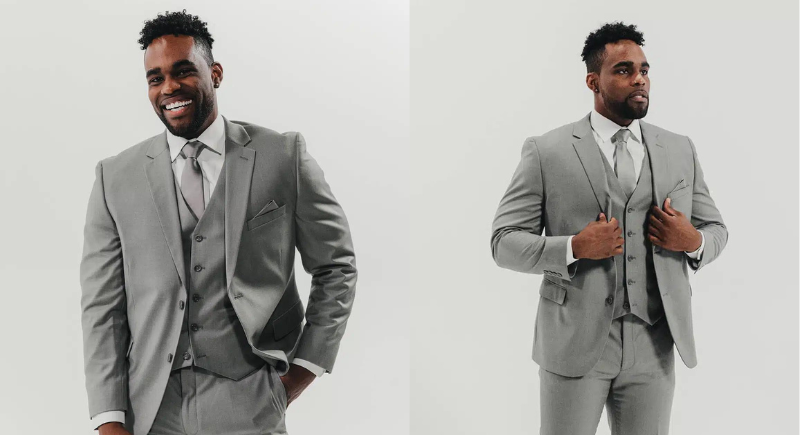 A light grey tux has a soft, elegant feel that flatters most skin tones. The lighter color reflects more light, brightening up your complexion and adding dimension.Choose for a lightweight wool or wool-blend fabric so the tux breathes well and maintains structure. Light grey shows off even the slightest wrinkle, so high-quality fabrication is key.
A light grey tuxedo offers a modern take on formalwear for the groom seeking something unique. The lighter color feels fresh and contemporary. Be sure to have the tuxedo tailored for a clean, sharp silhouette. Suppress the waist slightly and taper the legs. Any pulls or tight spots will show through the lighter fabric.
A perfectly fitted light grey tuxedo has an effortlessly stylish look for the modern groom. Stay true to your personal style while putting a fresh twist on tradition.
12. Floral Print Tuxedo Jacket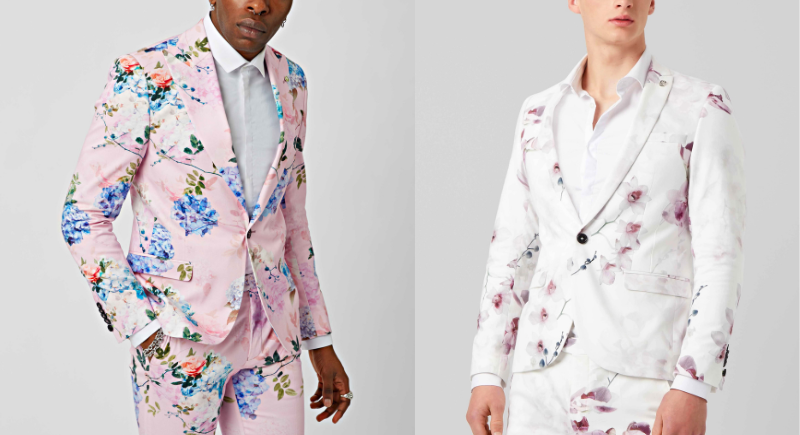 Make a bold statement on your wedding day with a floral print tuxedo jacket. This eye-catching look adds personality and panache to formal attire.
A floral jacket has a playful, lighthearted vibe perfect for a garden wedding or beachside affair. The vibrant colors and patterns energize any venue. Stick to smaller scale prints like micro florals to maintain a refined, tasteful look. Larger blooms can appear distracting or tacky.
Consider coordinating your boutonniere with the floral print for a cohesive style. A single bloom matching the palette ties everything together. The fit should follow your natural shape while allowing full mobility. Get the armholes and shoulders adjusted for maximum comfort and range of motion.
Floral tuxedo jackets allow grooms to infuse their personality into formalwear. The playful patterns add life to any wedding style. A floral print tux jacket shows guests you have style and confidence. Make your wedding attire as unique as your love story.
Frequently Asked Questions
What is a wedding tuxedo?
A wedding tuxedo is a formal men's suit typically worn by grooms and groomsmen at weddings. It consists of a tuxedo jacket, trousers, and a dress shirt, and often includes accessories like a bowtie or necktie.
What should I consider when choosing a wedding tux?
Consider the wedding's formality, color scheme, body type, and personal style. Fit, fabric, and accessories are also important factors.
How do I ensure a proper fit for my wedding tuxedo?
Visit a reputable tailor for measurements and alterations. Ensure the jacket fits well in the shoulders and chest, and the trousers have the right length and waist size.
Can I customize my wedding tuxedo to match the wedding theme?
Yes, you can customize your tuxedo by choosing specific colors, fabrics, and accessories that align with the wedding theme. Some tailors offer customization options.
Conclusion
When choosing a wedding tux, it's important to consider your budget, style, and comfort. Work with a reputable tux shop to get properly measured and fitted. The earlier you start planning, the more options you'll have. With some forethought, you can find the perfect tuxedo for your big day.