Finding the perfect 20th wedding anniversary gift is a delightful endeavor.
Two decades of love, commitment, and shared experiences deserve a celebration with a token of appreciation for your spouse or a thoughtful gift for a couple reaching this incredible milestone.
In this guide, we'll explore a range of 12 thoughtful 20th wedding anniversary gifts for your spouse that will help you convey your love and appreciation in a memorable way.
1. Platinum Jewelry
Photo: Canva
Traditional 20th anniversary gifts are platinum jewelry or china. A platinum ring, bracelet, or necklace symbolizes the purity and enduring strength of your relationship after two decades together. Choose an engraved piece with your wedding date or a heart motif for a touching and personal gift your spouse will adore wearing for years to come.
2. China or Porcelain Gift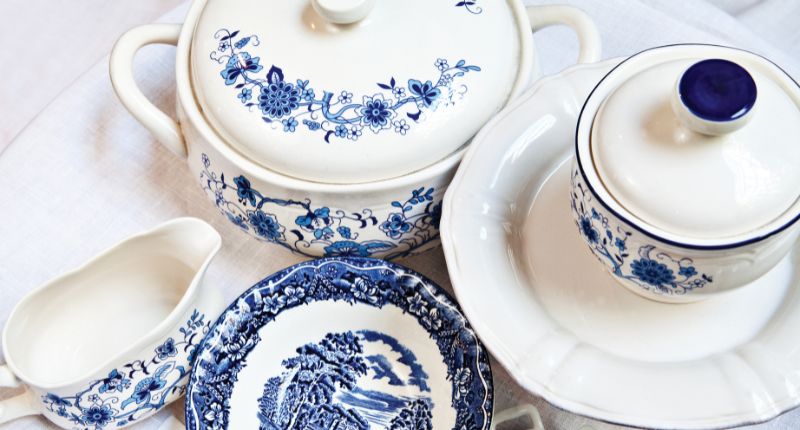 Photo: Canva
Commemorating 20 years of marriage with a set of porcelain china is a time-honored tradition. Choose classic gold-trimmed dinnerware or a more modern style that suits your spouse's taste. Another thoughtful option is a custom porcelain keepsake plate or coffee mugs engraved with your names and wedding date. Displaying these meaningful gifts in your home will remind you both of the joy you've shared over 20 wonderful years together.
3. Grand Romantic Getaway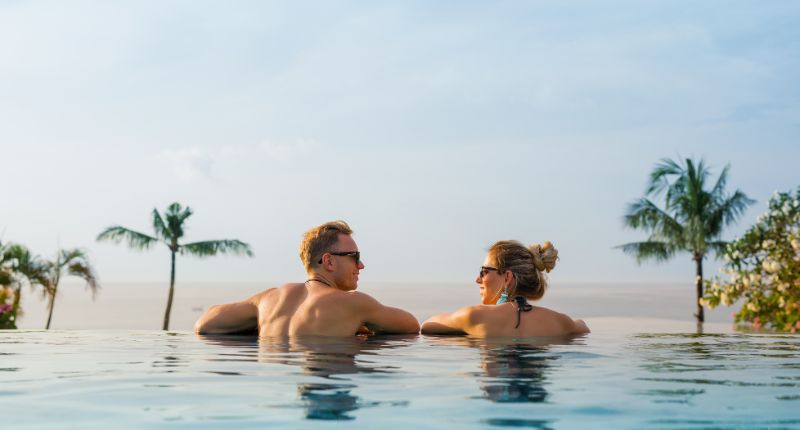 Photo: Canva
Marking two decades of marriage with a grand romantic vacation allows you to reconnect and make new memories together. Plan a trip to a destination on your bucket list like Paris, Bora Bora, or Venice. Or revisit the location of your honeymoon to relive the magic.
Splurging on first-class flights, 5-star hotels and amazing experiences like hot air ballooning at sunrise will make this 20th anniversary one you'll cherish forever.
4. Custom Art Piece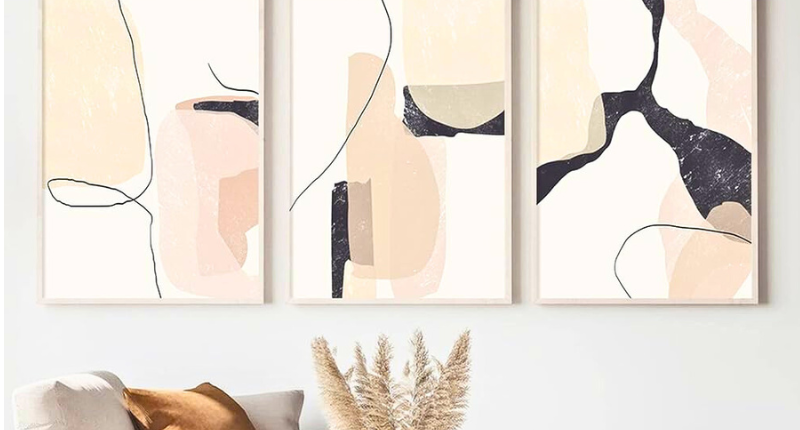 Celebrating 20 years together with a custom art piece makes for a thoughtful and personal gift. Commission a portrait of your wedding photo or a painting depicting a cherished memory from your relationship. For a modern twist, have a digital illustration made featuring your names and wedding date.
Or get creative and frame a collage of ticket stubs, postcards, and other mementos from your years together. Displaying this meaningful artwork in your home will serve as a daily reminder of your enduring love.
5. Engraved Keepsake Box
Photo: Canva
An engraved keepsake box is a touching 20th anniversary gift idea. Have a beautiful wooden box customized with a meaningful phrase, song lyrics, or wedding date. Fill it with sentimental notes, old photos, ticket stubs, or other small treasures from your relationship.
Presenting this to your spouse on your 20th anniversary will show how much you cherish the memories you've created together over the years. Keeping these cherished mementos in a personalized box demonstrates that even after 20 years, you still adore and appreciate your partner just as much as the day you said "I do."
6. New Wedding Bands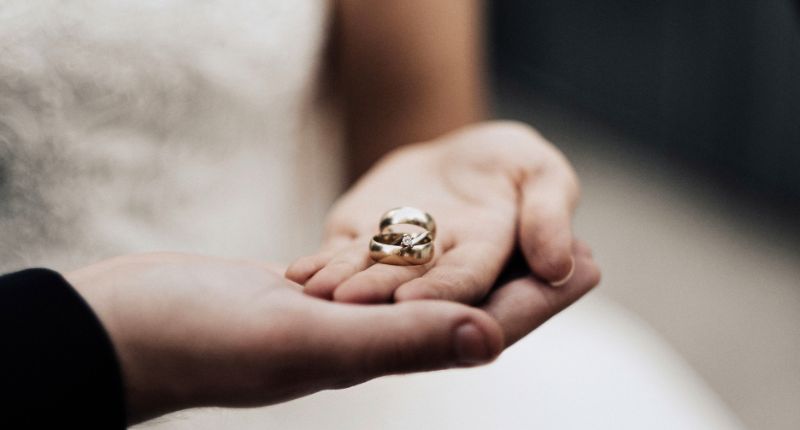 Photo: Canva
Exchanging new wedding bands is a touching way to celebrate 20 years of marriage. Visit a jeweler to pick out stylish new rings to symbolize your enduring commitment. Choose for bands with a contemporary look, or ones that coordinate with your original wedding rings.
Engrave the inside of the bands with a special phrase or the new anniversary date. Slipping these meaningful new rings onto each other's fingers recaptures the emotion of your wedding day.
This is a special 20th anniversary gift to honor your lasting love and devotion over two decades together. New rings mark this major milestone with a tangible symbol of the strength of your union and the excitement for whatever comes in the next 20 years.
7. Wine Tasting Experience
Photo: Canva
Make new memories together with a wine tasting adventure. Search for vineyards near you offering special tasting experiences. Tour the grounds and production facilities to learn the wine making process up close. Sit down to sample unique vintages paired with small bites.
Savoring the flavors together creates quality bonding time. Many vineyards even have scenic views perfect for snapshots. Capture your smiles in a photo with the sprawling vines behind you.
This activity lets you slow down to appreciate your partner and makes for an indulgent date celebrating 20 years as a couple. End your excursion by purchasing a bottle of your favorite wine from the tasting. Open and share it on your anniversary each year to reminisce on the delicious day.
8. Couples Massage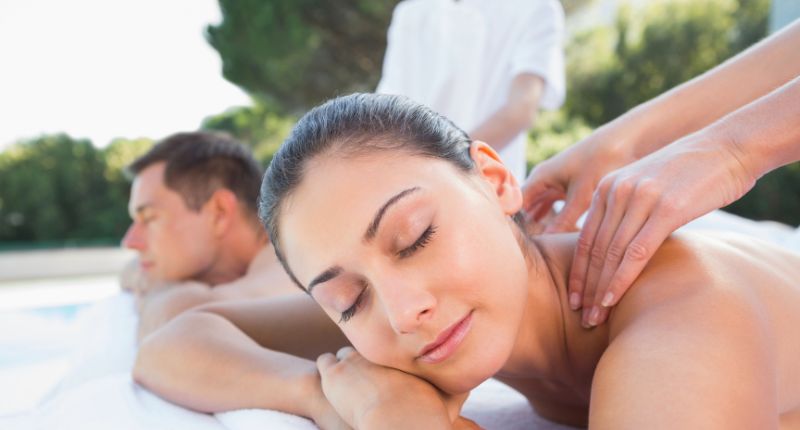 Photo: Canva
Pamper yourselves together with a relaxing couples massage. Schedule side-by-side appointments at a spa or wellness center. Sink into plush robes and slippers as you enter a peaceful sanctuary. Choose from Swedish, deep tissue, hot stone, or aromatherapy massages. Let your tight muscles unwind under the skillful hands of professional therapists. Breathe deeply and let go of any stress or tension.
Emerge feeling refreshed and reconnected after this rejuvenating experience. Many spas offer add-on enhancements like facials, body scrubs or foot soaks. Treat yourselves to the royal treatment in honor of 20 years as partners. The shared relaxation strengthens your bond and provides quality time focused just on the two of you.
9. Sentimental Photo Album
Photo: Canva
Compile your favorite memories into a sentimental photo album to celebrate 20 years together. Gather pictures from throughout your relationship – dating days, weddings, new homes, pets, family vacations, holidays, and more. Dig through boxes in the closet to unearth forgotten snapshots. Reach out to relatives and friends to contribute their photos too. Arrange everything chronologically in an album.
Include captions, journaling, or embellishments to make it more personal. This thoughtful 20th wedding anniversary gift idea allows you to relive beautiful moments from the past two decades. It also provides a chance to reflect on how far you've come as a couple.
Flip through the album over a nice dinner or curl up on the couch together for a stroll down memory lane. This personalized, heartfelt gift will become a treasured keepsake.
10. Dinner Cruise
Photo: Canva
Plan an elegant dinner cruise to celebrate your special day. Many cities offer scenic cruises on rivers or harbors, complete with gourmet meals and live music. Book a private table just for the two of you to celebrate your relationship milestones in an intimate, romantic setting. Toast with champagne as you glide past glittering city lights and beautiful landscapes. Some cruises even have dancing on deck under the stars.
For extra romance, surprise your spouse with the outing. Make sure to request their favorite bottle of wine or a decadent dessert like chocolate-covered strawberries or tiramisu.
Capture photos together on the deck with the city skyline in the background for a memento of this special evening. A dinner cruise combines fine dining, stunning views, and quality time on your 20th anniversary.
11. Concert Tickets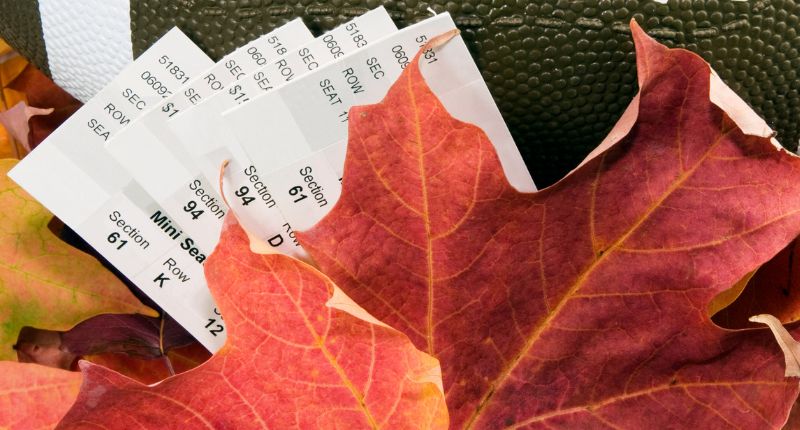 Photo: Canva
Celebrate 20 years together by attending a concert of your spouse's favorite musician or band. Check tour schedules for nostalgic acts you both enjoy. Choose seats close to the stage for the full experience. Surprise your partner with the tickets printed and framed as a personalized gift. Add a backstage pass for meeting the band too.
On concert night, wear matching tour shirts and rock out like you did when dating. Slow dance together during romantic ballads. Capture selfies of you singing along to cherished songs. Enjoy reliving youthful memories while making new ones. Concerts let you party like newlyweds again on your 20th anniversary.
12. Memory Book
Create a memory book filled with mementos, letters, and keepsakes from your 20 years together. This tangible record of your journey will be a cherished keepsake. Include handwritten notes recounting your most cherished moments, love letters exchanged over the years, and photographs that capture the essence of your relationship's evolution.
This personalized time capsule will not only bring back fond memories but also serve as a constant reminder of the enduring love that has grown stronger with each passing year. It's a testament to your enduring bond that will be treasured for generations to come.
Frequently Asked Questions
What is the traditional 20th wedding anniversary gift?
The traditional gift for a 20th wedding anniversary is platinum, symbolizing strength and endurance.
How to make a 20th wedding anniversary gift more personal?
Personalize your gift by adding engravings, or heartfelt messages, or by choosing something that holds special meaning for both you and your spouse.
What are some unique alternatives to platinum gifts?
Unique alternatives include personalized photo albums, customized artwork, renewing your vows, and planting a tree together.
Are there budget-friendly options for 20th anniversary gifts?
Absolutely! Gifts like memory books, romantic dinners, and subscription boxes can be thoughtful and budget-friendly options.
Conclusion
The 20th wedding anniversary is a major milestone representing devotion, commitment, and the ability to maintain a loving relationship through ups and downs. Remember, it's not the price tag but the sentiment behind the gift that truly matters. Personalize your chosen gift, infuse it with love, and let it serve as a symbol of your enduring commitment to each other. As you celebrate two decades of love, partnership, and shared memories, may your 20th wedding anniversary be a reflection of the beautiful journey you've undertaken together, with many more adventures to come.