Planning a wedding can be stressful, but having perfect backdrop ideas can be very helpful in enhancing your ceremony and making it truly wonderful.
The backdrop sets the tone and creates a focal point, so you want it to align with your wedding style.
There are so many creative ways to dress up your ceremony site, from floral arches to fabric installations.
So, here are the 27 beautiful wedding backdrop ideas to help make your ceremony unforgettable.
1. Floral Arch Backdrop
A floral arch is a classic wedding backdrop choice that instantly infuses romance into your ceremony. Work with your florist to design an arch that complements your wedding colors and flowers. Choose blooms that are in season to save money. For added drama, flank the arch with matching floral arrangements. This wedding backdrop will make your ceremony photos pop.
2. Macrame Backdrop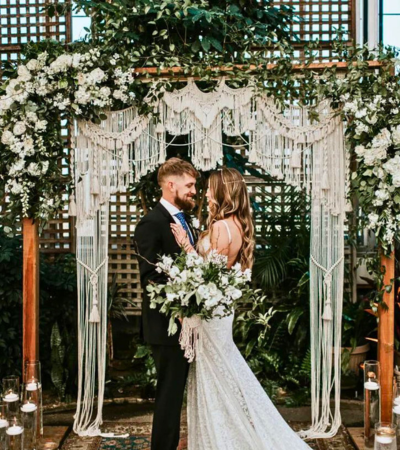 Macrame is having a major moment, making a macrame wall an on-trend wedding backdrop idea. Work with a macrame artist to design a custom piece, or DIY your own boho-chic backdrop. Hang the wall behind your ceremony site for a relaxed, artistic focal point. Add faux greenery for an organic look. Macrame makes a wonderful backdrop for outdoor weddings and goes nicely with simple wood benches or chairs.
3. Balloon Garland Backdrop
A balloon garland makes a fun, festive backdrop for your wedding ceremony. Design an arch, a garland in your wedding colors or buy balloons in bulk and DIY your own creation. Hang the garland on a simple frame or between two columns. Balloons work especially well for indoor weddings and backyard ceremonies. They bring a playful, whimsical vibe. For an extra personal touch, add large foil balloons with your names or wedding date.
4. Fairy Light Backdrop
Strings of fairy lights instantly create a magical backdrop for your wedding ceremony. Drape them over an arbor, hang them from trees, or wrap them around columns. For a more polished look, hang the lights against a sheer curtain. For an easy DIY project, hang a wooden ladder vertically and weave fairy lights through the rungs. Add flowers or greenery for extra romance.
Outdoor weddings especially sparkle with fairy light backdrops when the sun goes down. Extend the lights to your reception area too for a cohesive look. Choose for warm white or amber lights to complement natural scenery and florals.
5. Paper Flower Backdrop
For a romantic, boho-chic look, create a backdrop made of paper flowers. This style perfectly complements rustic, outdoor weddings. Start by making tissue paper flowers in your wedding colors. You can find tutorials online for different flower styles like roses, peonies, dahlias, and more. Arrange and glue the blooms onto a wooden backdrop board. Weave flowers and greenery around columns or your ceremony arch.
Another whimsical touch is to display paper flowers in glass cloches on tables. DIY paper flowers are an affordable way to get a high impact floral display. Plus, you can keep and cherish these handmade blooms as a memento of your special day.
6. Greenery Wall Backdrop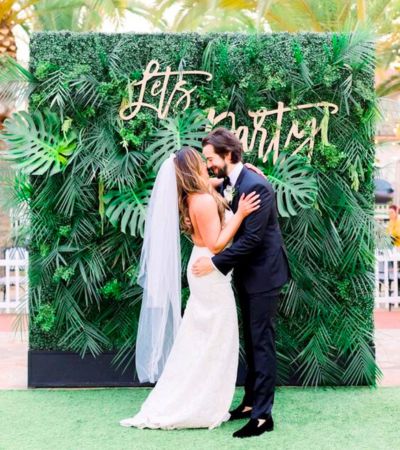 Bring the beauty of nature into your wedding decor with a lush green wall. Ferns, eucalyptus, ivy, and other greenery can be arranged into a living backdrop. For a woodsy feel, construct a frame from branches and affix plants with floral wire or twine. Hang trailing vines from the top for an enchanted, secret garden look. Position potted trees on either side to frame the ceremony space. Accent with flowers like hydrangeas or roses for pops of color.
Greenery walls work especially well for garden weddings, but also make stunning backdrops indoors. The organic textures provide an elegant yet relaxed vibe for your ceremony. Your florist can help design a spectacular green wall that will make your ceremony feel straight out of a fairytale.
7. Hanging Flower Backdrop
A suspended backdrop of flowers makes a gorgeous focal point for your ceremony. Flower walls have become a trendy wedding backdrop idea, with good reason. The lush, overflowing flowers create a romantic and dreamy setting for exchanging vows.
Choose flowers in your color scheme like peonies, roses, ranunculus, dahlias, or hydrangeas. Accent with trailing vines and greenery for texture. Position potted flowering plants on the ground below to complement the hanging blooms.
The possibilities are endless when it comes to flower choices, so get creative. Just be sure to use flowers that will hold up well out of water. A suspended floral installation is sure to wow your guests and provide Instagram-worthy wedding photos.
8. Fabric Backdrop with Drapes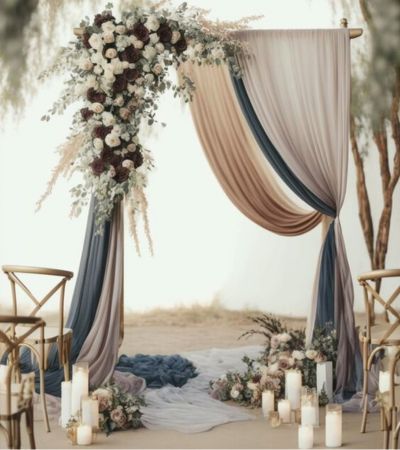 Fabric backdrops are an elegant and affordable wedding backdrop idea. Drape swaths of luxe fabric like satin, silk, or tulle to create an effortlessly chic ceremony backdrop. Choose fabric in your wedding colors, or choose for classic white or ivory. Layer different fabrics, alternating sheers with heavier materials for visual interest.
Ruffle the fabric edges or gather them at intervals to add dimension. Affix the backdrop to poles or pillars and artfully drape the fabric. Allow the ends to puddle on the ground for a romantic vibe. Accent with strands of cafe lights woven throughout or floral embellishments.
For a glamorous touch, hang a crystal or beaded curtain as the backdrop. Customize the backdrop to match your wedding style, whether modern minimalist, or boho chic. Your fabric-draped ceremony backdrop is sure to provide a focal point for your "I do's."
9. Rustic Wood Backdrop
Bring nature into your ceremony with a rustic wood backdrop. Use repurposed barn wood, logs, or branches to create a textured feature wall. Lean the wood pieces against poles or stack them horizontally to form the backdrop shape. Twinkle lights woven throughout add ambiance once the sun goes down. For a whimsical touch, hang macrame plant holders with trailing greenery at intervals along the wood. Or adorn with wildflowers in mason jars attached to the logs.
Another option is to hang a simple wooden sign with your name and wedding date carved into it. The organic textures and natural elements are perfect for a boho, country chic or western-inspired wedding. Your guests will love the laid-back vibe a woodsy backdrop brings to your ceremony.
10. Vine Backdrop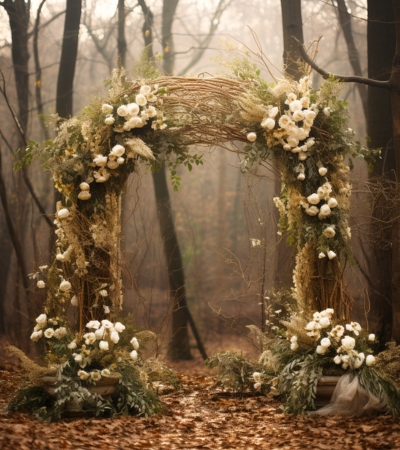 Bring an enchanted garden feel to your wedding with a backdrop made of vines. You can use faux vines or real ones to create an arch, columns, or a wall of cascading greenery. For faux vines, wrap them around poles, pillars, or frames to make beautiful organic shapes. Intertwine real vines through a trellis or crisscross them on fencing.
Hang flowers like roses or peonies at intervals for pops of color. Accent with glass vases of flowers on pedestals or the ground. Add string lights for a magical glow at nighttime.
Vines can be formed into arches, screens, or free-standing shapes. Let your creativity run wild when dreaming up vine backdrop ideas. This charming, whimsical backdrop is perfect for outdoor ceremonies and will wow your guests.
11. Chalkboard Sign Backdrop
Get creative with your ceremony backdrop by using chalkboard signs. These can be made from actual chalkboards or painted wood cutouts. Have your names, wedding date, meaningful quotes, song lyrics, or any short phrases painted on in pretty lettering with chalk. You can also draw simple pictures like hearts, flowers, or leaves.
Chalkboards are a cute, casual backdrop that adds personalized details. This casual, artsy backdrop will give your ceremony a relaxed, romantic vibe. Chalkboard signs can be repurposed after your wedding as home decor.
12. Mirror Backdrop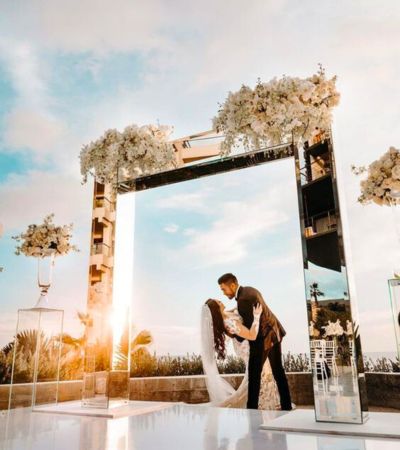 For a glamorous ceremony backdrop, consider using mirrors. Lean full length mirrors against your altar or wall in a layered formation. The reflection will beautifully double your decor and scenery. Or hang round mirrors at staggered heights on a frame for lots of sparkle.
You can find ornate antique mirrors for a Gatsby vibe or modern sleek frames for contemporary flair. Accent with crystal chandeliers, candelabras, and votives to amplify the opulence.
This luxe backdrop is ideal for ballroom ceremonies and black tie weddings. The mirrored backdrop will make your space seem larger while reflecting light. It's perfect for small venues needing to appear more expansive. Mirrors add texture, depth, and amplification to your decor. Your wedding photos with this sparkling backdrop will be absolutely magical.
13. Lantern Backdrop
String lights and lanterns make for an enchanting wedding backdrop. Outline your ceremony space with dangling Edison bulbs, cafe lights, or paper lanterns for a warm glow. Wrap twinkle lights around branches, poles, or your altar for a sparkling effect. Hang lanterns from shepherd hooks or poles at different heights.
Choose a mix of lantern styles and sizes for visual interest. Vintage, mason jar, Moroccan, Chinese, and paper lanterns all have distinct shapes and feels. Mix metallics like gold, rose gold, and silver for extra shimmer. Ensure lights are fully charged and tested beforehand. Timed or remote controlled lights allow easy on/off.
Include candle lanterns for an authentic flickering ambiance. The lantern glow will set a relaxed, romantic vibe for your ceremony. Uplighting behind your lanterns creates a stunning backdrop. Your photos of vows exchanged under the lantern lights will be absolutely Instagram-worthy.
14. Flower Wall Backdrop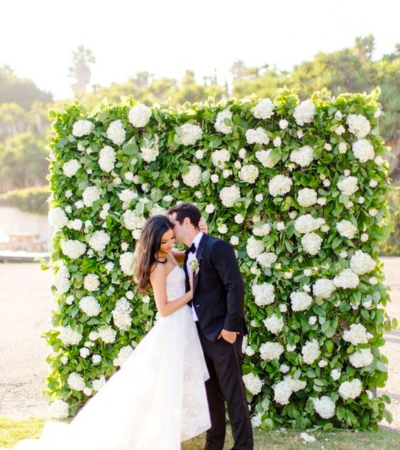 Floral backdrops are hugely trendy and offer beautiful photos. Start with a simple wood frame or trellis. Affix floral foam, chicken wire, or netting to hold stems in place. Use a mix of blooms in your wedding colors for a coordinated look. Incorporate greenery like ferns or eucalyptus for texture. Choose flowers that can withstand being out of water for several hours. Hardy options include roses, carnations, gerbera daisies, and chrysanthemums.
For tropical weddings, orchids, anthurium, birds of paradise, and protea make stunning choices. Hang a floral swag along the top for a graceful effect. The vibrant colors and organic shapes create unique ceremony photos and a natural art installation your guests will love.
Here is section 15 in markdown format:
15. Arbor Wedding Backdrop Idea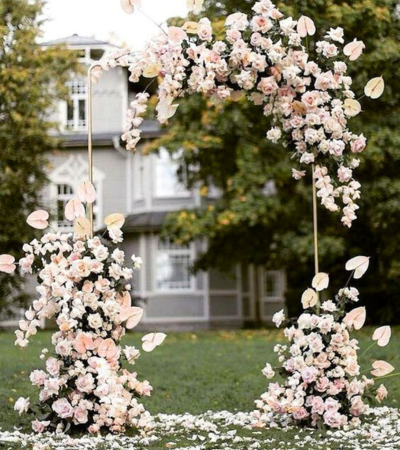 An arbor or archway decorated with flowers and greenery makes a classic wedding backdrop. Arbors represent the symbolic entry into your new life together. Wooden, metal, or wire arches offer sturdy bases to embellish.
Weave greenery like ivy or eucalyptus through the structure. Accent with romantic blooms in your wedding palette. Use potted plants or flower boxes at the base for a garden feel. For night weddings, hang string lights across the top or incorporate lanterns along the sides. Keep it simple or go all out.
Arbors make wonderful backdrops for both outdoor and indoor weddings. They frame your ceremony while allowing you to take center stage. An arbor sets the tone for your wedding style—from classic elegance to boho chic. Walking through the archway symbolizes entering your new chapter. Let your floral arbor make a sweeping romantic statement.
16. Tulle Wedding Backdrop Idea
For an ethereal wedding backdrop, look no further than tulle. This delicate material adds softness and romance when draped artistically. Tulle can be used to create dreamy ceiling installations, flowing wall backdrops, or billowing curtains around your ceremony space. Opt for tulle in your wedding colors or neutral shades like ivory or blush. Accent with fairy lights woven throughout for a magical ambiance.
The airy quality of tulle makes an ideal backdrop for photo ops. It provides soft focus and diffused lighting for portraits. Whether you DIY your tulle backdrop or hire a designer, this fabric creates a stunning focal point. Tulle brings a dreamy and romantic vibe to any wedding style.
17. String Light Backdrop
String lights instantly add ambiance and romance to any wedding backdrop. Drape them over wooden beams, trees, or other structures to create a focal point. Outline doors, windows, or your altar area with string lights for added glow. You can use string lights on their own or incorporate them into other backdrop elements.
White string lights have a classic and elegant look, while colored bulbs can match your wedding palette. Choose for warm white versus cool LEDs to prevent a harsh glare in photos. Ensure the spacing and shape of your string lights complements the backdrop design. It's an easy DIY project or you can hire an expert designer to handle the details. Light up your wedding in style with this top trend.
18. Barn Wood Backdrop
Rustic barn wood brings a touch of country charm to any wedding backdrop. Barn wood adds warmth and texture, contrasting beautifully with stone, brick, or foliage. Repurposed wood makes a sustainable and budget-friendly backdrop material. Look for salvaged barn wood from old structures, homes, or fencing. Aged, weathered planks add visual interest and character.
Barnwood backdrops can be simple and understated or embellished with details. Let your venue's architecture inspire your barn wood wedding backdrop ideas. Dramatic trusses and beams are perfect for an indoor reception or tent. For outdoor ceremonies, build a backdrop barn wood arch, pergola, or frame.
Barnwood brings warmth and authenticity with a nod to history. It's the perfect backdrop for rustic, country, vintage, and bohemian weddings.
19. Flower Hoop Wedding Backdrop Idea
A flower hoop backdrop adds charm to any wedding ceremony or reception. These backdrops feature a series of hoops in graduated sizes, each adorned with fresh blooms. Flower hoops make a lovely frame for wedding portraits. The circular shape beautifully complements the round tables at the reception.
Choose lightweight hoops made of rattan, bamboo, or metal. Wooden embroidery hoops also work well for smaller installations. Select flowers in the wedding colors or opt for all white blooms. Play with different textures and varieties – roses, peonies, babies breath, eucalyptus, etc.
Flower hoops bring an organic feel that flat backdrops can't match. Flower hoops can be configured as a stand-alone installation or combined with other backdrops. Coordinate colors and blooms with ceremony florals for a cohesive look. For night lighting, add string lights or candles to the hoops. Flower hoops let your creativity bloom for a memorable wedding backdrop.
20. Flower Swing Backdrop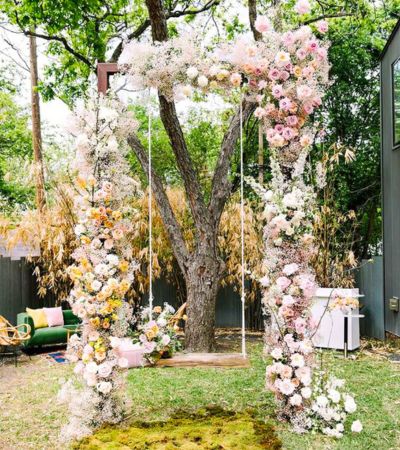 A flower swing makes a playful, romantic backdrop for wedding ceremonies. This installation features a wooden swing suspended by ropes, chains, or ribbons. The seat is adorned with a lush garland of blooms and greenery. The swing can also make a fun photo prop for portraits.
Adorn the seat with garlands, wreaths, or arrangements showcasing seasonal blooms. Incorporate flowers like peonies, roses, dahlias, babies breath, and greenery for texture. The flower swing adds a touch of playfulness and movement that flat backdrops lack. It brings the wedding theme to life in a whimsical way.
Flower swings work for any season – go bright and bold for summer or moody for fall. At night, add string lights to the swing frame and candles to the arrangements. A flower swing wedding backdrop idea promises to delight guests. It brings a sense of romance and childhood joy to your ceremony.
21. Flower Chandelier Wedding Backdrop Idea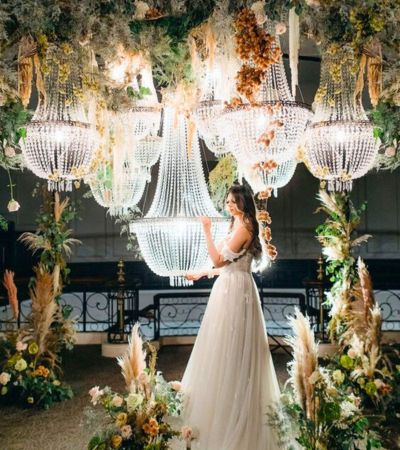 A suspended floral chandelier makes a stunning focal point for an outdoor wedding ceremony. This eye-catching backdrop features an ornate lighting fixture adorned with fresh blooms. The chandelier is hung from a wooden frame, trees, or an existing structure as the centerpiece.
The flower chandelier backdrop adds gorgeous dimension and texture. It draws all eyes to the spot where vows are exchanged. The flowers also emit a delicate fragrance to enhance the ambiance. At night, the chandelier backdrop transforms into a glowing, romantic focal point. With candles and string lights, it creates a magical setting.
A floral chandelier brings a sense of grandeur and romance to the ceremony. It makes a statement with its sheer size, intricacy, and artistry.
22. Sparkler Exit Backdrop
A sparkler exit makes for an unforgettable sendoff! As the newlyweds walk through a tunnel of guests holding sparklers, it creates a magical backdrop. The sparklers emit a glow while filling the air with flickering light. This exit backdrop adds excitement while capturing stunning photos and videos.
As the newlyweds walk between the lines, guests raise the sparklers up above their heads forming an arch. Images of the couple enveloped in sparklers make for incredible memories.
For maximum visual impact, hold the exit at dusk. The flickering sparklers will really stand out against the darkening sky. Just be sure to check local laws on using sparklers. Nonetheless, the sparkler exit wedding backdrop ideas makes a festive, memorable ending to the ceremony.
23. Flower Petal Aisle Backdrop
A flower petal aisle backdrop transforms an ordinary walkway into a magical passageway. As the bride makes her grand entrance, flower petals line her path for an enchanting effect. This elegant backdrop sets the scene for the ceremony ahead.
To create it, scatter fresh flower petals down the aisle runner leading up to the altar. Use loose petals in colors that match your wedding palette. Once scattered, ask attendants to top up the petals just before the processional. As the flower girl scatters additional petals, it creates a freshly bloomed look.
If your venue prohibits loose petals, create the look with faux petals instead. Scatter them in a natural way, blending real touches like petals in the flower arrangements. With artificial petals, a leaf blower easily resets the aisle between uses.
Flower petals transform the aisle into a romantic, natural backdrop. As the bride glides over a sea of petals, it makes for unforgettable photos and memories.
24. Flower Field Backdrop
A flower field makes for an idyllic wedding backdrop. With endless blooms in every direction, it's a dreamy setting for your ceremony. It exudes natural beauty and romance. Picture lush fields of colorful flowers gently swaying in the breeze, creating a picturesque setting that's both charming and captivating. This backdrop effortlessly adds a touch of ethereal elegance to any wedding ceremony.
A flower field backdrop symbolizes growth, renewal, and the promise of a beautiful future, making it a meaningful and heartfelt backdrop for exchanging vows. It represents the blossoming love between the couple as they embark on their journey together.
25. Waterfall Backdrop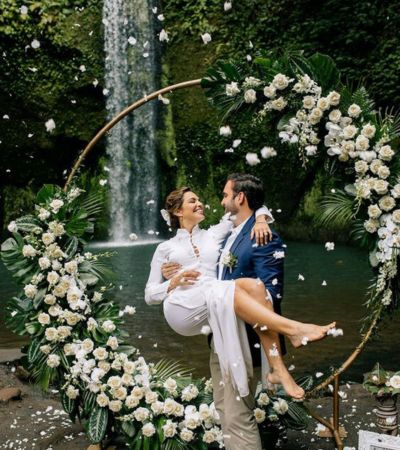 The soothing sounds of cascading water make waterfalls an ideal wedding backdrop. Hearing flowing water promotes relaxation during your ceremony. Natural waterfalls are gorgeous backdrops. Research waterfall hikes near your venue for convenient options. Ensure the waterfall will be flowing during your wedding month.
Man-made waterfalls also work beautifully. Many resorts, vineyards, and parks feature decorative waterfalls. Check for access and permits if on private property. For DIY waterfalls, set up a small solar-powered fountain. Conceal the base in plants and flowers. Or install a backyard waterfall kit from stores like The Home Depot or Lowe's.
Safety first with waterfall backdrops. Keep electrical cords away from water access. And watch for slick rocks underfoot near waterfall edges.
Videographers love waterfalls since the movement adds visual interest. And the ambient noise covers coughs or crying babies during vows. Just be sure your officiant uses a mic so guests can hear.
26. Mountain Wedding Backdrop Idea
Majestic mountains make stunning wedding backdrops. Their grandeur inspires awe during your ceremony.
For outdoor mountain weddings, scout locations with scenic vistas. Visit potential sites and take photos throughout the day. Ensure the backdrop aligns with your aesthetic.
If an outdoor mountain wedding is logistically challenging, create a faux mountain backdrop. Drape gauzy fabric behind your arch or altar. Use shades of blue, purple, and white to represent misty mountains.
Or print a large mountain mural from sites like Shutterfly or Snapfish. Hang it behind your ceremony space for a realistic mountain view. Incorporate natural elements with your mountain backdrop. Display potted evergreens, pinecones, and river rocks.
Your mountain backdrop evokes a sense of wonder and timelessness. It connects your union to nature's majesty. Guests will be moved by your ceremony against the mountains.
27. Beach Wedding Backdrop Idea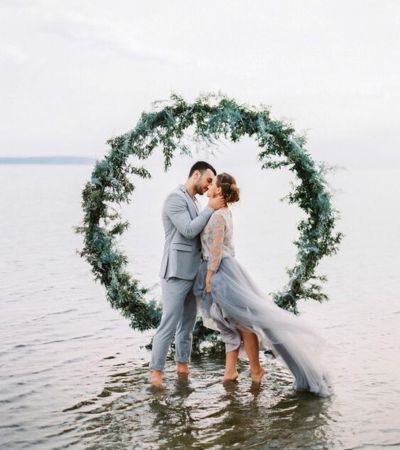 A beach backdrop infuses your wedding with seaside romance. The sound of waves, salt air and ocean views provide a serene setting.
For a real beach backdrop, select a ceremony site near the shore. Face the ocean for panoramic views. Time your wedding at sunset for stunning light.
Bring the beach to you with a faux backdrop. Drape gauzy blue and white fabrics suggesting the sea and sky behind your arch. Display shells, starfish, sand dollars, and coral on tables.
Print or paint a mural with your favorite beach scene. Hang it behind your altar for a realistic backdrop.
Incorporate driftwood, seashells, and sand into your décor. Use sunflowers, roses, daisies, and greenery in arrangements evoking beachside blooms.
The beach inspires joy and relaxation. Your wedding backdrop ideas connect you to the eternal rhythm of the waves. Guests will cherish beach memories for years to come.
Frequently Asked Questions
What are wedding backdrop ideas?
Wedding backdrop ideas are creative and decorative elements used to enhance the visual appeal of the ceremony or reception space. They serve as a focal point and can reflect the couple's style, theme, or personal preferences.
Is a backdrop necessary for a wedding?
A backdrop is not absolutely necessary for a wedding, but it can add a nice touch to photos. Backdrops are especially useful if your wedding venue doesn't have an attractive background for photos. A backdrop creates a photo-friendly space and adds visual interest.
What are some popular wedding backdrop ideas?
Popular wedding backdrop ideas include floral arches, draped fabrics, fairy light curtains, rustic wooden structures, greenery walls, and custom signage. Couples can also personalize backdrops to match their unique vision.
Where can I find inspiration for wedding backdrop ideas?
You can find inspiration for wedding backdrops on wedding websites, social media platforms like Pinterest and Instagram, bridal magazines, and by attending bridal expos or consulting with wedding professionals.
Conclusion
A wedding backdrop can really enhance your photos and set the scene for your big day. With a little creativity, you can make a beautiful DIY backdrop on a budget. Consider using fabrics, greenery, decorations, and lighting to design a backdrop that matches your wedding style. Position the backdrop in an attractive spot for photos. Be sure to capture some romantic portraits in front of your wedding backdrop to memorialize the special day. With the right backdrop ideas, you're sure to have picture-perfect wedding photos and wedding memories.