Church wedding decorations serve as a beautiful backdrop, enhancing the atmosphere and creating lasting memories for both the couple and their guests.
A church wedding is a momentous occasion where two individuals come together in the presence of their loved ones to exchange vows and celebrate their commitment to one another. The ambiance of the church plays a pivotal role in setting the tone for this sacred event.
In this guide, we will explore 27 wedding decoration ideas that will help you transform your chosen place of worship into a stunning wedding venue.
1. Greenery Garlands on Pews
Nothing says simple elegance like greenery garlands draped along the ends of pews at your Christian church wedding. These lush garlands add a touch of natural beauty while keeping decor simple. Choose for loose, flowing garlands made of mixed greenery accented with tiny white blooms.
The green garlands will beautifully complement any floral arrangements at the altar or on pew markers. Keeping decor cohesive with greenery garlands lining the aisles softly enhances the overall aesthetic for a dreamy church wedding filled with fresh florals.
2. Floral Chandeliers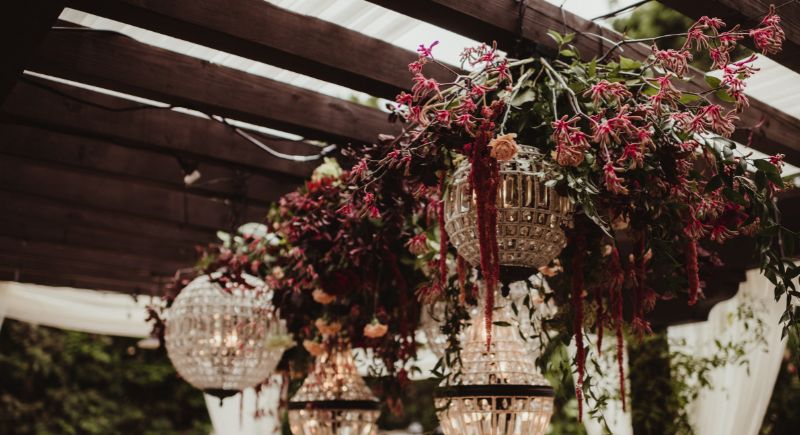 Photo: Canva
Transform your church's interior by hanging stunning floral chandeliers over the ceremony aisle. These jaw-dropping arrangements make a bold statement and create drama under the vaulted ceilings.
Choose for chandeliers featuring cascading flowers, greenery, and candles to make a visually striking focal point. White roses, hydrangeas, and dangling amaranthus provide texture and interest. The lush, overflowing chandeliers will make your ceremony feel straight out of a fairytale.
Keep the rest of your church decor simple to let the floral chandeliers shine as the true stars of your wedding decor.
3. Twinkling String Lights Overhead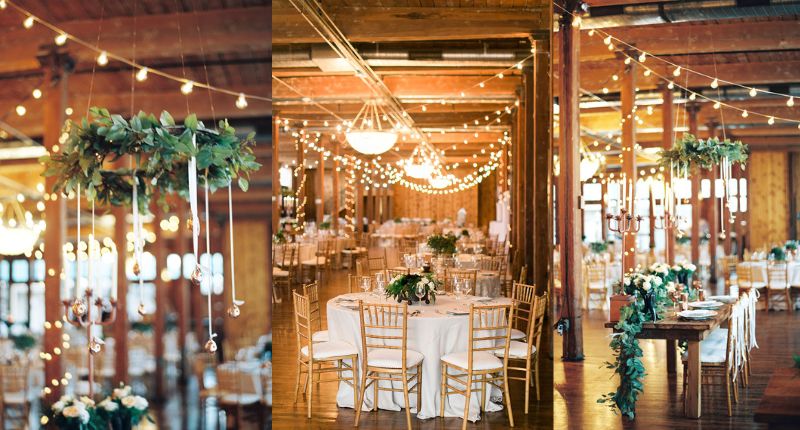 In addition to floral chandeliers, hang twinkling string lights high above the ceremony space to create a magical ambiance. Select soft white string lights to complement your wedding's color palette. Drape the lights overhead on the church's existing beams, rafters, or arches. The lights will cast a warm glow over your ceremony and reception, making the space feel celebratory and romantic.
If your venue has vaulted ceilings, hang string lights at varying heights for visual interest and to highlight the architecture. For added sparkle, intersperse clear crystal prisms or small mirrors along the string lights to reflect and refract the glow. The overhead string lights will make your wedding feel ethereal and timeless.
4. Dramatic Floral Archway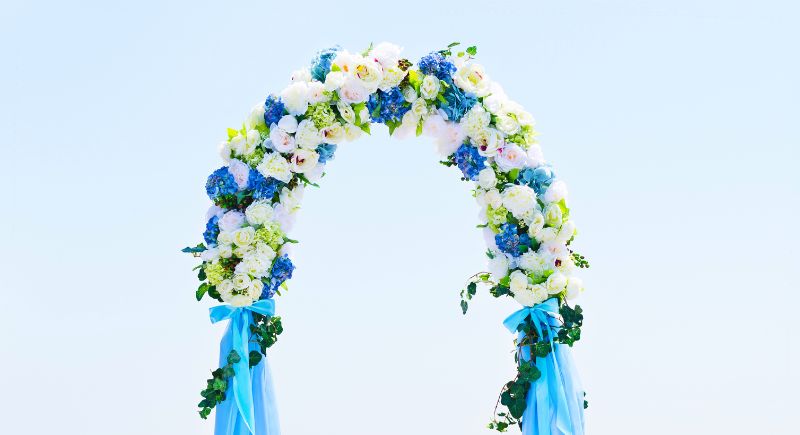 Photo: Canva
An eye-catching floral archway serves as a focal point for your ceremony and makes for beautiful photos. Work with your florist to design a lush, overflowing archway that fits your wedding style.
For a glamorous look, choose an abundance of roses, hydrangeas, and peonies in your wedding colors. Or go for an organic, wildflower-inspired archway using seasonal blooms and greenery. The archway draws guests' eyes to the front and creates a pretty backdrop as you say your vows.
For extra romance, add flower petals or vines trailing down the sides. The floral archway ushers you into married life in a symbolic and visually stunning way.
5. Candlelit Centerpieces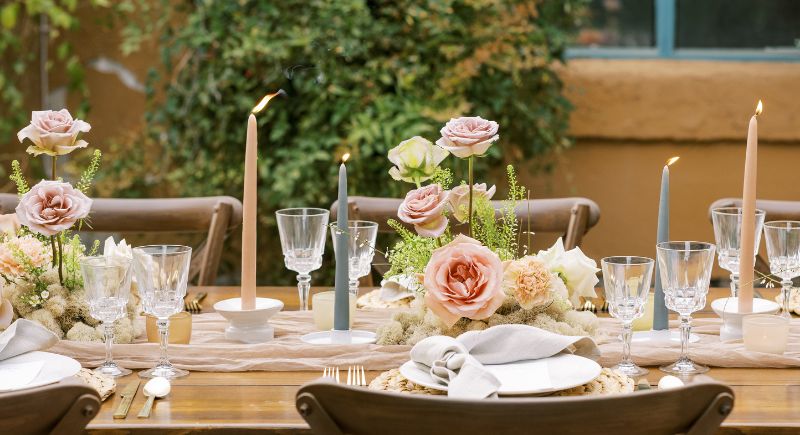 Photo: Canva
Candlelight adds a warm, romantic glow to your reception. To incorporate candles, create elegant centerpieces featuring taper candles, lanterns, or hurricanes. For your church wedding decorations, use tall candlesticks interspersed with low arrangements. Or, keep it simple with three clean-lined candles clustered together. You can tie your color scheme into the candles themselves using colored votives or patterned holders.
For unity, use the same candle and holder at each table. Greenery like eucalyptus, ivy, or ferns helps soften flickering flames. Candles create a beautiful ambiance and give your reception a classic, romantic feel. Just be sure to use real candles or quality flameless alternatives so the lighting looks natural.
6. Suspended Greenery Balls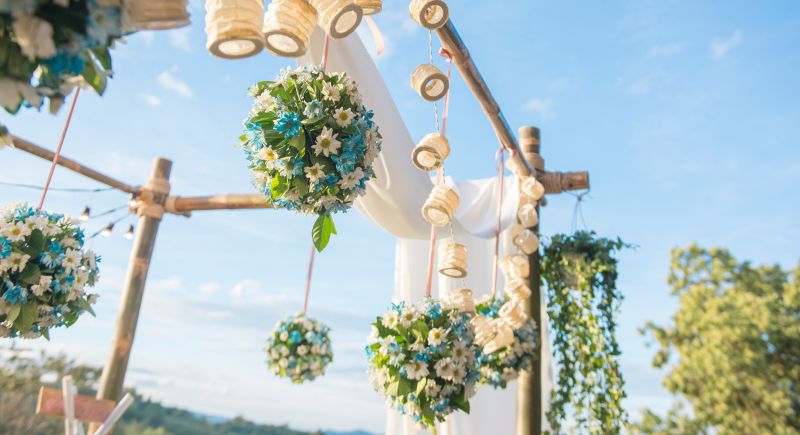 Photo: Canva
Create an elegant focal point by suspending large balls of greenery above your reception tables. These organic orbs can be made from leafy greens like eucalyptus, salal, or ivy. For texture, incorporate herbs like rosemary or lavender. Accent with air plants, flowers, or ribbons. Hang the spheres at varying heights above the tables using a fishing line, ribbon, or chain.
The suspended greenery makes a lovely natural statement while bringing life and freshness indoors. This unique decor is organic yet polished, providing a whimsical touch that's perfect for a church wedding. Just be sure the balls are securely fastened so they don't fall. Suspended greenery makes a stunning alternative to floral centerpieces.
7. Lanterns Lining the Aisle
Create a warm and welcoming atmosphere by lining your church aisle with lanterns. Place lanterns on alternating sides of the aisle attached to pews using ribbons or hooks. For impact, use lanterns in the same color and style. Clear glass lanterns allow the candlelight to shine through. Fill the lanterns with pillar candles, tea lights, or battery-operated candles for safety.
The soft glow from the lanterns guides guests to their seats while setting a beautiful tone for your church wedding ceremony. Just be sure to check with your venue about open flame policies. Lanterns offer a timeless and elegant way to decorate the aisle that makes a statement without overwhelming the church architecture.
8. Flower Petal Aisle Runner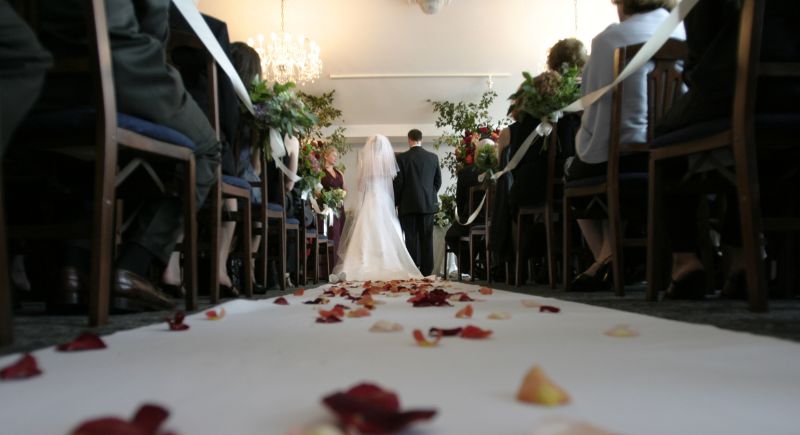 Photo: Canva
A flower petal aisle runner adds a romantic touch and springtime feel to your church wedding. Choose petals in your wedding colors or opt for white to match an all-white floral scheme.
Scatter the petals thickly down the aisle for a lush effect. For added volume, mix faux petals with fresh petals which will dry and remain on the floor throughout the ceremony.  A flower girl can scatter additional petals as she walks down the aisle.
No matter which petal aisle decor you choose, be sure to check with your church first about policies for dropping petals or using aisle boxes. A flower petal aisle runner beautifully ushers guests into your ceremony space.
9. Ribbon Pew Bows
Ribbon pew bows bring a soft, romantic feel to your church wedding decor. These bows are an easy DIY project, or you can order them pre-made. Choose for wide ribbons in your wedding colors, or classic white against dark wood pews.
Consider mixing patterns like stripes, solids, and damask for visual interest. Incorporate greenery by tucking sprigs of baby's breath into the bows. Or, hang small floral pomander balls along the aisle to complement the bows.
For added cohesion, repeat your ribbon bow colors elsewhere like on bouquets, altar arrangements, and reception decor. Simple yet elegant, ribbon pew bows put a polished finishing touch on your church wedding decor.
10. Crystal Chandeliers
Photo: Canva
For a glamorous wedding, consider lighting up your church with sparkling crystal chandeliers. Nothing says elegance like the dazzle of crystal. Strategically hang large chandeliers over the altar and other focal points. Add smaller chandeliers or cascading crystals along the aisle.
For a budget option, hang strings of crystal beads or prisms to catch and reflect the light. The crystals will cast a magical glow over the ceremony. Play with lighting colors if possible – try amber, blush pink or pale blue.
The crystals will pick up the colors for an ethereal effect. Tiny hanging crystals can adorn floral hoops, altar displays and pew ends. Remember to accent chandeliers with candles for a romantic glow. Crystal lighting sets a luxurious ambiance for an elegant church wedding.
11. Paper Flower Backdrops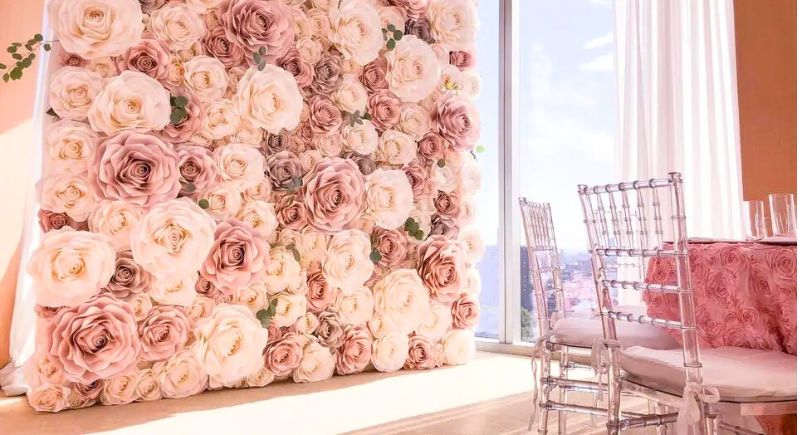 Create a stunning floral focal point with a giant paper flower backdrop. These gorgeous blooms make a big statement behind your altar or sweetheart table. Start with a bold oversized bloom like peonies, roses, or ranunculus. Mix colors and sizes for visual interest. Accent with lush greenery and filler flowers like buds and berries. Paper flowers are a budget savvy way to get that fresh flower look.
For a more natural look, cluster arrangements in baskets or pots. Paper flower walls make a dreamy backdrop for your ceremony or reception. Light them with fairy lights or candles for ambiance. This eye-catching focal point is sure to wow your guests.
12. Hanging Flower Balls
Suspend giant paper flower balls above your reception tables for a whimsical touch. These stunning spheres make a statement suspended from the ceiling or on shepherd hooks around your venue.
Start with a solid styrofoam ball form and cover it completely with crepe paper petals. Choose bold, vibrant blooms like peonies, dahlias or roses. Mix shades of the same hue for impact. Accent with filler buds, leaves, and tendrils cascading down. Scatter loose petals on the table for a romantic look.
The possibilities are endless with these gorgeous floral orbs. Light them with fairy lights or candles for a magical glow.
13. Greenery Wreaths on Doors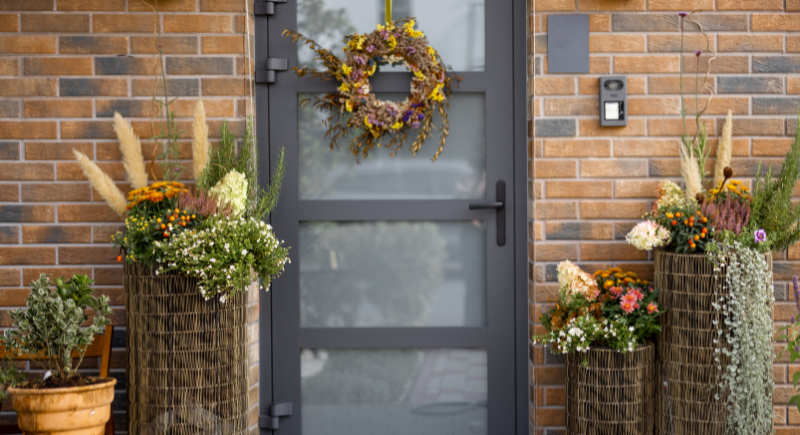 Photo: Canva
Welcome guests to your wedding with gorgeous greenery wreaths on the doors. This simple yet striking decor instantly signals an elegant event. Choose locally sourced greens like eucalyptus, magnolia leaves, or olive branches. Style into lush, full wreaths and hang on the front doors of your venue. For the ceremony, adorn the doors to the sanctuary with matching wreaths.
Ask your florist to include berries, seeded eucalyptus, or other textural accents. Wreaths can be hung with simple hooks, ribbons, or decorative hangers. For photo opportunities, have your groom hang a "Mr. & Mrs." sign on the doors after the ceremony. The green wreaths will beautifully frame your romantic portraits.
14. Trees Decorated with Lights
Draping trees in twinkling lights is a gorgeous way to create an enchanting ambiance for your wedding. Opt for trees near your ceremony site, cocktail hour location, or reception space. White lights look especially elegant, casting a warm glow at dusk. For added sparkle, choose lights with crystal or faceted bulbs.
Icicle lights work well for this, cascading gracefully down branches. Wrap trees tightly starting from the trunk and moving upwards to create a cohesive, glowing look. Have your lighting team or decorators handle this task, as it requires tall ladders. Your guests will be delighted by the romantic, fairytale look.
15. Tulle Pew Bows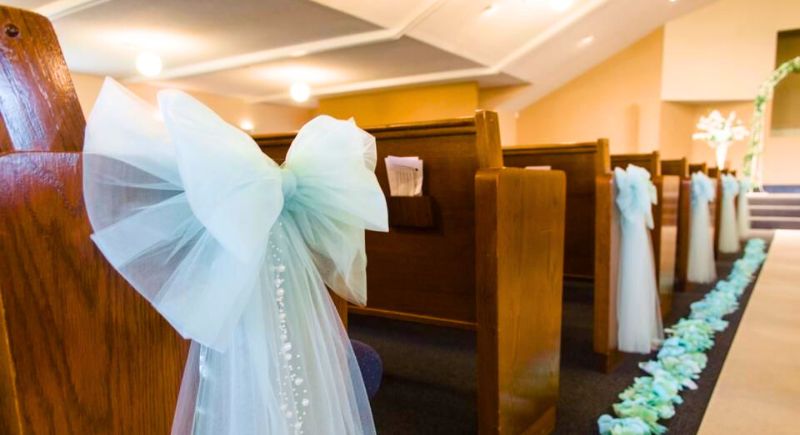 A simple yet elegant way to decorate the pews is with tulle bows. These add a soft, romantic touch to the ceremony space. Choose tulle in your wedding colors, or opt for classic white or ivory. Cut strips of tulle and tie them around each pew. For fuller bows, use multiple strips per pew. You can tie bows on the sides of pews or in the center.
Another option is alternating bows with floral arrangements on every other pew. This creates a rhythm and pleasing visual pattern. Pew bows add a sweet finishing touch to your ceremony décor.
16. Flower Swags on Columns
Strategically placed floral swags can dramatically transform a church space. Long, flowing arrangements that drape down columns or archways make a stunning ceremonial backdrop. For a cohesive look, use flowers featured in your bouquets and centerpieces. Popular choices like roses, peonies, and hydrangeas work beautifully.
Incorporate greenery like eucalyptus for texture. Columns swathed in flowers evoke romance and make an unforgettable impression. For added drama, intersperse floral swags with cascading candle arrangements. The combination of flowers and candlelight creates an ethereal ambiance. Floral columns make a heavenly setting for reciting sacred vows.
17. Large Floral Arrangements by Altar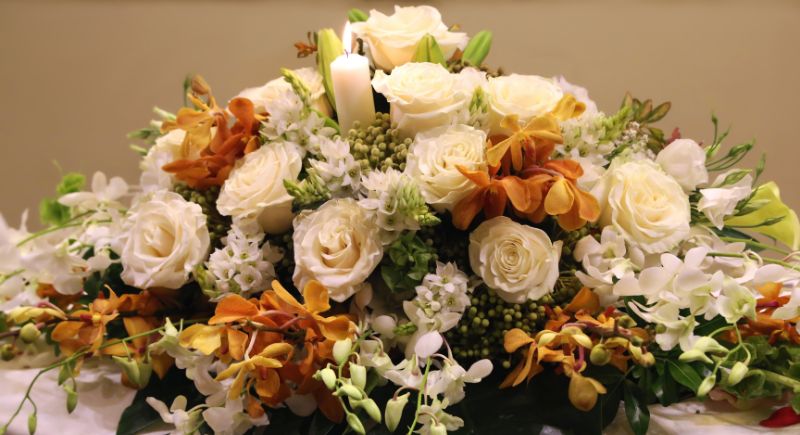 Photo: Canva
The altar is the focal point of a church wedding, so draw attention to this sacred space with stunning floral designs. For your church wedding decorations, choose large statement arrangements in your chosen colors to frame the altar. Select flowers like peonies, roses, dahlias, and ranunculus for their beauty and symbolism. Incorporate foliage like eucalyptus and olive branches for added texture and meaning.
Place arrangements in tall urns or vases on pedestals, spaced symmetrically on either side of the altar. This creates a gorgeous floral frame as the couple exchanges vows. The floral display should complement, not distract from, the union being celebrated. When designed thoughtfully, altar flowers create a splendid backdrop for sacred matrimony.
18. Mason Jar Candles on Pews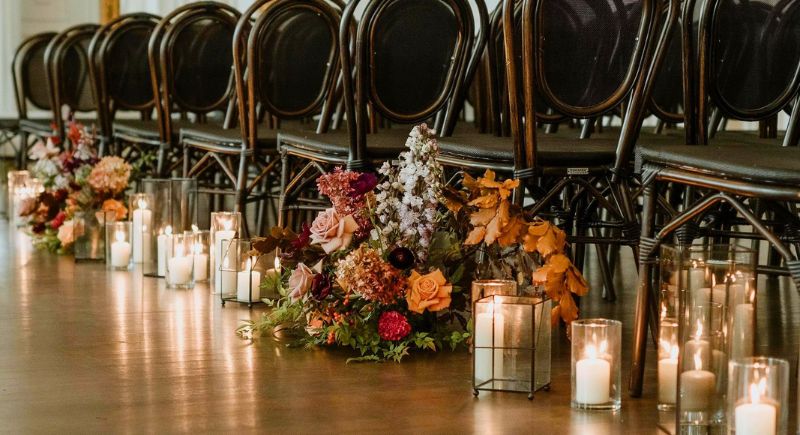 Illuminate the aisles with charming mason jar candles to guide guests to their seats. Nestle tealights or votives inside simple glass jars and space them evenly along the pew ends. For added cohesion, use jars that match your overall wedding decor. You can tie raffia bows around each to complement your color scheme.
For a rustic touch, use amber jars with twine accents. Clear jars work well for any wedding style. LED tealights are a safe, long-lasting option. Their warm, flickering glow sets a romantic mood. Illuminating the pews this way not only looks lovely but also shows guests to their seats once the sun sets. It's a charming and functional detail for any church wedding.
19. Flower-Adorned Altar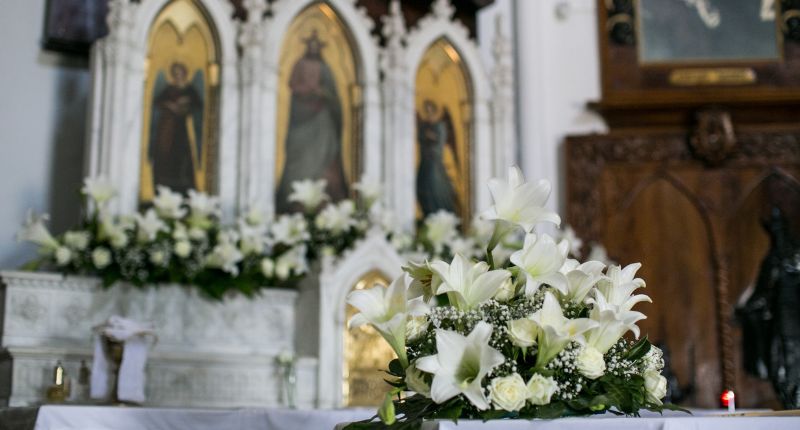 Photo: Canva
An altar overflowing with flowers creates a focal point for the ceremony. Work with your florist to design arrangements that suit your wedding style. For a romantic look, amass vases of roses, peonies, and hydrangeas on the altar table. Intersperse them with trailing greenery for texture. Or create an organic feel with loose bundles of wildflowers and herbs.
No matter your theme, keep arrangements low to maintain sight lines. And be sure your florals complement any existing church decor. Your altar arrangements should reflect your taste while respecting the ceremony setting. Overflowing florals framed by the church's architecture create a stunning backdrop as you exchange vows.
20. Chair Sashes
Photo: Canva
Transform simple chairs into elegant seating with luxurious sashes. These ribbons add a pop of color and texture to ceremonies and receptions. For outdoor weddings, silk sashes withstand wind and weather. Indoors, choose from satin, organza, or chiffon. Blush pink and champagne gold complement romantic themes. Bold red makes a vibrant statement.
Mix patterns like stripes, solids, or damask for visual interest. Sashes beautifully customizes rentals and tie together diverse chair styles. This affordable detail creates cohesive seating with plenty of personality.
21. Balloon Columns
Make a dramatic ceremony entrance under a balloon column archway. These impressive structures make a bold first impression. Columns framed with balloons in your wedding colors draw all eyes to the start of the aisle. Columns set the tone for the decor and color palette. They also conceal the bride before her reveal. Columns can be freestanding or attached to pews or walls.
For outdoor ceremonies, add balloon weights for stability. Keep safety in mind when positioning columns near exits. Balloon columns make fantastic photo backdrops. Capture portraits, ceremony moments, and your grand entrance under these playful arches.
22. Signage with Greenery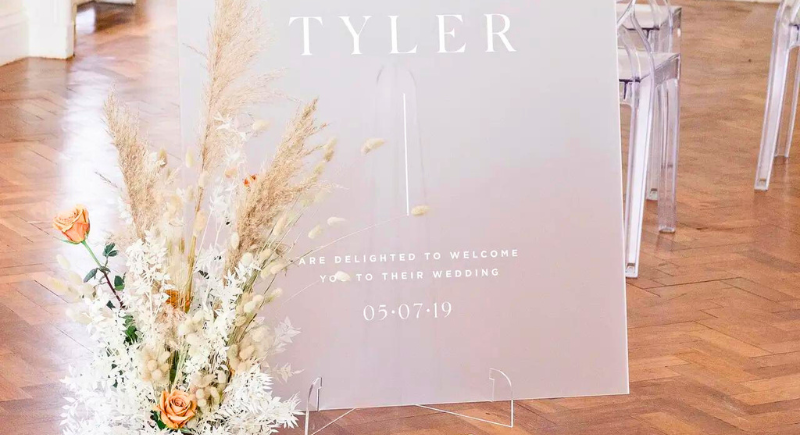 Incorporate greenery and florals into your wedding signs for a natural, organic look. Adorn welcome signs and directional signs with leafy garlands, wreaths, or loose foliage. Accent chalkboards or painted wood signs with a sprig of eucalyptus or fern. Ferns, eucalyptus, ivy, and herbs like rosemary offer varied textures.
Use signs to direct guests to the ceremony, reception, bar, or photo booth. Let your creative signage reflect your wedding style while keeping guests informed. Simplify vendor load-in by opting for versatile greenery that can be incorporated throughout your décor.
23. Pew Flower Sprays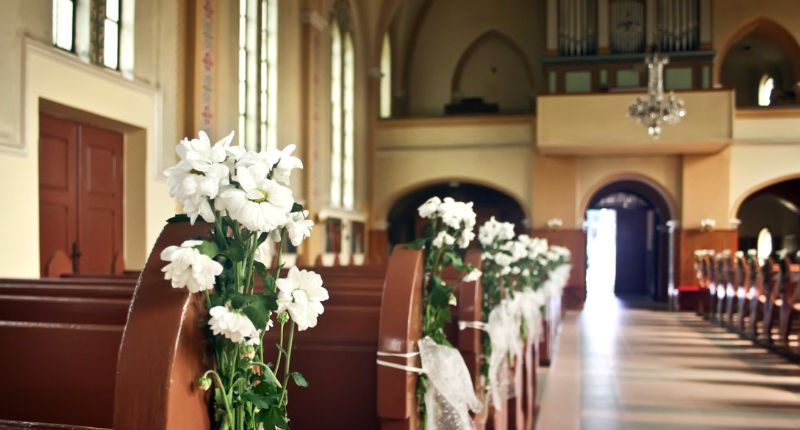 Photo: Canva
Decorate the ends of pews with beautiful floral sprays to complement your church wedding decor. Accent with filler flowers like hydrangea and greens like eucalyptus. To incorporate meaningful symbols, add herbs like rosemary for remembrance or ivy for fidelity. For unity ceremonies, use flowers representing the couple, like his birth month flower and her favorite bloom.
Display bold sprays at the end of every third pew or single stems on each one. Attach sprays to pews with ribbon for easy installation and removal. Coordinate ribbons with your wedding colors. Pew markers and florals infuse warmth and elegance while guiding guests to open seats.
24. Runner Carpet Down Aisle
Photo: Inside Weddings 
Roll out a luxurious carpet runner down the center aisle to elevate your church wedding decor. Choose a carpet in a complementary color that pops against the flooring. Opt for a bold tone like crimson on light wood or go for an elegant contrast with ivory on dark tile. Incorporate metallic threads or patterns for added glamour. Scatter flower petals like roses, ranunculi, or gardenias along the edges of the runner.
Use real or high-quality silk petals. Extend greenery, garlands, or floral arrangements from the aisle into the ceremony seating. A lush runner draws attention to the altar while guiding guests down the aisle with elegance and devotion.
25. Fairy Lights Around Windows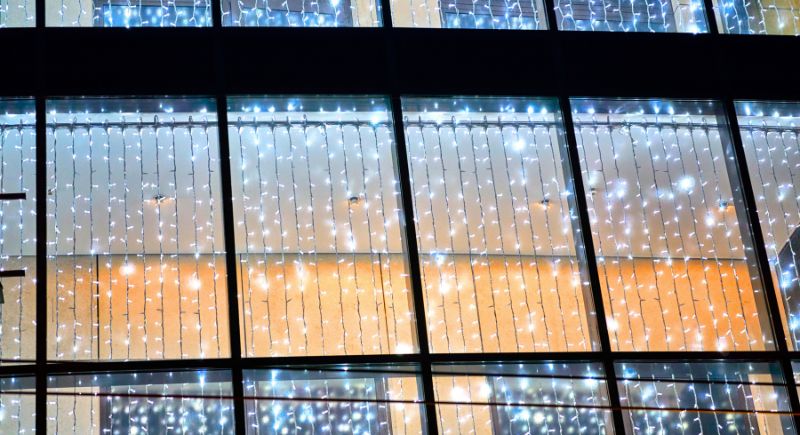 Photo: Canva
Illuminate your church's beautiful architecture with strings of fairy lights. Outline the stained glass windows, arches, and doorways with a warm glow. For a romantic ambiance, drape the lights loosely along the windows and allow them to hang down slightly. Or install clip-on hooks to keep the lights neatly framed around each window.
Incorporate the lights into floral displays as well. Weave them throughout flower arrangements on the ends of pews or above the altar display. Let them mingle gently with greenery and blooms. The soft lighting will create a magical atmosphere during both the ceremony and reception.
26. Paper Pompoms Overhead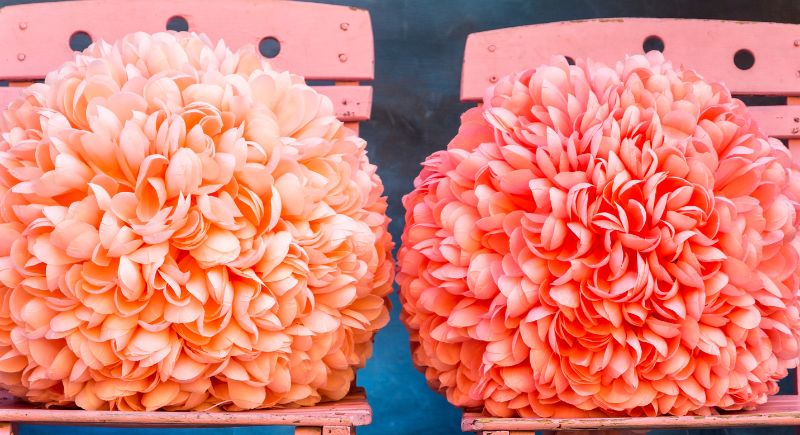 Photo: Canva
Add a whimsical touch with paper pompoms suspended above the ceremony or reception. Cluster the pompoms together at different heights over the aisles, altar, or head table. Accent with ribbons or lace for extra texture and movement.
For a cohesive look, match the pompoms to your floral arrangements. Space them out evenly for a polished look. Keep them high enough so they don't obstruct guests' views. The pompoms will add playful flair and excitement overhead.
27. Shepherd's Hooks with Flowers
Line the aisle or altar with shepherd's hooks adorned with floral arrangements. Choose for rustic, vintage hooks that complement your wedding style. Hang wreaths, garlands, or bud vases filled with fresh blooms from the hooks.
Stagger them at different heights for dimension. Let the arrangements spill over the hooks slightly for a lush, organic look. Shepherd's hooks are a charming way to incorporate more flowers and greenery throughout your ceremony or reception space.
Frequently Asked Questions
What are the essential church wedding decorations?
Essential church wedding decorations include floral arrangements, pew or chair decorations, altar decorations, aisle runners, and candle arrangements. These elements come together to create a harmonious and aesthetically pleasing environment for your ceremony.
Are there any restrictions or guidelines for church wedding decorations?
Many churches have specific guidelines or restrictions regarding decorations. It's essential to check with the church's clergy or administration to understand any limitations. Common restrictions include restrictions on the use of certain materials, open flames, or the removal of existing religious decor.
Can I personalize the church decorations to match my wedding theme?
Yes, personalization is key to making your wedding unique. You can incorporate your wedding colors, theme, and personal touches into the church decorations. Consult with a decorator or florist to discuss your ideas and bring your vision to life.
How can I keep my church wedding decorations within budget?
To stay within budget, consider these tips: repurpose decorations from the ceremony for the reception, opt for seasonal and locally sourced flowers, DIY some elements, and prioritize decorations that have a significant impact on the overall look.
Conclusion
Church wedding decorations should match the style of the venue while staying within a couple's budget. Simple and elegant decor enhances the existing architecture. Work closely with the church's guidelines and wedding coordinator to decorate the ceremony space beautifully and meaningfully. With creativity and communication, you can decorate a church for your dream church wedding.