Reaching a milestone as significant as a 10-year wedding anniversary is a cause for celebration like no other.
A decade of love, laughter, and shared adventures deserves to be honored with a truly special gesture.
If you're wondering how to commemorate this momentous occasion, you're in luck.
We've found a list of 18 remarkable gift ideas that are sure to make your 10-year anniversary an unforgettable affair.
Join us on a journey of love and inspiration as we explore the perfect ways to say 'I love you' on your remarkable 10-year wedding anniversary.
1. Personalized Photo Album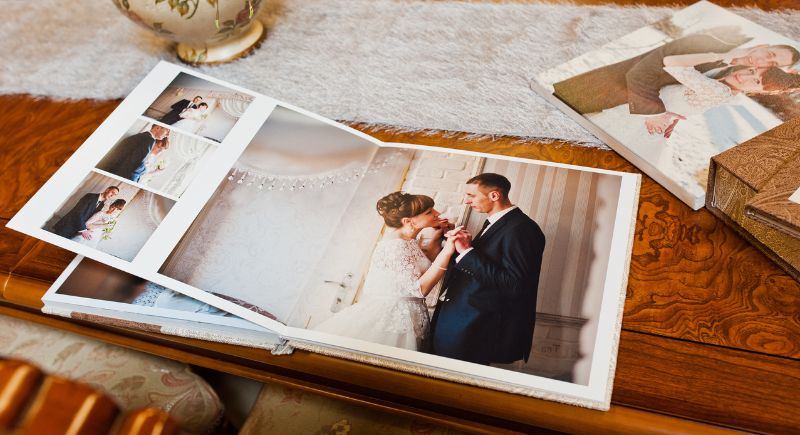 Photo: Canva
A personalized photo album is a thoughtful and sentimental 10 year anniversary gift. Select meaningful pictures from throughout your years together and arrange them in a high-quality photo book. Include captions, inside jokes, or handwritten notes to make it personal. This customized gift will remind you both of the wonderful memories you've created in 10 years of marriage.
2. Engraved Jewelry
Mark a decade of marriage by gifting engraved jewelry. Select a pair of matching bracelets or necklaces with your names and wedding dates. Or, choose pieces like a ring, watch, or cufflinks to engrave with a special message or coordinates of a meaningful location. Personalized with a heartfelt inscription, engraved jewelry makes a sentimental and elegant 10 year anniversary gift.
3. Trip to Your Honeymoon Destination
Photo: Canva
What better way to celebrate 10 years of marriage than by reliving your honeymoon? Book a trip back to the destination where you vacationed as newlyweds. Reconnect and reminisce over romantic dinners, scenic excursions, and moments of relaxation.
Stay in the same hotel, dine at the same restaurants, and visit the significant sites you enjoyed together on your first trip as husband and wife. A decade later, this nostalgic getaway will allow you to reflect on your relationship journey and the many memories you've created.
4. Romantic Dinner Cruise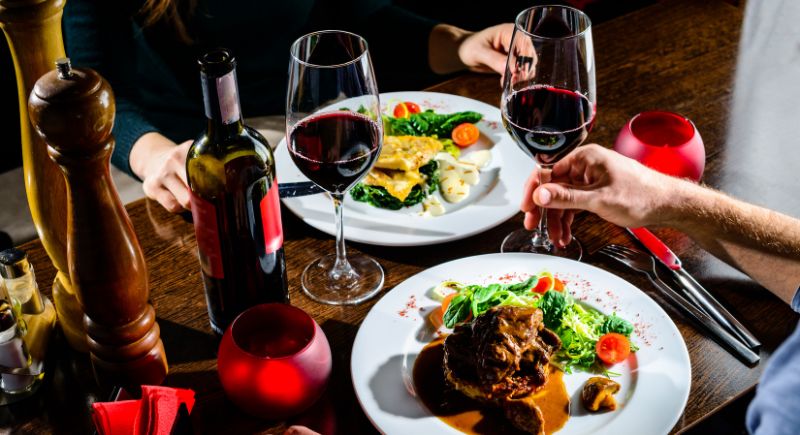 Photo: Canva
Make reservations for an evening dinner cruise to enjoy a romantic, intimate setting. Many boats offer scenic tours along the waterfront with food, drinks, and live music. It's a wonderful opportunity to dress up and appreciate quality time with your spouse. Some cruises even allow you to customize the experience with preferred menus, flowers, and other special touches. Toast to 10 years together under the stars with champagne and cake.
Capture the moment with photos against the tranquil night sky and waterfront backdrop. End the evening with a slow dance along the deck before heading back to shore. This memorable event will become a cherished highlight of your milestone anniversary.
5. Couples Massage
Photo: Canva
Treat yourselves to a relaxing couples massage for your 10 year wedding anniversary. Many spas offer side-by-side massages in the same room so you can fully unwind together. Consider enhancing the experience with aromatherapy oils and warm stones for a soothing sensation. The environment is tranquil and calming with dim lighting, soft music, and scented candles.
Allow your minds and bodies to rejuvenate as you lie in comfortable silence or quietly chat together. It's a nurturing way to reconnect and be present with your spouse. End your treatment with herbal tea or fresh fruit before emerging renewed and invigorated. A couples massage is the perfect gift to yourselves for a decade of marriage.
6. Wine Tasting Tour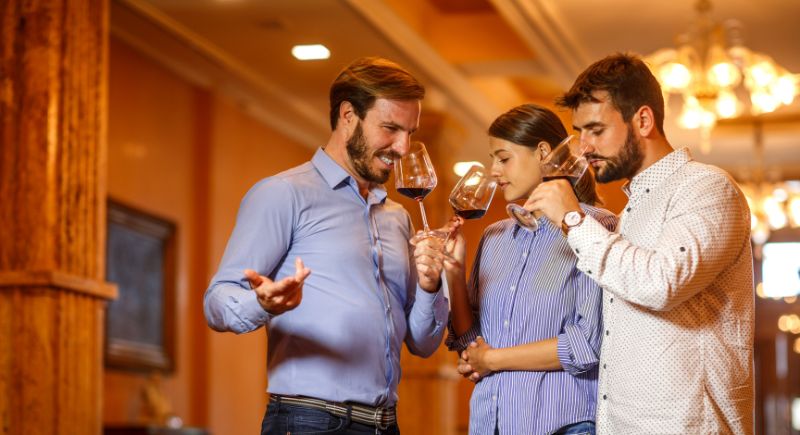 Photo: Canva
Celebrate 10 years of marriage with a romantic wine tasting tour. Local wineries often offer guided tours and tastings that provide a fascinating look behind the scenes into wine production. Walk hand-in-hand through lush vineyards and learn about the winemaking process from grape harvest to fermentation.
Swirl, sniff, and savor a variety of vintages and varietals while an expert guide enhances your appreciation and knowledge. Toast each other with a glass of your newest discoveries. A wine tasting tour makes for an indulgent and educational anniversary adventure you'll cherish. Surrounded by natural beauty, it's a wonderful setting to reconnect and make new memories during your 10th year of marriage.
7. Pottery Class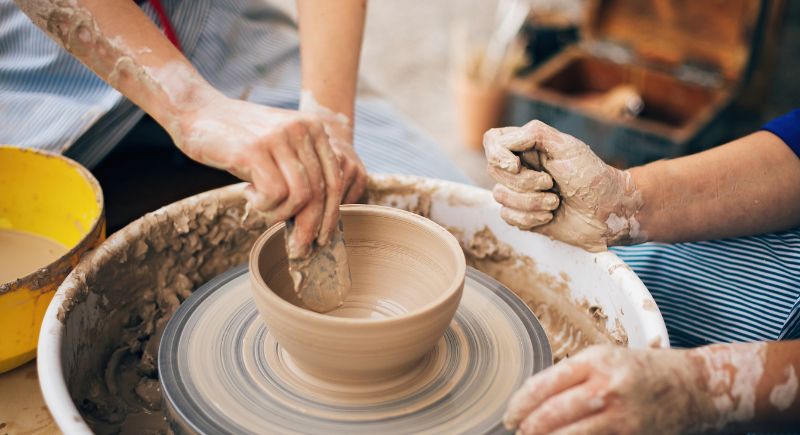 Photo: Canva
Get creative together and make something lasting to commemorate your 10th wedding anniversary. Enroll in a couples pottery-making class where you can spend quality time fashioning clay into beautiful, functional art. Craft mugs, bowls, vases, platters, or sculptural pieces as unique as your relationship.
Add personal touches by engraving names, and messages or pressing in bits of lace, leaves, or other mementos. Getting messy and laughing together is all part of the fun. A couples' pottery date is a creative way to celebrate 10 years of marriage. The finished products will be heartfelt reminders of shared joy on your tin anniversary.
8. Dance Lessons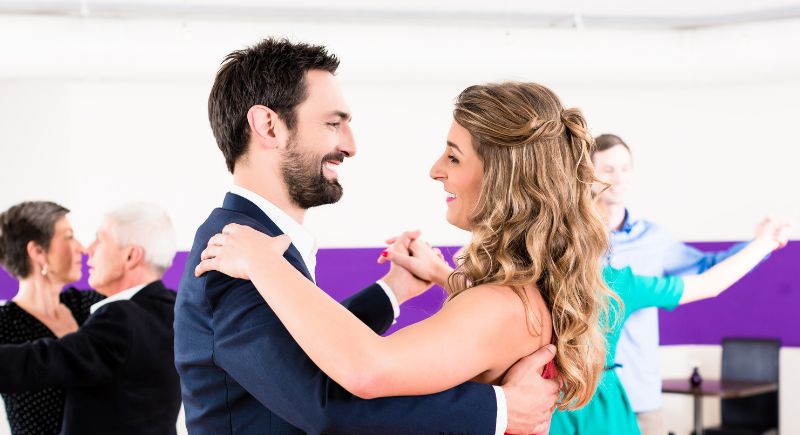 Photo: Canva
What better way to celebrate 10 years of marriage than by learning something new together? Enroll in a ballroom, salsa, swing, or tango classes as a fun, active couple's activity. Dancing is a great way to reconnect physically and emotionally. Many studios offer discounted introductory packages so you can sample different styles. After finding your favorite, sign up for a series of lessons.
Consistent practice allows you to progress quickly from awkward novices to skilled dance partners. Your new moves will come in handy at weddings, parties, and date nights. And you'll have a shared hobby to enjoy for years beyond your 10th anniversary. Just think – when you glide across the floor effortlessly, you'll appreciate the time invested in learning together.
9. Concert Tickets
Photo: Canva
Celebrating a decade of marriage calls for a special night out. Surprise your spouse with tickets to see their favorite musician or band in concert. Find out who they've always wanted to see live or check their playlists for clues. Classic rock, country, pop, hip hop – whatever genre they love. Search for upcoming shows in your area and snag great seats. Splurge on VIP packages with exclusive perks if it's in your budget.
Capture photos and videos to remember the performances. An amazing shared concert experience will top your 10th anniversary celebrations. The memories made will stay with you for the next 10 years and beyond. So take your love of music to the next level. Let loose together at a live show in honor of a decade of marriage. It's sure to be a night you'll never forget.
10. Custom Art Piece
Photo: Canva
Mark 10 years of marriage with a one-of-a-kind work of art to display in your home. Commission a local artist to create a custom painting or mixed media piece that captures your relationship. Provide them with meaningful details, special memories, inside jokes, favorite colors, and imagery that represent your journey together.
You can include your names, wedding dates, family photos, favorite travel locales—anything that is distinctly you. Display your anniversary art proudly in the main living space. Let it remind you daily of the bond you've built and how far you've come. A one-of-a-kind creation is a heartfelt way to commemorate 10 years. It transforms your personal experiences into an enduring symbol of your lasting marriage.
11. Upgraded Wedding Bands
Photo: Canva
Renew your commitment after 10 years of marriage by exchanging new wedding bands. Select bands with a more elegant style, larger diamonds, or engraved details. This symbolic gesture shows how your relationship has evolved over the past decade. It marks the maturation of your bond as you enter your next chapter together.
Engrave each other's initials, wedding dates, special phrases, or coordinates of a cherished location. Let the rings serve as a physical reminder of the strength and flexibility you've developed as a couple. Just as these metals can endure, so too can your partnership stand the tests of time. Let the bands symbolize your ability to last through life's ups and downs and come out stronger.
12. Weekend Getaway
Photo: Canva
Mark a decade of marriage by escaping on a weekend trip together. Select a charming bed and breakfast, cozy cabin, or luxury resort that fits your style as a couple. Indulge in relaxing spa treatments, romantic dinners out, and stunning sunsets. Use this time to reminisce over your fondest memories from the past 10 years. Share laughter over funny mishaps or special moments that stood out.
Bring thoughtful, personalized 10-year anniversary gifts to exchange during your getaway. A weekend focused solely on appreciating one another will strengthen your bond leading into the next decade. Return home feeling closer than ever, with a renewed appreciation for the love you share.
13. Tin/Aluminum Gift
Photo: Canva
This malleable metal represents the flexibility and strength needed to sustain a long marriage. Tin is rust resistant, linking to a relationship's ability to last over time. An elegant tin or aluminum gift reminds the couple of the solid partnership they've built.
Consider a vintage tin lunchbox filled with favorite snacks or a set of tin measuring cups for baking together. Engrave tin mugs with your name or wedding date for sipping morning coffee. Any item in tin or aluminum can commemorate 10 years while symbolizing the flexibility and longevity of your marriage.
14. Desk Decor
Photo: Canva
After a decade of marriage, adorning your shared home office with matching desk accessories can be a thoughtful gesture. Display photos from your 10 years together in personalized frames. For a touch of whimsy, select figurines or decorative pieces that represent your interests as a couple. Matching desk pad calendars also help you stay on top of your schedules together. A set of bookends engraved with your initials keeps your favorite reads in order. Any personalized desk accessories will serve as a daily reminder of your 10 years as you continue working side by side.
15. Leather Briefcase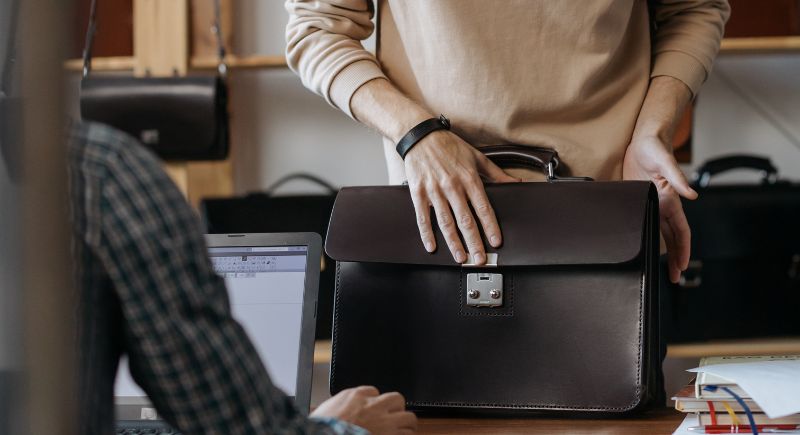 Photo: Canva
Marking a decade of marriage with a new leather briefcase honors your spouse's hard work and success over the years. Choose from high-quality leather in a classic style, like tan or black, that will stand the test of time. Look for features like sturdy handles, plenty of interior and exterior pockets, laptop sleeves, combination locks, and shoulder straps for versatility. Choose a style that fits your partner's needs, whether a legal briefcase for the attorney or a messenger bag for the professor.
Quality craftsmanship paired with custom details creates a meaningful and useful 10 year anniversary gift to carry for years to come. Present your spouse with a new leather briefcase to commemorate a decade of support in their career alongside a heartfelt note of appreciation.
16. Crystal Vase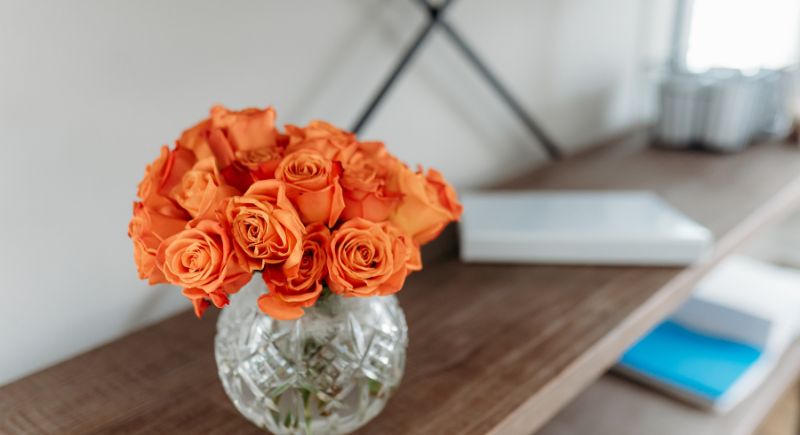 Photo: Canva
A sparkling crystal vase makes a glamorous gift to celebrate 10 years of marriage. Look for a style that fits your spouse's taste – modern and geometric, traditional and elegant, colorful and eclectic. Select a medium to large size vase that can hold a generous bouquet. Have the vase personalized by engraving your initials, wedding date, or a special message.
Present it filled with a dozen red roses to symbolize your enduring passion. Place it on display in your home as a daily reminder of a decade of love and commitment. A crystal vase is a stunning way to hold beautiful memories from the past 10 years while making space for new blossoms to come.
17. Luggage Set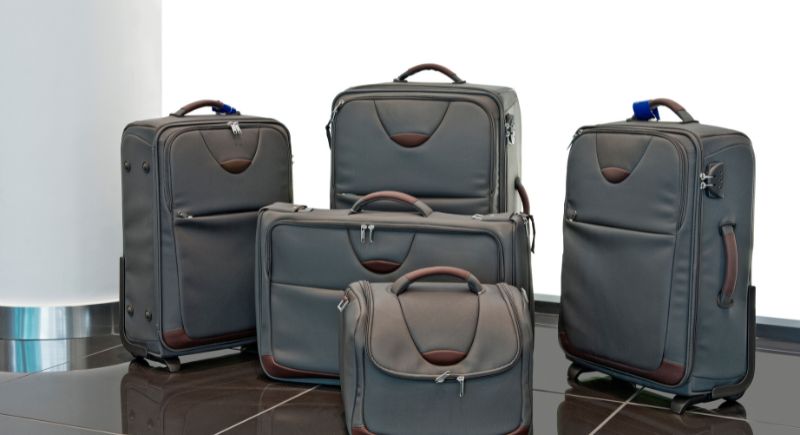 Photo: Canva
Travel together with a stylish new luggage set. Look for a durable, lightweight set in your spouse's favorite color. Monogram it with both your initials to make it a personalized joint gift. Quality luggage symbolizes your commitment to continuing your journeys together. As you embark on your next adventure, you'll be reminded of the memories you've made over 10 years of marriage.
Whether jetting off on an exotic vacation or taking a weekend road trip, personalized luggage sets ushers in the next chapter of explorations as a couple. Let it carry your dreams for the decades ahead while holding souvenirs of the past 10 years close to your hearts.
18. Wall Clock
Photo: Canva
Make a statement on your 10-year anniversary with a personalized wall clock gift that marks a decade of marriage. Choose a minimalist contemporary design or ornate vintage style based on your spouse's taste. The passing hours tracked by the clock face symbolize the precious times you've spent together over 10 years. Yet its ongoing motion also represents the endless love you pledge for all future days. Let the rhythmic ticking remind you to cherish each moment as a couple.
The gift of time is the most valuable of all, so let this gift clock commemorate 10 years of investing your hearts and lives in each other. As the hands embrace every hour, may you embrace the exciting adventures that lie ahead in your marriage.
Frequently Asked Questions
What is the traditional 10 year anniversary gift?
The traditional 10 year anniversary gift is tin or aluminum. Tin and aluminum represent the strength and flexibility of a marriage after 10 years.
What is the symbol for 10 years of marriage?
The symbol for 10 years of marriage is tin or aluminum. Tin symbolizes the strength and durability of the marriage bond, while aluminum represents flexibility over the years.
How to make my 10-year anniversary gift more meaningful?
Personalization is key to making your gift meaningful. Include elements that are specific to your relationship, such as inside jokes, shared experiences, or references to your journey together.
How to celebrate the 10th wedding anniversary?
Popular ways to celebrate a 10th anniversary include taking a romantic trip, throwing a vow renewal ceremony, exchanging new rings, having a big party with friends and family, enjoying a fancy dinner out, and exchanging tin or aluminum-themed gifts.
Conclusion
Choosing a unique 10-year wedding anniversary gift is an opportunity to celebrate a decade of love and commitment. Explore modern alternatives, or create a personalized and meaningful gesture, the key is to reflect on the journey you've taken together as a couple. Whatever gift you choose, remember that it's the thought, effort, and love you put into it that truly matters and makes the anniversary celebration memorable.