The magic of a winter wonderland wedding lies in its ability to transform the season's natural beauty into an enchanting backdrop for love and celebration.
If you're planning a winter wonderland wedding, you're in for a treat.
In this article, we've curated an extensive list of 33 must-have ideas to make your winter wedding dreams come true.
From breathtaking decor concepts to attire choices that'll keep you cozy and stylish and even culinary delights that embrace the spirit of the season, we've got you covered.
So, grab a cup of hot cocoa, cozy up by the fire, and prepare to be inspired by the endless possibilities of a winter wonderland wedding.
1. Having the Ceremony in a Snowy Forest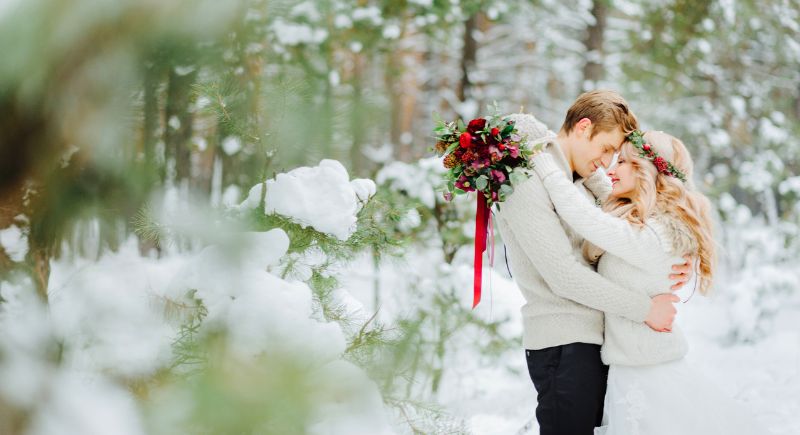 Photo: Canva
Holding your ceremony in a pine forest dusted with snow encapsulates the essence of a true winter wonderland wedding. The aisles can be lined with pinecones and white florals for a woodsy yet elegant vibe. Your guests will be in awe of the natural beauty surrounding your "I do's." Just be sure to provide warm drinks beforehand to fend off the chill!
2. Using Fur Wraps and Blankets to Keep Guests Warm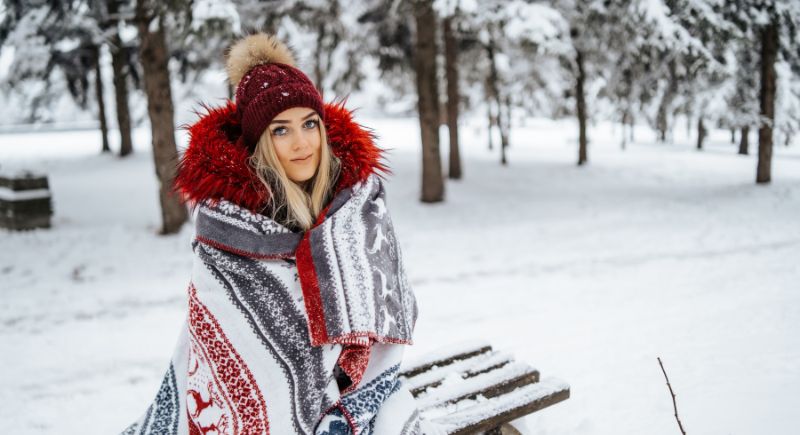 Photo: Canva
A winter wonderland wedding may be stunning, but it can get quite cold! Keep your guests comfortable by providing cozy fur wraps and blankets during the ceremony. The blankets can even be monogrammed with your names or wedding date for an extra special touch.
This thoughtful gesture shows you care about your guests' experience at your magical winter affair. The blankets will be useful as the temperatures drop in the evening too. Just be sure to have some non-fur options on hand for guests who prefer vegan materials.
3. Incorporating Natural Winter Elements Like Pinecones and Birch Logs
Photo: Canva
Bring the beauty of the winter season into your wedding decor by incorporating natural elements. Pinecones, birch logs, and sprigs of pine can add organic texture and a woodsy feel. Cluster pinecones of varied sizes on tablescapes for visual interest. Birch logs can be used as part of centerpieces or to designate reserved seating.
Sprigs of pine can be used as inexpensive greenery for bouquets and boutonnieres. You can also place pine sprigs along the aisles for a scent of the forest. These natural touches will complement your winter wonderland theme in an affordable way. Just be sure to avoid using anything that can easily break, stain, or shed on clothing and linens.
4. Having the Bride Arrive on a Horse-Drawn Sleigh
Photo: Canva
What better way for the bride to make a grand entrance than in a horse-drawn sleigh? The clip-clop of hooves and jingle of sleigh bells will add old-fashioned romance and whimsy to your winter wonderland wedding. Line the path with luminaries or have attendants walk alongside waving ribbons. Capture photos of the bride waving from the sleigh for a truly magical memory.
Just be sure to budget accordingly and book the sleigh rental far in advance. Also, have a backup transportation plan in case of poor weather conditions. But if all goes smoothly, this fairy tale arrival will delight guests and set the festive tone for your one-of-a-kind winter wedding.
5. Serving Hot Chocolate and Apple Cider
Photo: Canva
Warm up your winter wonderland wedding guests with steaming mugs of hot chocolate and apple cider. Set up a hot beverage station so people can grab a cuppa after the ceremony or between events. Top with mini marshmallows, whipped cream, cinnamon sticks, or candy canes.
For adults, offer a spiked version with peppermint schnapps or spiced rum. Include signage with fun drink names like "Santa's Sipper" or "Rudolph's Nose Warmer." Providing comforting hot drinks is a thoughtful touch that will be appreciated, especially if you have an outdoor ceremony or photos in the cold.
Just be sure to keep an eye on supplies and have attendants ready to replenish. Your guests will be thrilled to hold a hot mug and thaw out their hands as they enjoy your festive winter wedding.
6. Giving Away Handwarmers as Favors
Keep your winter wonderland wedding guests toasty by sending them home with hand warmers as favors. These single-use packets provide several hours of gentle heat when activated, perfect for tucking into gloves or pockets. Customize them by attaching a tag with your names and wedding date.
You can find handwarmers in bulk for an affordable price. Pair them with a sweet treat like hot cocoa mix or candy canes. Present them in a small box or bag tied with ribbon. Come up with a creative name for your warming favor like "Love Grows Best in Warm Hearts" or "Thanks for Warming Our Hearts."
This practical gift will be appreciated long after your magical winter wedding. Just remind guests to be careful and avoid direct skin contact when using the handwarmers. With this thoughtful favor, your friends and family will remember the cozy, romantic feeling of your one-of-a-kind winter wonderland celebration.
7. Having Snowflake Decorations Everywhere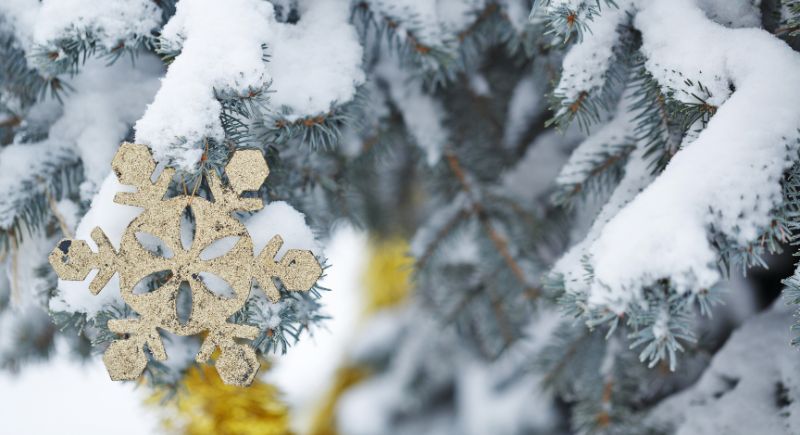 Photo: Canva
Bring the essence of falling snow indoors by incorporating snowflake decorations throughout your winter wonderland wedding. Cut paper snowflakes in varying sizes and hang them from the ceiling, walls, chairs, tables, aisles, arbors, and more. Accent bouquets and centerpieces with small glittery snowflakes scattered among the white florals. Add snowflake patterns to your invitations, menus, signs, and guest book.
The possibilities are endless when embracing the snowflake motif. It provides an elegant and mystical fairy tale vibe. Just be mindful of overdoing it—you want the overall look to remain sophisticated. Aim for a light dusting of snowflakes rather than a blizzard.
With strategic placement and tasteful restraint, this popular winter wedding theme can make your ceremony and reception truly magical. Your guests will be transported into a glistening icy wonderland, but one that doesn't sacrifice romance or style. Let it snow, let it snow, let it snow!
8. Frosting the Windows to Look Icy
What better way to transform your venue into a winter wonderland than making the windows appear frosted over? This effect can lend an icy, ethereal vibe to your ceremony and reception. Consider using window clings or plastic sheets that you can adhere to create the illusion of frost and snow accumulating on the glass. Or make your own faux frost by mixing coconut oil and baby powder, then use a paintbrush to apply it directly onto the windows.
However you choose to frost the windows, it's an easy detail that helps reinforce the wintry theme. Your guests will feel like they've stepped through the wardrobe into Narnia! But don't worry, the weather inside will still be warm and welcoming. Frost on the windows provides ambiance without compromising comfort. It's a simple trick that pays off in spades for that sought-after winter wonderland vibe.
9. Using White Flowers and Greenery for Bouquets
Photo: Canva
Nothing evokes the pristine beauty of winter like an all-white floral bouquet. Opt for flowers like roses, calla lilies, orchids, and peonies to craft a gorgeous wintry bouquet. Mix in eucalyptus, magnolia leaves, and pine sprigs for pops of deep green that complement the white blooms. For an extra special touch, add faux snow made from white glitter—it will catch the light and add shimmer.
You could even attach small pinecones or sprigs of holly. Just be sure to keep bouquets full and lush; the fullness helps evoke mounds of fresh snow. All-white bouquets are timeless and elegant for winter weddings. Their cool, crisp beauty pairs perfectly with icy blue and silver accents. Your winter white bouquets will look straight out of a snow globe!
10. Wearing Fur Shawls with Elegant Gowns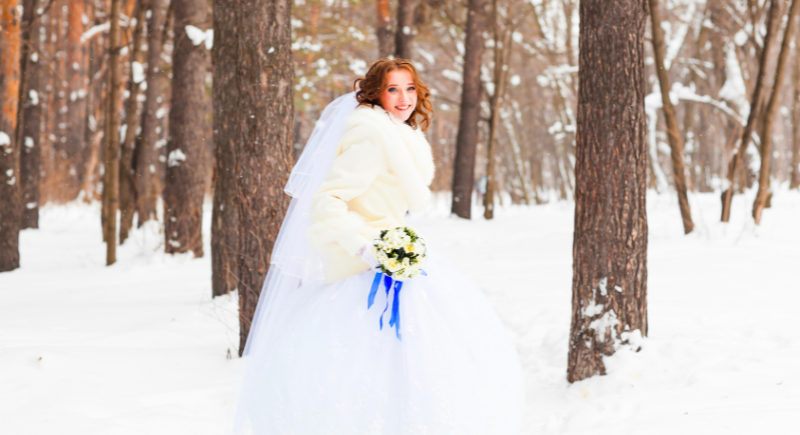 Photo: Canva
For a glamorous winter wedding look, pair your gown with a fur shawl or stole. Faux fur is a stylish option that keeps you warm without harming animals. Go for a shawl in white or ivory faux fur to complement your dress. Or make a statement with a bold black, gray, or even red fur piece!
Shawls trimmed with faux fur are also beautiful. Drape a fur shawl around your shoulders or arms for a romantic wintry vibe straight out of a fairytale. Faux fur accents are perfect for a winter wonderland wedding—elegant yet cozy!
11. Having the Groom and Groomsmen Wear Wool Tuxedos
For a classy winter wedding, consider wool tuxedos for the groom and groomsmen. Wool offers warmth while maintaining a polished, formal look. Choose for a classic black wool tuxedo paired with a white shirt and black bow tie. Or go for a navy blue wool tuxedo for a twist on tradition. Gray and charcoal wool tuxedos are also dapper options.
For a more casual vibe, try a wool blazer with matching wool pants, a button-down shirt, and fun accessories like patterned socks or ties. Just be sure the wool is high-quality, lightweight, and breathable.
Groomsmen will stay comfortable and look sharp to complement your winter wonderland wedding theme. Don't forget wool overcoats to complete the sophisticated style as you head outdoors for photos. Wool tuxedos make grooms and groomsmen look and feel their best.
12. Building Snowmen to Decorate the Venue
Photo: Canva
What's a winter wonderland wedding without snowmen? Use snowmen decor to embrace the cold weather and magical theme. Have guests build small snowmen to decorate tables and aisles. Provide kits with mini snowman accessories like scarves, hats, coal, and carrot noses. Get creative with materials like marshmallows for eyes, twigs for arms, and pinecones for buttons.
Scatter snowman themed decor like signs, figurines, string lights, and ornaments throughout the venue. Use icy blue, silver, and white colors to tie it all together. Snowmen decor adds whimsical charm and interactive elements that guests will love. It's a simple way to embrace the season that works for any budget. Build snowmen to bring fairy tale magic to your winter wonderland wedding.
13. Having an Ice Sculpture as a Centerpiece
Photo: Canva
An ice sculpture makes a gorgeous winter wonderland centerpiece. Opt for a detailed swan, snowflake, or reindeer design carved from a large block of ice. Place it on a mirrored platform so guests can admire it from all angles. Surround with white flowers and crystal accents for an elegant statement. Or go more playful with a sculpture of snowmen or penguins. Add fruits, flowers, and LED lights frozen inside for colorful effects.
No matter the design, an ice sculpture adds a one-of-a-kind, magical element. It's sure to wow guests and provide amazing photo ops. Just be sure to choose a design that fits your theme and reception style. Work with a professional ice carver to bring your vision to life. An ice sculpture makes a memorable centerpiece to any winter wonderland wedding.
14. Serving Winter-Inspired Cocktails Like Mulled Wine
Photo: Canva
Warm up guests with delicious winter-inspired cocktails. Mulled wine is a popular choice, infused with spices like cinnamon, cloves, and nutmeg. For a creative twist, try mulled cider or serve individual mulled wine cocktails. Think mulled wine sangria, with added fruits and liqueurs. Peppermint hot chocolate or white chocolate with peppermint schnapps also makes a festive signature drink.
For non-alcoholic options, serve warm apple cider or cranberry punch. Garnish drinks with cinnamon sticks, star anise, cranberries, or pine sprigs. Set up a hot beverage bar so guests can customize their own creations. Offer flavored syrups, spirits, whipped cream, and other fun add-ins. Serving special winter cocktails is a thoughtful way to spread holiday cheer. It adds a cozy element that's perfect for a winter wonderland wedding.
15. Having Snowball Fights During Cocktail Hour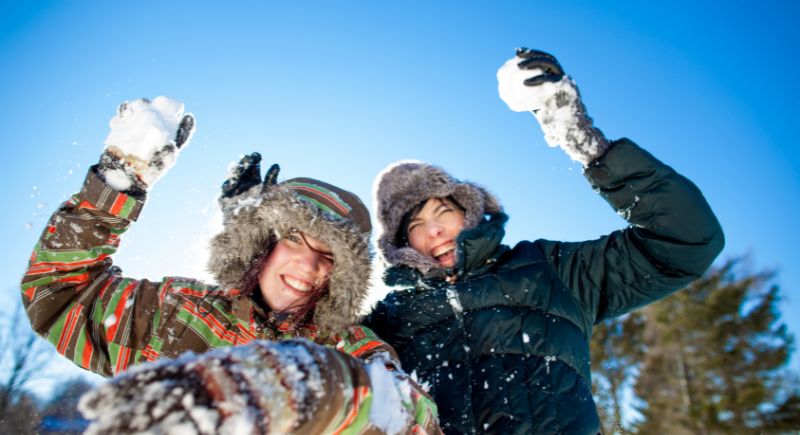 Photo: Canva
Add some playful fun to cocktail hour with a snowball fight! Provide guests with soft foam snowballs and let the battle commence. Split guests into teams or let it be a free-for-all snowball extravaganza. Set ground rules like no throwing at faces or keep it above the waist. Offer prizes for things like the largest snowball or hitting specific targets.
For safety, make sure to use soft foam or fabric snowballs, not real snow. You could even use cotton balls for a more eco-friendly version. The snowball fight will get everyone laughing and warmed up for an energetic reception. It's a unique way to entertain guests between the ceremony and reception in a winter wonderland-themed wedding.
16. Incorporating Icicle Lights into the Decor
Photo: Canva
Illuminate your winter wonderland wedding with icicle lights! Hang them from the ceiling, trees, tents, or doorways to create a magical atmosphere. The hanging icicle lights look like glistening stalactites and add a romantic, icy vibe. Use them to outline walkways or the dance floor. Drape them over dessert and cocktail tables for an ambient glow.
Incorporate them into centerpieces by stringing lights through tall vase arrangements. Icicle lights come in warm white, multicolor, or color-changing versions. Go for all white icicles or add pops of blue and purple for an icy, mystical look. Icicle lights will make your venue sparkle like a wintry night sky.
17. Using Blue and Silver as Wedding Colors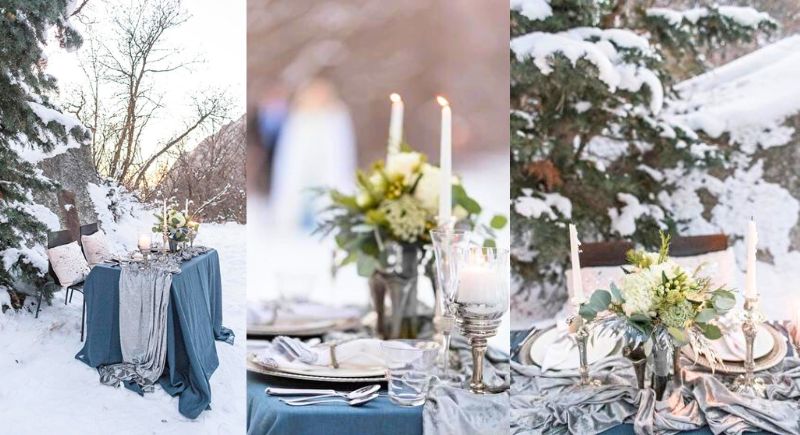 Blue and silver are beautiful wedding colors that evoke a snowy winter wonderland. Different shades like icy blue, powder blue, and navy blue complement sparkling silver accents. Drape blue fabric over tables and chairs. Use blue tablecloths with silver charger plates and napkins. Make blue and silver stripes or patterns for invitations, menus, and signage.
Decorate with blue hydrangeas, roses, and orchids mixed with white blooms. Scatter silver pinecones, beads, glitter, or snowflake confetti as table decor. Display blue candles with silver candle holders. Serve blue cocktails like blue lagoons or blue Hawaiians. Have a blue and silver tiered cake decorated with snowflakes. With the right touches, blue and silver create an elegant, cool-toned color palette perfect for a winter wedding.
18. Having Snowflake Confetti for the Exit
A fun way to celebrate a winter wonderland wedding is to have snowflake confetti for your grand exit! As you and your new spouse walk down the aisle or leave the reception, have your guests toss snowflake confetti in the air. The fluttering paper snowflakes will create a magical, wintry scene. You can find snowflake confetti on many wedding supply sites or make your own by cutting snowflakes out of white paper.
For an extra festive touch, mix in silver glitter flakes or silver confetti for some sparkle. It brings the beauty of freshly fallen snow to your wedding day. Your photographer will capture stunning photos of you two leaving amidst a flurry of snowflakes. It's a simple but memorable detail for a winter wedding.
19. Providing Cozy Blankets for an Outdoor Ceremony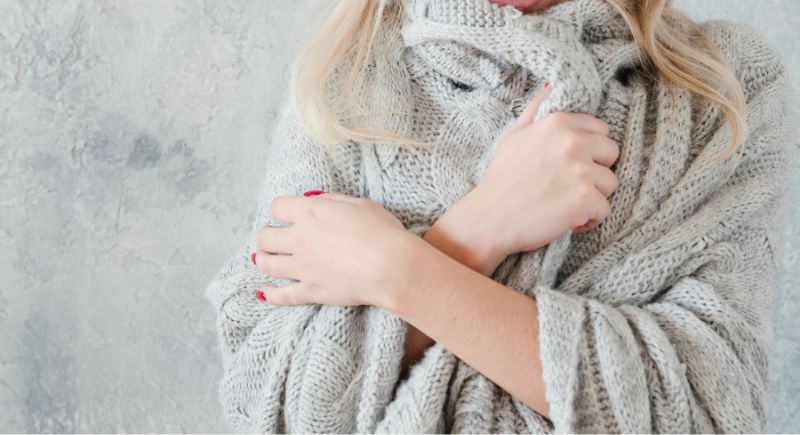 Photo: Canva
If you're having a winter wonderland wedding outdoors, make sure your guests stay warm with cozy blankets! Provide a basket of blankets at the entrance to your ceremony site and encourage guests to wrap themselves in the soft layers. Choose blankets in wintry colors like ivory, gray, and cream that complement your wedding palette.
For a thoughtful favor, let guests take the blankets home after the wedding. The blankets will bring back memories of your special day each time they use them. Keeping your guests warm and comfortable is so important for an outdoor winter wedding. The blankets show you've thought of everything so they can focus on witnessing you say "I do!"
20. Displaying Poinsettias for Holiday Flair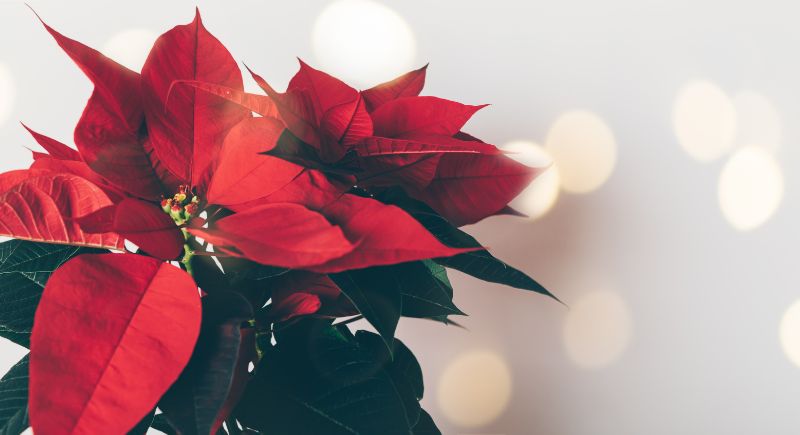 Photo: Canva
What's a winter wonderland wedding without poinsettias? These festive red and green flowers are a must for adding holiday spirit to your decor. Cluster poinsettia plants on the ends of aisles or along stair railings. Use them as focal points on tables or as part of centerpieces with white roses and pinecones. Hang poinsettia wreaths on walls or doors for a pop of color. You can find affordable poinsettias at grocery stores and nurseries during the winter season.
For special touches, look for unique varieties like pink, white, or marbled poinsettias. Whether you display giant poinsettia topiaries or cute mini plants, these seasonal blooms will infuse your wedding with yuletide cheer.
21. Giving Hot Chocolate Bombs as Favors
Photo: Canva
Delight guests with hot chocolate bombs as magical winter wedding favors. These chocolate spheres are filled with mini marshmallows and cocoa mix. When placed in hot milk, they melt into a cup of creamy hot chocolate!
Set out a hot cocoa bar so guests can make their hot chocolate creations right at the reception. The bombs make a memorable edible favor that will warm everyone up on a chilly winter night. They'll think fondly of your wedding whenever they make hot cocoa at home.
22. Having a Bonfire for Guests to Gather Around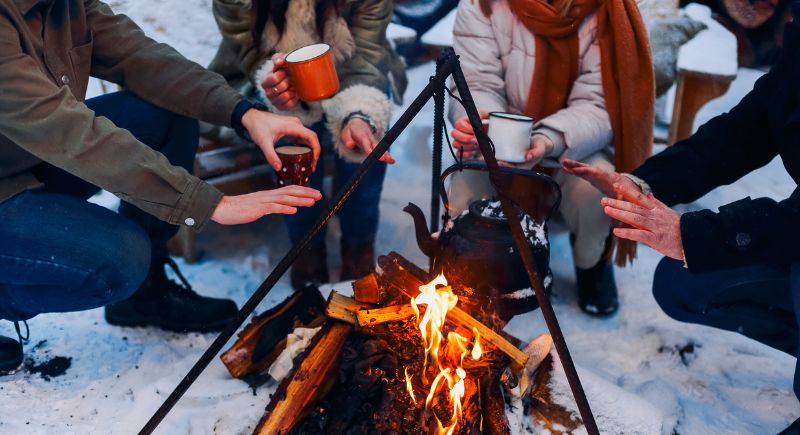 Photo: Canva
A crackling bonfire creates cozy ambiance for a winter wonderland wedding. Set up fire pits outdoors so guests can warm up and mingle fireside. Provide blankets they can wrap up in and arrange hay bales or benches around the flames. You can even roast marshmallows or make s'mores together under the stars.
Turn the bonfire into an interactive experience by having guests write down date night ideas, wedding advice, or share memories in a notebook. Tie the pages together into a "bonfire book" you can treasure.
As the fire dances, it sets a magical mood with flickering light. End the night with a sparkler send-off around the bonfire for a picture-perfect exit. Your guests will glow thinking back on the special moments spent bonding around the fire.
23. Serving Hearty Comfort Foods Like Stew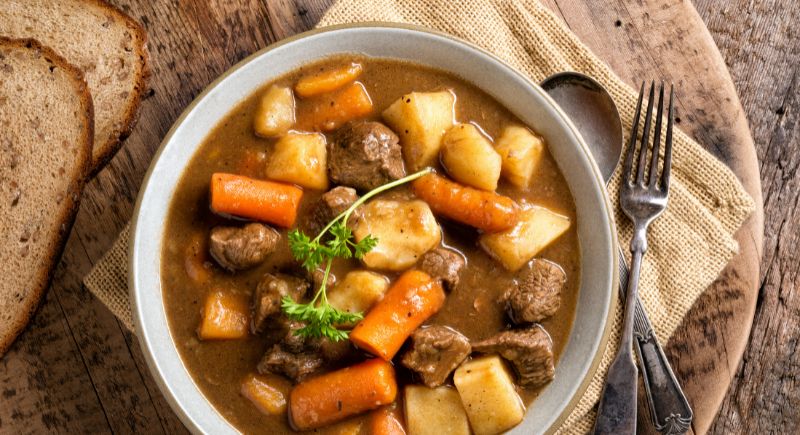 Photo: Canva
Warm up your winter wonderland wedding guests with hearty comfort foods. Hearty stews, chilis, and soups hit the spot on a chilly day. Try serving beef stew, potato leek soup, or butternut squash bisque in hollowed-out bread bowls. Offer mac and cheese bars with fun mix-ins like lobster or truffle oil. Don't forget the hot chocolate bar piled high with marshmallows, whipped cream, and chocolate shavings.
Set up s'mores stations for guests to roast marshmallows over mini fire pits. Provide warm apple cider donuts, gingerbread cookies, or pumpkin bread pudding for dessert. Comfort foods bring that cozy cabin feeling to your wedding feast. They satisfy cravings and warm everyone up from the inside out.
24. Having the Groom Arrive on a Snowmobile
Photo: Canva
Want to make a memorable entrance on your winter wonderland wedding day? Have the groom pull up to the ceremony on a snowmobile! It's a fun twist on arriving in a classic car or limo. Deck out the snowmobile in ribbons, bows, or a "Just Married" sign for extra effect.
Time it so the engine revs loudly right before the groom makes his big reveal. The crowd will cheer as he pulls up looking chilled from the ride but happy to see his bride. Consider having the officiant arrive on a snowmobile too for double the wintry flair. This is sure to get your wedding started off with a bang!
25. Using Fur and Faux Fur Accents on the Cake
Photo: Canva
A fur or faux fur cake is the perfect dessert for a cozy winter wonderland wedding. Ask your baker to adorn your cake with furry accents like a white faux fur blanket cascading down the side or a fur pom pom topper. For a woodland theme, have them decorate with fur pinecones or little furry forest creatures.
Not into real fur? No problem, using faux fur is an ethical alternative that looks just as luxe. A furry cake is a beautiful way to indulge in dessert while bringing some cozy cabin vibes to your celebration.
26. Incorporating Snowy Branches into Centerpieces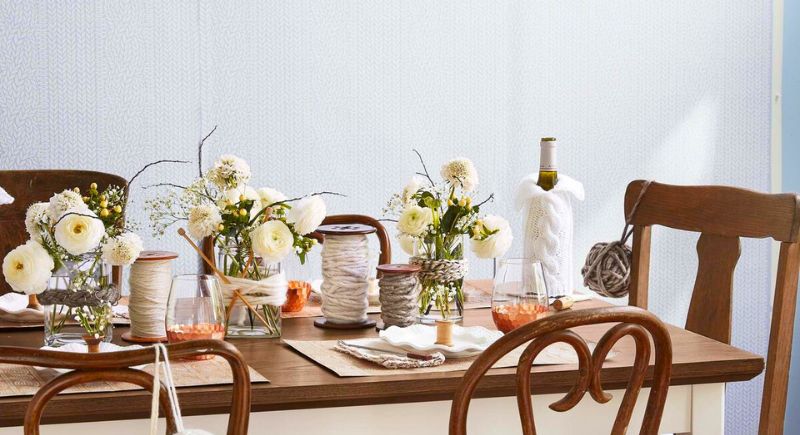 What's a winter wonderland wedding without some snowy branches? Incorporate natural wintry elements into your reception by using bare birch branches in your centerpieces. Have your florist spray paint them white to mimic snow and intersperse them throughout floral arrangements on tables.
For a magical look, hang delicate bare branches from the ceiling over dining tables, weaving them with strings of fairy lights. Snowy birch branches add organic texture and seasonal ambiance to centerpieces for your winter wonderland wedding.
27. Having a Snowball Cake with White Frosting
For a fun, festive dessert, have your baker create a snowball cake with fluffy white frosting. Shape round cake layers into a giant snowball complete with crumbles of cake "snow" and sparkling sugar snowflakes. Add a few frosted pinecones made of fondant or modeling chocolate for an edible winter forest scene.
Adorn your snowball cake with foraged bare branches, frosted pinecones, fresh cranberries, or glittery snowflake decorations. Offer mini snowball cupcakes in white paper liners dusted with powdered sugar "snow" for guests to take home. A snow-covered cake is a beautiful and delicious way to carry your winter wonderland theme through to your dessert table.
28. Using Glittery Snowflake Cake Toppers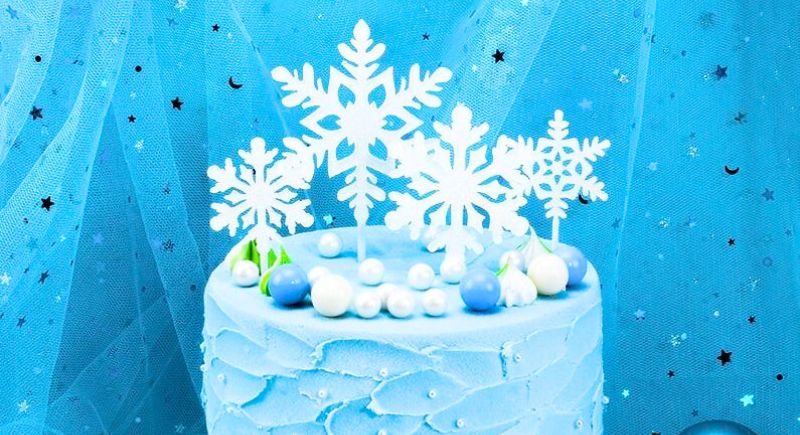 Incorporate shimmering snowflake cake toppers to complement your snowball cake. Look for high quality plastic or silver and gold glitter snowflakes in varying sizes to decorate the cake. Arrange small snowflakes in clusters around the base and larger snowflakes towards the top to create visual interest.
For an elegant touch, adorn the cake with edible gold or silver snowflake decorations. You can also use silver dragées or edible glitter to add some sparkle. Just a few simple snowflake accents can really make your cake shine. The glittering snowflakes will catch the light beautifully and add the perfect finishing touch to your winter wonderland dessert.
29. Having a Snowy Mountain Backdrop for Photos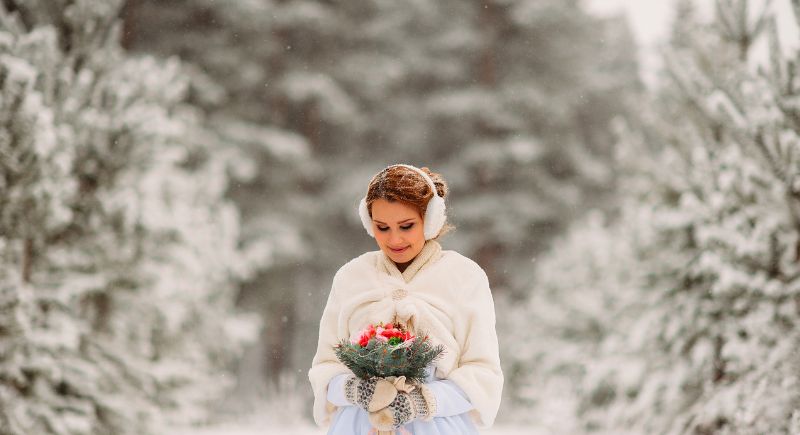 Photo: Canva
Create a snow-capped mountain backdrop for your photo booth or ceremony backdrop to embrace the winter wonderland theme. Use white and blue fabric panels to depict a snowy mountain range. You can also paint faux snowy mountains and pine trees onto a large canvas backdrop.
For nighttime shots, install small white string lights along the top of the backdrop to resemble glistening stars. The mountain photo backdrop allows guests to capture magical winter memories.
30. Taking Photos in a Horse-Drawn Sleigh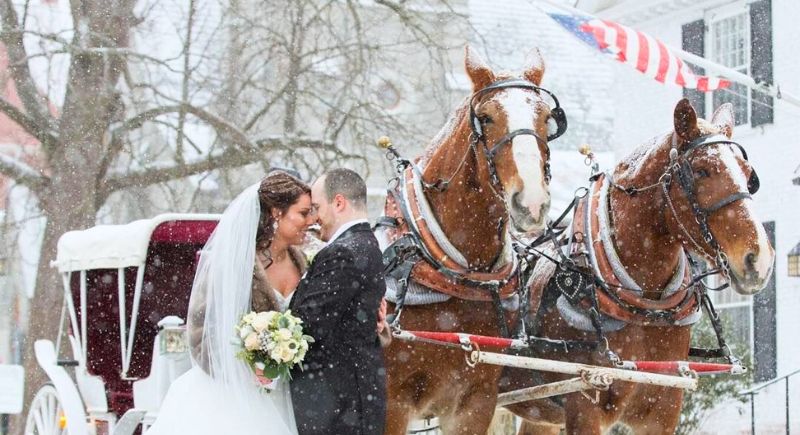 Photo: Google
Rent a horse-drawn sleigh and take it for a spin with your new spouse for romantic wintry photos. The old-fashioned sleigh adds a nostalgic touch to your winter wonderland wedding. You'll capture stunning snow-covered landscape shots as you ride through a park or nature preserve. S
For night photos, decorate the sleigh with strings of white lights and ask the driver to take you to locations with sparkling holiday light displays. The horse's jingle bells and harness details add festive accents to your photos.
End your sleigh ride at your venue or reception site for a grand entrance. The Cinderella-style arrival creates a fairy tale moment you'll cherish.
31. Using Shimmery White Fabrics for Decor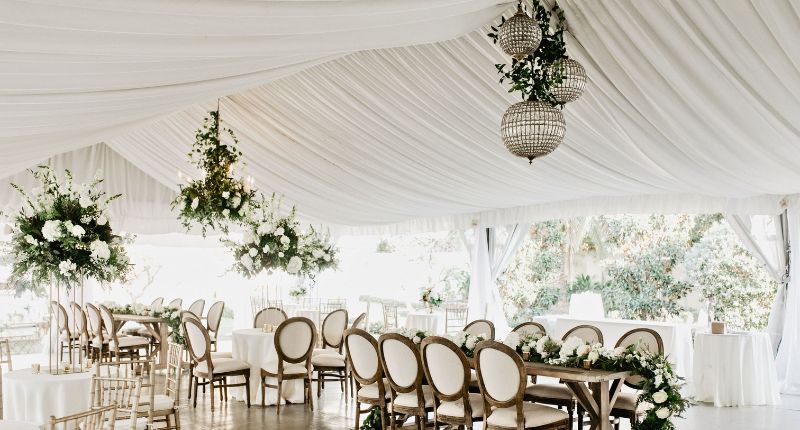 Photo: CJX
Incorporate glistening white fabrics to enhance your winter wonderland wedding's ethereal vibe. Drape sparkling tulle, lace, or chiffon over tables, chairs, archways, and other surfaces. The sheer materials cast a magical glow when lit.
For a whimsical look, suspend diaphanous fabric from the ceiling to create a billowy canopy effect. Accent with crystal chandeliers, glass vases, mirrored decor, and other reflective elements to amplify the dreamy ambiance. The result is an enchanting setting that looks like an icy palace straight from a fairy tale.
32. Having the Bride Wear Fur-Lined Boots Under Her Dress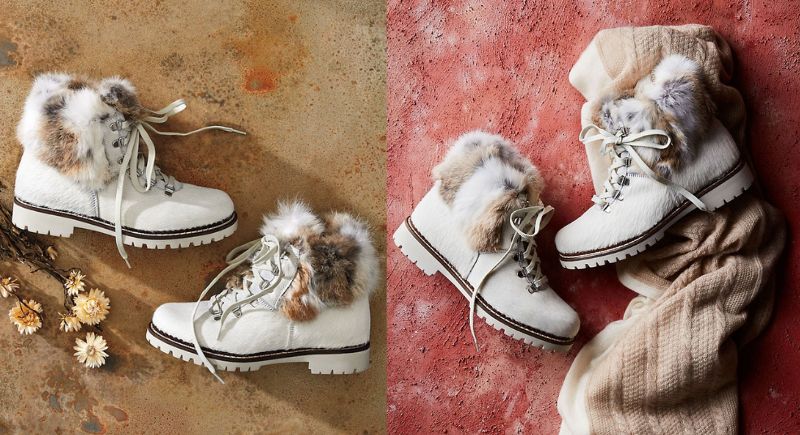 For a playful winter wonderland wedding touch, have the bride wear fur-lined boots under her gown. Not only will they keep her toes toasty, but they add a whimsical detail that guests will love. Look for boots that are thigh or knee-high in white faux fur or shearling. The cozy footwear will be hidden by the dress, creating an amusing secret just for the bride.
Have her do a fun reveal moment during the reception by lifting her skirt to unveil her funky boots when she hits the dance floor. The boots will get passed around so all the guests can admire them up close. It's an easy way to embrace the cold weather and put a unique spin on traditional wedding attire.
33. Ending the Night with an Epic Snowball Fight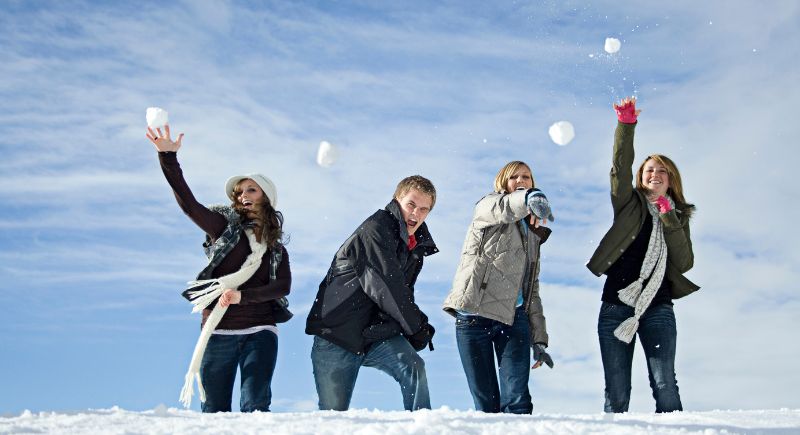 Photo: Canva
What better way to end a magical winter wonderland wedding than with a playful snowball fight? As the reception winds down, gather guests outside for one final wintry activity. Divide everyone into teams and let the snowballs fly! Set some ground rules first like no ice chunks or face shots.
Provide guests with gloves so their hands don't freeze. Play fun music in the background to set the tone. Consider awarding prizes to the winning team or whoever gets the most "kills."
End the night on a high note with laughter and friendly competition. Your guests will never forget the epic snowball fight that closed out your winter wedding. It's a unique and lively alternative to the typical sparkler sendoff.
Frequently Asked Questions
What is a winter wonderland wedding?
A winter wonderland wedding has a magical, snowy theme with icy blues, silvers, and whites. The decor features snowflakes, fur throws, crystal accents, and twinkling lights to create a romantic wintry atmosphere.
How to make a winter wonderland wedding?
To achieve a winter wonderland theme, use an icy color palette, incorporate natural elements like pinecones and evergreen branches, use candles and string lights to create a cozy vibe, serve warm drinks and comfort foods, and add wintry touches like snowflake details. Focus on providing warmth and hygge.
What colors are in a Winter Wonderland wedding?
Classic winter wonderland wedding colors include icy blues like powder blue, steel blue, and navy; silvers and whites; icy purples and lavenders. Accent colors can include marsala, blush pink, black, and metallic gold.
Are winter weddings less expensive?
Winter weddings tend to be less expensive than peak season summer weddings. Venues, photographers, and other vendors are often more affordable due to less demand. Additionally, off-season flowers and simpler seasonal decor can save money.
Conclusion
A winter wonderland wedding brings the magic of the season inside through an elegant, icy color palette, natural winter elements, warm lighting, and cozy details. Taking advantage of off-peak pricing while focusing on warmth, comfort, and romance can create a uniquely beautiful and affordable winter wedding. A winter wonderland theme is perfect for couples who want a stunning seasonal celebration.