After five decades of married life, it's time to celebrate your enduring love and commitment in a memorable way, so, we've compiled a list of 27 unique and heartwarming 50th wedding anniversary ideas.
These suggestions range from traditional to creative, ensuring that you can find the perfect way to honor your remarkable journey together.
Whether you're planning a grand celebration or a more intimate affair, these ideas will inspire you to make your 50th wedding anniversary unforgettable.
1. Renew Your Vows with a Special Ceremony
What better way to celebrate 50 years of marriage than renewing your vows? Exchange heartfelt vows reminding your spouse what they mean to you. Make it unique with personalized vows, special music, photos, or videos from your wedding and life together. This is the perfect opportunity to recreate your first dance and cut your anniversary cake. It's a beautiful way to honor your marriage and create new memories.
2. Plan an Anniversary Trip or Cruise
Photo: Canva
Mark 50 years of marriage by getting away together. Plan a trip to a destination on your bucket list or revisit where you honeymooned. Or book an anniversary cruise to relax and be pampered. Spend quality time making new memories. Surprise your spouse by planning everything yourself or collaborate and build anticipation.
To make it extra special, invite your children and grandchildren. Or savor this time alone to reconnect. Wherever you go, celebrating just the two of you is the perfect golden anniversary gift.
3. Host a Vow Renewal Party with Friends and Family
Celebrate 50 years of marriage by renewing your vows surrounded by loved ones. Host an anniversary party and recreate your wedding day. Exchange rings again and recite vows reminding your spouse what they mean to you. Make it lighthearted and fun with decorations, music, food, and photos from your wedding day. Or keep it intimate with just close family present.
However you choose to celebrate, it honors your commitment and provides a meaningful chance to thank your partner for sharing this life together. Mark the milestone by formally renewing the promises made long ago before gathering to toast your enduring love.
4. Have a Professional Photo Shoot to Commemorate the Milestone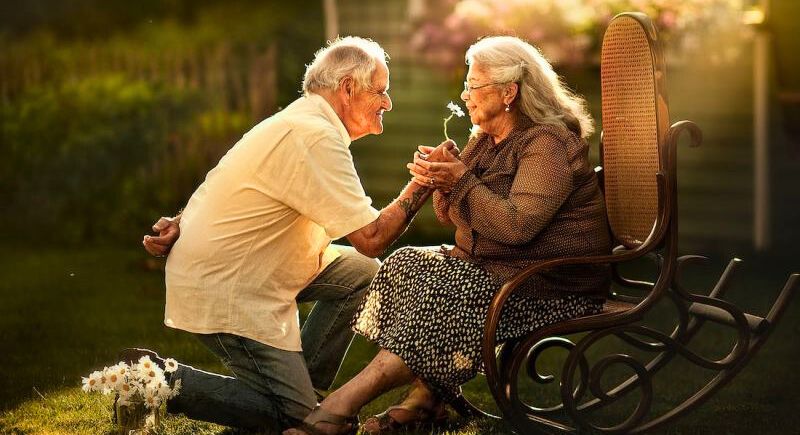 Mark this special occasion by scheduling a professional photo shoot to capture your love. Work with a photographer to find meaningful locations or recreate photos from your wedding day. Get dressed up and take stylish portraits together. Bring props like a custom sign with your anniversary date or old wedding photos. Black and white photos can add nostalgic flair.
Showcase candid moments too – hold hands, embrace, and focus on each other. The images will serve as timeless keepsakes commemorating 50 years side by side. You can display your favorites prominently in your home or gift personalized prints to your family. The photoshoot provides a creative way to honor your enduring bond and relive beautiful memories along the way.
5. Create a Custom Video Montage of Your Relationship
Compile memorable photos and videos from throughout your decades together into a sentimental montage film. Include nostalgic moments like your wedding day, births of children, anniversaries, vacations, and time with grandchildren. Splice in video clips recreating special memories. Add a meaningful soundtrack of your favorite songs over the years.
Interview each other sharing favorite stories, inside jokes, and relationship advice gleaned over 50 years of marriage. Create a voiceover narrating your unique tale. Showcase the montage at your anniversary party or gift DVD copies to the family.
This personalized film provides a touching retrospective of your enduring love story and the many cherished moments you've shared over the years. It will remind you both how far you've come and inspire you to continue loving each other for many more anniversaries to come.
6. Commission a Personalized Piece of Art to Display
Photo: Canva
Commission an artist to create a custom painting or drawing depicting a meaningful memory, favorite photo, or iconic location from your relationship journey. This could be an artistic rendition of your wedding day, your first home, the beachside vacation where you became engaged, your alma mater where you met, or any place holding special significance. Work with the artist to incorporate personal touches like your actual wedding attire or venue architecture.
Display this meaningful keepsake proudly in your home as a daily reminder of the wonderful memories you share. When guests ask about it, the artwork provides a natural conversation starter allowing you to reminisce on your romantic history together. Let the creative work spark nostalgia and storytelling for years to come.
With an original piece celebrating your one-of-a-kind love, this anniversary gift idea is sure to touch your spouse's heart.
7. Get Matching 50th Anniversary Tattoos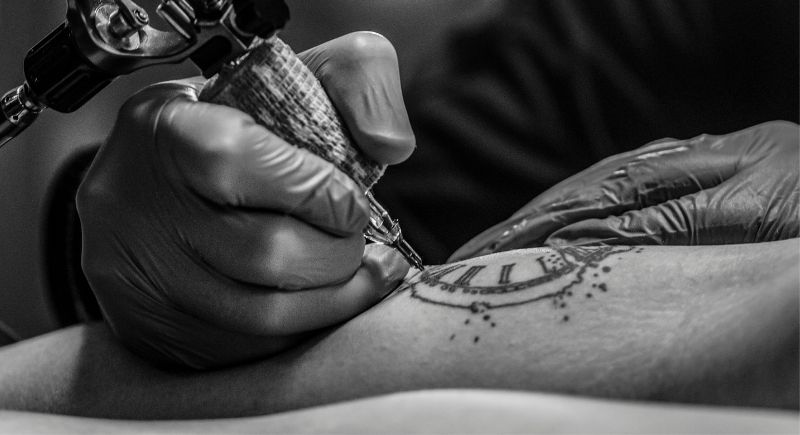 Photo: Canva
Commemorate reaching the rare 50 year marriage milestone with matching tattoos depicting your wedding date, anniversary date, or other meaningful symbols representing your enduring love. While tattoos carry a permanent commitment just like marriage, they can be designed in subtle ways to hold personal meaning between you two without being obvious to others.
Opt for small designs in discreet locations that can be concealed if desired. Engrave roman numerals of your anniversary date on the inside of your ring fingers. Get a minimalist outline of your wedding bouquet or venue architecture behind your ears. Have your initials or anniversary date inked on your ankle or wrist.
For a more visible display, design two half hearts, jigsaw puzzle pieces, or yin and yang symbols that come together when side by side. While tattoos may not be for everyone, for adventurous couples, matching ink can be a unique and permanent way to commemorate achieving 50 years of marriage.
8. Have a Romantic Dinner at the Location of Your First Date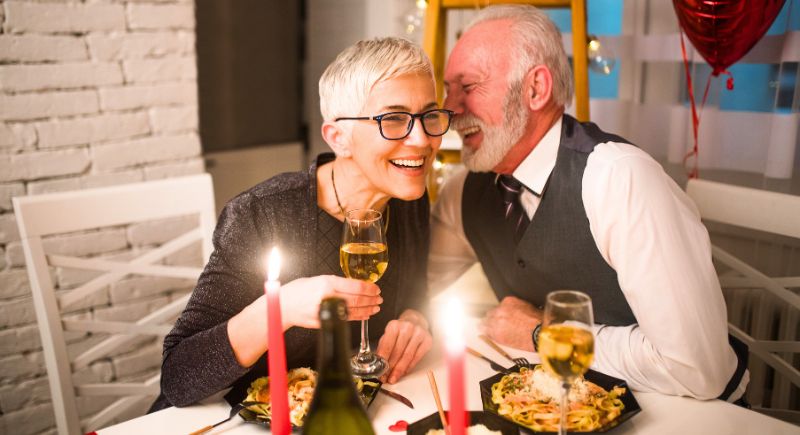 Photo: Canva
Recreate the magic of your first date by returning to the original location for an intimate anniversary dinner. Relive your early days of courtship by booking the same table or requesting the same menu items. Reminisce over how far your relationship has come in 50 years. Toast to the many memories made at this meaningful place.
Splurge on your partner's favorite dishes and desserts. Share your fondest stories from that inaugural encounter that sparked a lifelong partnership. End the evening with a romantic stroll past other nostalgic sites before capping it off with dessert in the same spot you shared your first kiss. Making a pilgrimage back to where it all started reconnects you to the roots of your enduring love.
9. Splurge on Diamond Jewelry Like Earrings or a Necklace
Photo: Canva
Mark this major milestone with a meaningful piece of diamond jewelry. Select a timeless design in a precious metal like gold or platinum. Choose for sparkling stud earrings to wear daily as a shining symbol of your 50 years together. Choose a necklace with a solitaire pendant that can be passed down as a family heirloom. Engrave the back of your gift with your anniversary date, initials, or a loving sentiment. Present your spouse with the gift as a surprise or shop for the perfect piece together.
Work with a jeweler to create something that reflects your shared tastes and tells your unique love story through carefully chosen details. Diamonds are the traditional 50th anniversary gemstone for their enduring beauty and strength, making jewelry the quintessential way to commemorate half a century of marriage.
10. Exchange Personalized 50th Anniversary Gifts
Photo: Canva
Exchanging thoughtful, customized gifts with your spouse is a heartfelt way to celebrate 50 years together. Create a photo book or collage highlighting your relationship journey from the wedding day to the present. Include captions to provide context for each picture. Turn special memories into a scrapbook or have images printed on a blanket.
Present your spouse with a customized art piece featuring your names and anniversary date. The personalized touch makes these gifts extra meaningful. Ultimately, the thought and care put into selecting or creating a gift speaks volumes about your 5 decades as a couple.
11. Display Old Photos and Memorabilia From Your Wedding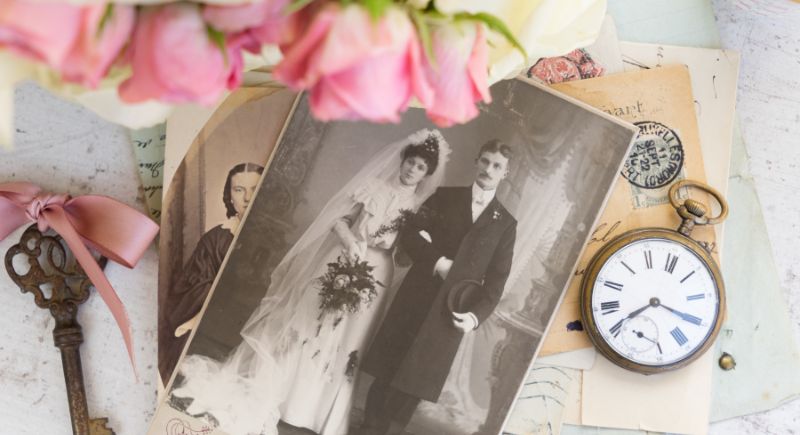 Photo: Canva
Celebrating 50 years of marriage is the perfect time to take a nostalgic stroll down memory lane. Dig out your wedding album, reminiscence over candid shots, and display cherished photos from your big day. Create a photo gallery wall showcasing pictures spanning from your engagement through early married life.
Set up a table featuring memorabilia like your guestbook, bouquet preservation, favors, or your cake topper. Reminiscing over your wedding photos, attire, and keepsakes is a heartwarming way to highlight your enduring union and bring back fond memories as you celebrate 50 years together.
12. Recreate Your Wedding Day Look with Your Original Gown and Tux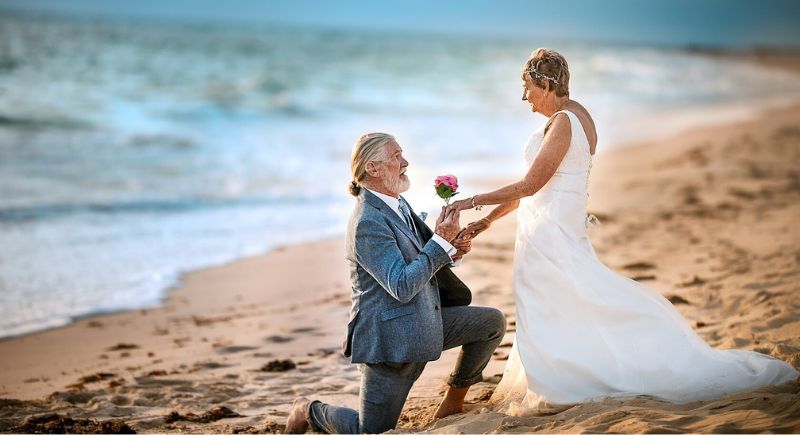 For an extra special golden anniversary, consider recreating your wedding day ensemble. If you still have your gown, get it cleaned and pressed so you can wear it again. Accessorize as you did 50 years ago with your veil, jewelry, shoes, and other accents. Gentlemen can don their original tuxedo or suit as well. This is a unique way to commemorate your 50th in style. Take photos replicating your wedding portraits for a then-and-now effect.
Ask guests to dress formally so your attire doesn't look out of place. Walk down the aisle arm in arm, cut the cake, and dance your first dance to make it feel like your wedding day again. Keep the mood lighthearted rather than overly serious. Celebrating 50 years of marriage in your original wedding finery highlights how your enduring love has stood the test of time.
13. Plant a Tree Together in Your Yard or Donate One in Your Names
Photo: Canva
Planting a tree together is a meaningful way to commemorate your 50th wedding anniversary. Consider getting a sapling of your state tree or another significant variety. Find a spot in your yard together and dig in! Nurturing a tree symbolizes your continued growth together.
If you don't have outdoor space, look into donating a tree to be planted in a park or other public space in honor of your anniversary. Many organizations offer commemoration certificates when you donate a tree in someone's name.
You'll be leaving a living legacy for your community while also honoring your marriage milestone. Trees planted in your names will stand the test of time, just like your enduring love over 50 years.
14. Write Love Letters Reflecting on Your Years Together
Photo: Canva
Writing heartfelt love letters is a touching way to celebrate 50 years of marriage. Set aside time to thoughtfully reflect on your journey together. What are your favorite memories from each decade? The challenges you've overcome? Hopes for the years ahead? Pour out your heart in a love letter detailing what your spouse has meant to you through the years. Reference inside jokes, cherished moments, and future dreams. Share your thoughts while displaying photos from your wedding and life together.
However you choose to express it, putting your appreciation into words is a gift your spouse will treasure. Your golden anniversary is a chance to reminisce on all you've built as a couple. A love letter is a meaningful memento of your milestone.
15. Create a Scrapbook or Memory Book of Your Relationship
Photo: Canva
Gather old photos, ticket stubs, wedding memorabilia, letters, and other mementos from throughout your relationship. Arrange them artfully in a photo album or scrapbook to celebrate 50 years of marriage. Include milestone moments like your wedding day, the birth of children, anniversaries, vacations, and major life events.
Jot down favorite memories and inside jokes. Old greeting cards and love letters offer a glimpse into your early days. Ticket stubs and photos relive exciting adventures. Your finished memory book will illustrate the full, rich story of your life together. It makes a heartfelt 50th anniversary gift for your spouse.
As you craft it, the process will stir nostalgia and appreciation for all you've shared. This scrapbook will become a treasured family heirloom to pass down.
16. Take Ballroom Dancing Lessons Together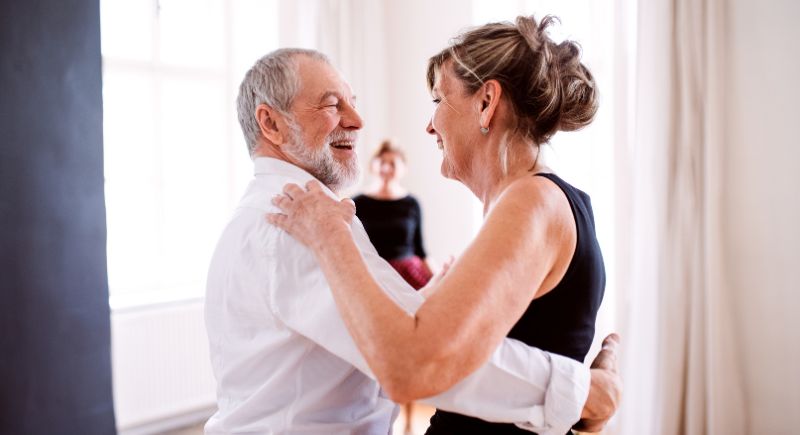 Photo: Canva
Learning to ballroom dance is a fun way for couples to celebrate 50 years of marriage. Consider signing up for ballroom dance classes in your community. Many studios offer group lessons for beginners looking to learn classic dances like the foxtrot, waltz, tango, or swing.
Ballroom dancing is a great couple's activity that keeps you active and enhances intimacy through touch and coordinated movement. Mastering new dance skills together builds confidence.
Dressing up and going out dancing recaptures the magic of your early dating days. Surprise your spouse with a private ballroom dancing lesson as an anniversary gift. Then show off your new moves at your 50th anniversary party!
17. Go Stargazing and Reminisce About All the Nights You've Shared
Photo: Canva
Laying beneath the stars is a peaceful way for couples to reflect on a lifetime together. Plan an evening stargazing date to commemorate your 50th wedding anniversary. Drive to a location away from city lights and lay out blankets and pillows. Gaze upward in awe at the vast night sky glittering with stars. Let your eyes adjust to the darkness as you pick out familiar constellations.
Share memories of stargazing when you were young – your first date, camping trips, or nights camping out with children. Reminisce about falling in love under the stars. Reflect on how far you've come and all of life's twists and turns. Let stargazing be a centering ritual to cherish your enduring bond beneath the infinite beauty of the night sky.
18. Take a Hot Air Balloon Ride for a Unique View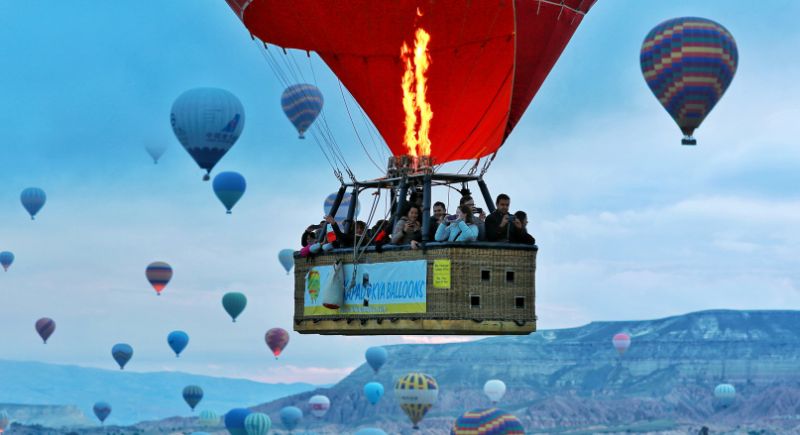 Photo: Canva
Looking down at the world below from the basket of a hot air balloon is a once-in-a-lifetime experience. For your 50th anniversary, surprise your spouse with a hot air balloon ride at sunrise or sunset for an unforgettable perspective. Float above the trees, lakes, mountains, and fields bathed in golden light. Toast with champagne and chocolate-dipped strawberries as you drift over the stunning landscape.
Check this off your bucket list and be amazed at how new and magical the world looks from on high. A hot air balloon ride will lift you to new heights, just like your love has done for all these years.
19. Go on a Scenic Hike or Bike Ride Like You Did When Dating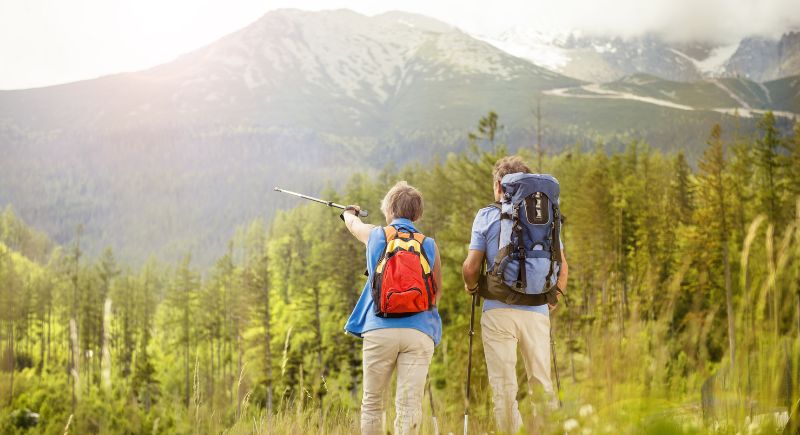 Photo: Canva
Bring back fond memories of your early days together with an invigorating hike or bike ride in nature. Search for trails with waterfalls, mountain vistas, or other awe-inspiring views. Pack a picnic lunch to enjoy along the way. Stop frequently to snap photos of each other with scenic backdrops.
Laugh about mishaps like when his chain fell off halfway up a hill long ago. Feel like giddy kids again as you challenge each other to a race on bikes or foot. Reward yourselves with an ice cream or craft beer at the end. You'll be tired but filled with feel-good endorphins and nostalgia.
No matter how many years go by, it's wonderful to reconnect with your younger selves through outdoor activities. Appreciate how far you've come while staying young at heart.
20. Have a Wine Tasting or Brewery Tour for an Afternoon Excursion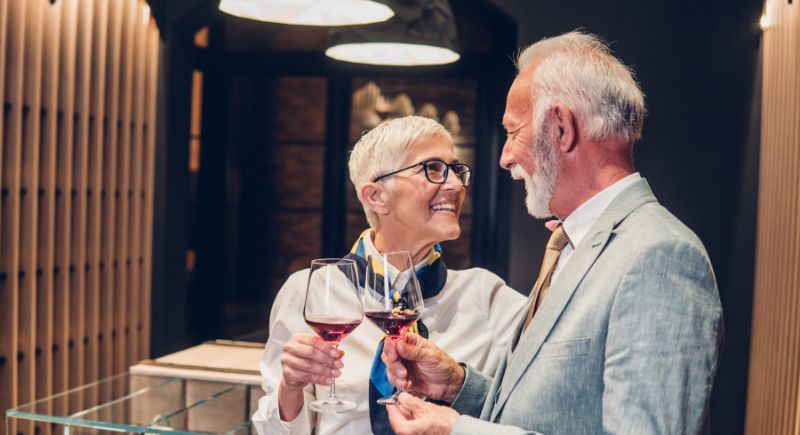 Photo: Canva
Make a date out of touring local wineries or breweries together. Sample flights to discover new favorite varietals and brews. Chat with the winemaker or brewmaster about their craft. Learn about the winemaking or brewing process. Pick up a bottle or cans of your top sips as mementos. Pair tastings with small plates like cheese, olives, and crusty bread.
Capture the views and good times with selfies to look back on later. End your outing by raising a toast to 50 years of marriage over a glass of bubbly. Local beverage tours make for inexpensive, fun-filled afternoons. You'll deepen bonds over shared interests and new experiences.
21. Plan a Relaxing Couples Massage or Spa Day
Photo: Canva
Make time for rest and rejuvenation together with a spa day. Schedule side-by-side massages to melt away knots and tension. Try a soothing couples treatment like a rose petal bath or aromatherapy session. Enjoy facials, body scrubs, or reflexology foot massages. Relax in the steam room or sauna.
Sip tea or infused water between treatments. Order a healthy spa lunch or dinner to be served fireside while wrapped in cozy robes. Exchange hand and foot massages in your suite. Focus conversations on hopes, dreams, and future plans.
Let the tranquil atmosphere wash away stress. A shared spa day reconnects you through peaceful quality time. The goal is to emerge feeling refreshed and renewed—ready to continue celebrating your golden milestone.
22. Spend a Weekend Away at a Cozy Cabin or B&B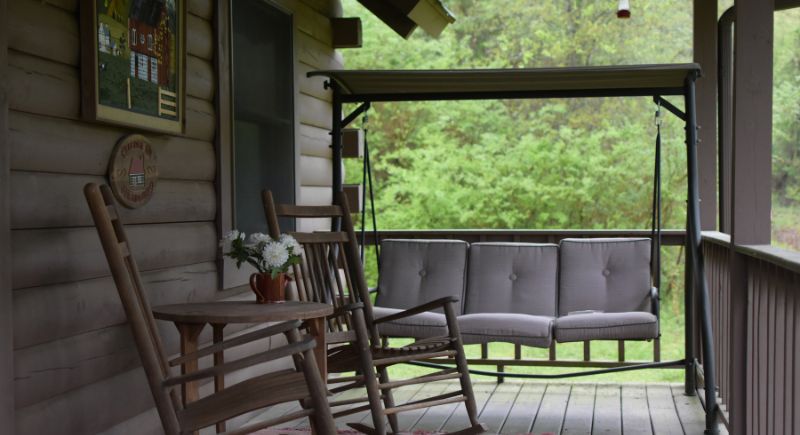 Photo: Canva
Get away from the daily grind by booking a weekend at a secluded cabin or quaint bed and breakfast. Look for somewhere off the beaten path with scenic views, trails to hike, and outdoor activities. Or pick a historic inn in a charming small town. Spend mornings lingering over breakfast in bed or on the porch.
In the afternoons, explore downtown shops and museums together. Schedule couples massages or soak in an oversized tub with a bottle of champagne. Curl up by the fireplace playing board games or reading. Savor delicious multi-course dinners onsite at the B&B.
A change of scenery and slower pace allows you to appreciate the last 50 years while looking ahead to making more memories together.
23. Compile Favorite Recipes You've Made Together into a Custom Cookbook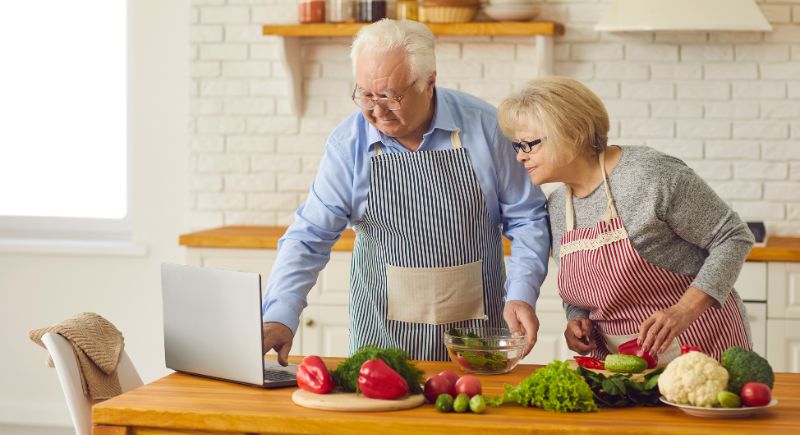 Photo: Canva
Gather up those recipe cards and clippings to create a custom cookbook of dishes you've prepared together over the decades. Note any stories behind the origins of certain recipes. Did you discover a new cuisine on an anniversary trip abroad? Did a recipe get passed down from a parent or grandparent?
Adding photos of finished dishes or the two of you cooking together makes it even more personal. Have it printed and bound through an online service so you'll always have a record of the meals you've shared from your first apartment's humble dinners to celebratory holiday feasts. It will be a treasured keepsake you can pass down to children and grandchildren.
24. Relive Favorite Travel Memories with a Slideshow or Map Display
Photo: Canva
Gather photos from your travels together over the years and create a slideshow set to music to showcase your adventures. Or print photos to pin on a large map, marking all the places you've visited.  Write captions noting the year and special memories. Reminisce over road trips across the country or the vacation place where you honeymooned. Or mark dream trips you hope to take someday.
Looking back on the places you've been together is a great way to relive beautiful memories of exploration and time spent making new discoveries side by side. Display it at the party or keep it up in your home as a tribute to the journeys you've taken hand in hand.
25. Make a Donation to a Charity That Has Special Meaning to You Both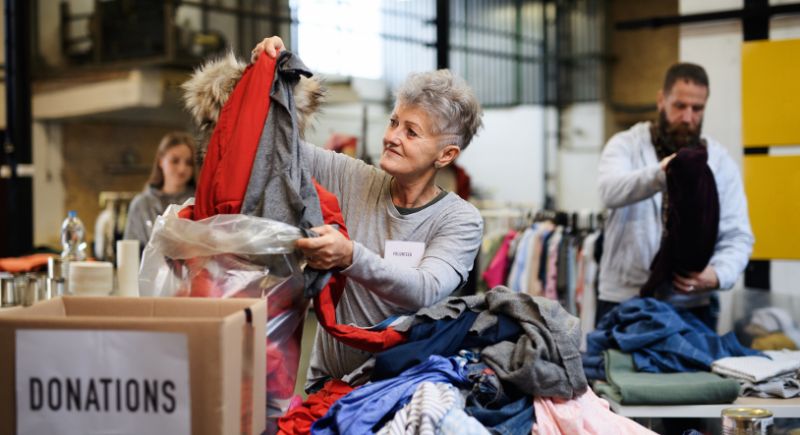 Photo: Canva
Consider making a donation in honor of your 50th anniversary to a charity or cause that holds significance for you as a couple. It could be a place you volunteered together over the years, an organization that helped you through a difficult time, or a cause aligned with your values. Donating to a charity in lieu of gifts shows what matters most and allows you to give back.
This thoughtful gesture provides a way to celebrate your enduring marriage while also supporting others. Make the donation in both your names and announce it at the party or in invitations to share the significance.
26. Splurge on VIP or Box Seats at a Concert by One of Your Favorite Acts
Photo: Canva
Hearing cherished tunes will transport you back in time and create new memories to carry forward. Choose an artist or band you've loved since early in your relationship or one that has provided the soundtrack to your life together. Splurge on the best seats to soak in the nostalgia and make the night extra special.
This shared experience of enjoying phenomenal live music together is a fitting way to celebrate a phenomenal 50 years together. Make it a mini vacation by booking a luxurious hotel suite and planning romantic dinners out around the big event. Turn this concert into a major milestone marker on your journey.
27. Host an Elegant Formal Dinner Party for Close Friends and Family
Photo: Canva
Transform your home into a glamorous setting with flowers, candlelight, fine china, and decor touches in gold for your golden anniversary. Hire a caterer to provide gourmet fare and servers to attend to guests so you can relax and enjoy.
Make heartfelt toasts about your journey together over the decades and let loved ones share their well-wishes. Display photos from throughout your relationship at a memory table to stroll down memory lane.
This refined dinner allows you to come together with those who matter most and formally commemorate achieving 50 years side by side in wedded bliss. It provides the perfect opportunity to express your gratitude for their love and support across the years. Make it an occasion to dress to the nines and make unforgettable new memories with your inner circle.
Frequently Asked Questions
What can I do for my parents 50th wedding anniversary?
Some great ideas for celebrating your parents' 50th wedding anniversary include throwing them a party with close family and friends, creating a photo album or video montage of their lives together, planning a vow renewal ceremony, treating them to a special trip or cruise, or gifting them something meaningful like a personalized framed print. The most important thing is spending quality time together and honoring their years of marriage.
What are some meaningful ways to celebrate a 50th wedding anniversary on a budget?
Celebrate on a budget by having a picnic in a local park, recreating your honeymoon at home, making a scrapbook of memories, or planning a potluck-style family dinner.
What are some traditional gifts for a 50th wedding anniversary?
Traditional gifts for a 50th wedding anniversary often involve gold, as it is the symbol of this milestone. Consider gold jewelry, personalized gold items, or gold-themed decor.
Are there any symbolic flowers or colors associated with a 50th wedding anniversary?
Yellow roses are often associated with 50th anniversaries, symbolizing joy and happiness. The color gold also represents this milestone.
Conclusion
Celebrating a 50th wedding anniversary is a remarkable achievement, and there are countless ways to make it special. Whether you choose to follow tradition with golden gifts, plan a unique and unforgettable event, or opt for a more intimate and budget-friendly celebration, the key is to celebrate the enduring love and commitment that have carried a couple through five decades of marriage.
However you decide to mark this milestone, it's an opportunity to cherish memories, create new ones, and honor the enduring bond of love that has stood the test of time.