Last Updated on October 1, 2023 by Ruby
Imagine the joy of celebrating 35 years of love and commitment with your soulmate. This extraordinary milestone deserves an equally remarkable 35th wedding anniversary gift.
In this article, we'll explore the art of finding that perfect token of affection, from the timeless allure of personalized coral jewelry to the heartwarming nostalgia of creating sentimental photo books.
These thoughtful ideas are bound to transform your 35th anniversary into a truly unforgettable and cherished occasion. So, explore the 25 meaningful gift ideas!
1. Personalized Coral Jewelry
Coral is the traditional gemstone for the 35th wedding anniversaries. Choose a personalized coral pendant or charm bracelet to symbolize your love. Etsy artisans specialize in creating one-of-a-kind coral jewelry pieces. They can go above and beyond to incorporate your wedding location, date, or even your initials into the design.
Whether it's a pendant featuring the coordinates of your wedding venue, a charm bracelet adorned with your initials, or any other personalized detail that holds significance to you both, this coral jewelry will not only be a stunning accessory but also a cherished memento of your 35 years of love and commitment.
2. Matching Coral Watches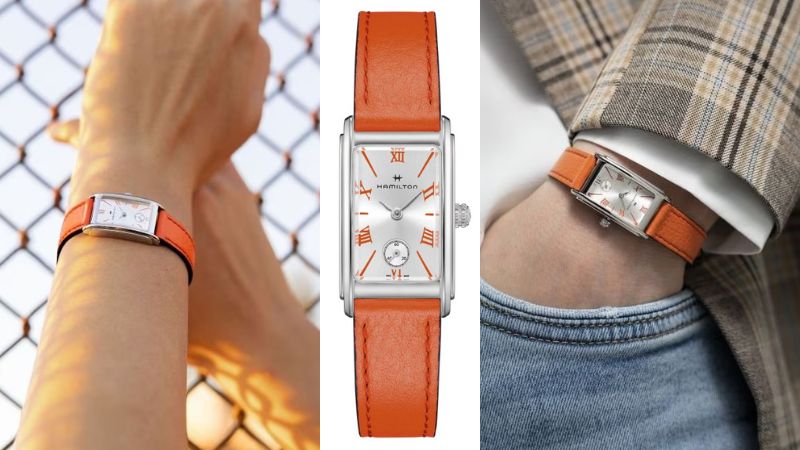 Mark 35 years together by gifting matching coral watches. Choose a classic style for him, like a leather strap watch. It's not just a timepiece; it's a symbol of your enduring love and the many hours you've spent together. For her, pick a dainty coral watch with a bracelet band.
The soft coral hue represents the warmth and passion of your relationship, making it a heartfelt gift. Engrave the back with a personalized message to make it extra special. This personal touch will transform these watches into cherished keepsakes, a constant reminder of your love story.
3. Coral Cufflinks
Consider a pair of coral cufflinks as a 35th-anniversary gift for him. Choose for a polished coral stone set in silver or gold or find cufflinks with his initials spelled out in coral beads for a personalized touch. Cufflinks make a practical gift he can wear to dress up for special occasions. These cufflinks don't just mark hours and minutes; they encapsulate the timeless bond between you and your partner.
4. Coral Decorative Bowl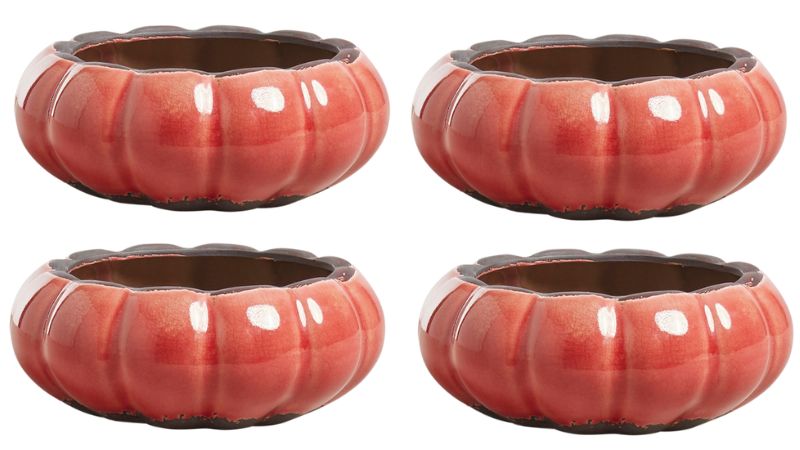 Photo: OKA
A coral-colored glass or ceramic bowl adds a pop of color to any room's décor. Search for a wide, shallow bowl in a bright coral hue. Fill it with decorative balls for a nautical accent, or use it to hold keys and other items by the entryway.
A decorative bowl makes a nice showpiece for displaying on a console table, hearth, or coffee table. This striking choice not only brings a touch to your home but also adds a sense of energy and vibrancy to your decor. It's a simple yet impactful way to breathe new life into your living space, adding a dash of coastal charm and a whole lot of style.
5. Coral Picture Frame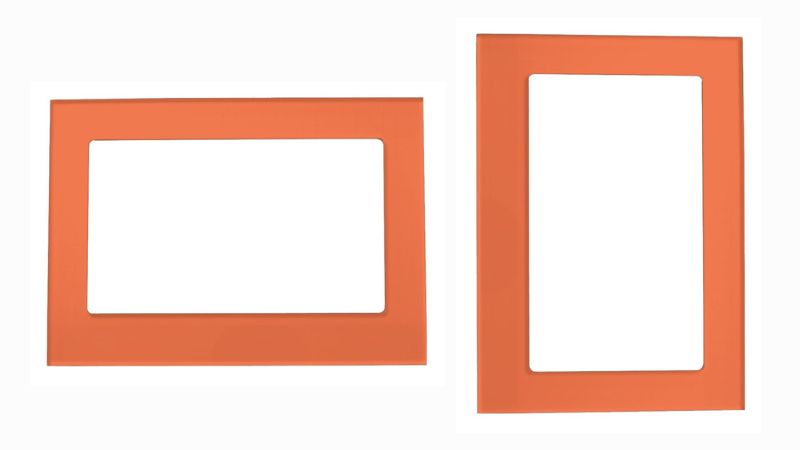 Finding a coral-colored picture frame is a great way to display a favorite photo from your wedding or honeymoon. Look for a wide, flat frame in a bright coral color. Place a fun candid shot or romantic portrait inside.
Arrange it on a console table or hang it on the wall as a meaningful memory from your 35th-anniversary milestone. This coral picture frame becomes a chapter dedicated to love, laughter, and lasting commitment. It's a beautiful and heartfelt way to celebrate the journey you've embarked on as a couple.
6. Coral Vase
A beautiful coral-colored vase makes a stunning gift for a 35th wedding anniversary. Look for a shapely vase in a vibrant coral hue to hold a gorgeous bouquet of roses or other anniversary flowers. Select a vase with a romantic shape like a heart or curvy silhouette.
A coral vase filled with red roses will add a pop of color and celebrate your love and commitment over the years. Display it on a console table, bookshelf, or fireplace mantel as a meaningful reminder of your milestone.
7. Coral Wall Art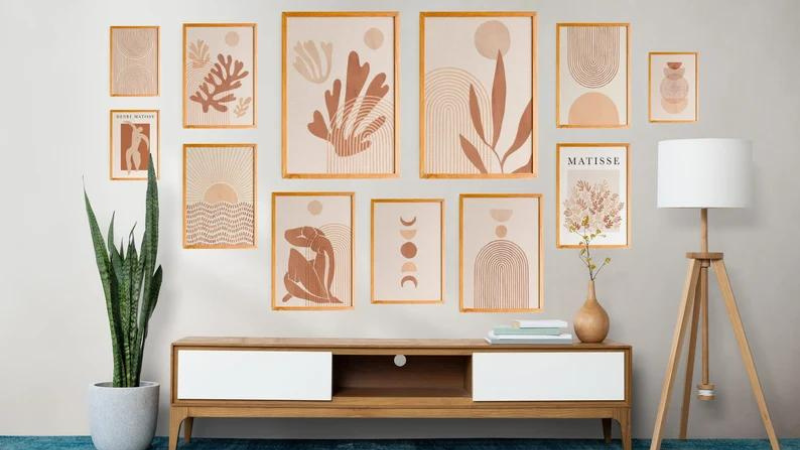 Commemorate 35 years of marriage by decorating your home with coral-colored wall art. Abstract art in coral tones also makes a unique gift.
The choice of coral for your 35th wedding anniversary is a symbolic and meaningful one. Coral represents the strength and resilience of your relationship over the years.
It serves as a visual reminder of the vibrancy and warmth that your love has brought to your lives and those around you.
8. Custom Coral Cutting Board
Another great wedding anniversary gift idea is a custom coral cutting board. Look for one made of wood that has been stained or painted in shades of peach, salmon, or pink. For a more natural look, opt for a cutting board made from exotic coral-colored wood like padauk. Personalize it by having your name and wedding date engraved.
A coral cutting board makes a functional gift you can use while cooking together. Place it on your countertop as a daily reminder of your enduring marriage.
9. Coral Serveware Set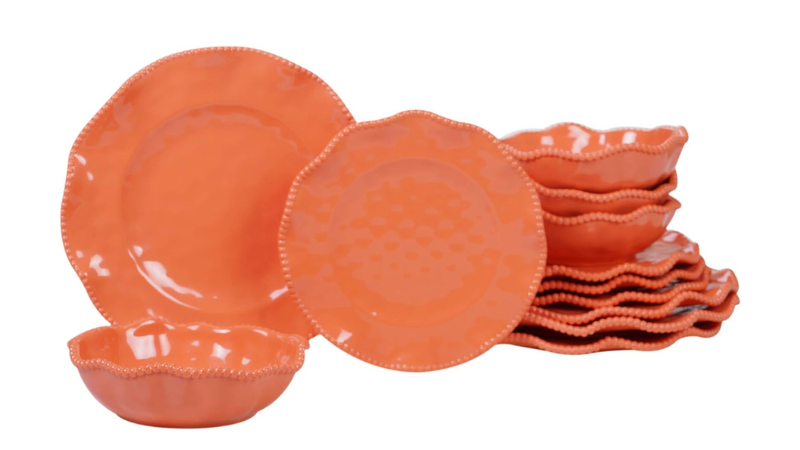 Complement the custom cutting board with a coral serveware set for an extra special 35th wedding anniversary gift. Look for dishes, platters, bowls, and utensils in shades of peach, pink or salmon. For a personalized touch, find pieces that can be customized with engraved initials, names, or wedding dates.
Present the set beautifully wrapped or displayed in a rustic wood crate or basket. A coral serveware set brings warmth and vibrancy to special meals together. It's a meaningful way to celebrate 35 years of marriage and new memories in the making.
10. Coral Barware Glasses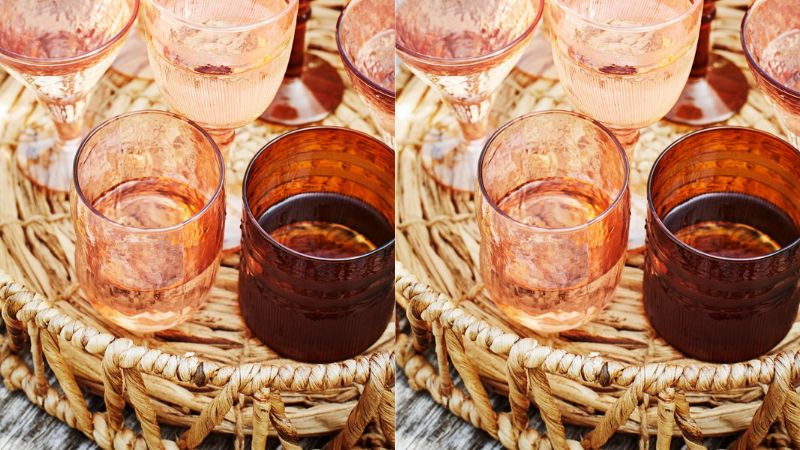 Celebrating 35 years of marriage calls for something extraordinary, and what could be more special than gifting a set of exquisite coral barware glasses? This elegant and sentimental choice adds a touch of sophistication to your home.
Seek out glassware in warm peach and salmon hues that beautifully mirror the orange-pink tones of real coral. These captivating colors not only complement your decor but also symbolize the warmth and passion that have defined your journey together.
Present the glasses displayed on a rustic wood tray or inside a canvas wine carrier with leather handles. Enjoy sunset cocktails beachside or cozy nights together.
11. Coral Candle Holders
Illuminate your 35th anniversary by gifting coral-inspired candle holders. Look for pieces in warm peach and salmon tones reminiscent of real coral's pinkish-orange hues.
These charming pieces in peach and salmon hues bring the beauty of coral to your special occasion. Coral candle holders are a meaningful gift symbolizing the enduring warmth and passion of 35 years together.
Choose from elegant hurricane vases, stylish terracotta shapes, or intricately carved coral sculptures, perfect for cradling tealight candles. Enjoy romantic candlelit dinners or a relaxing bubble bath by glow.
12. Coral Photo Album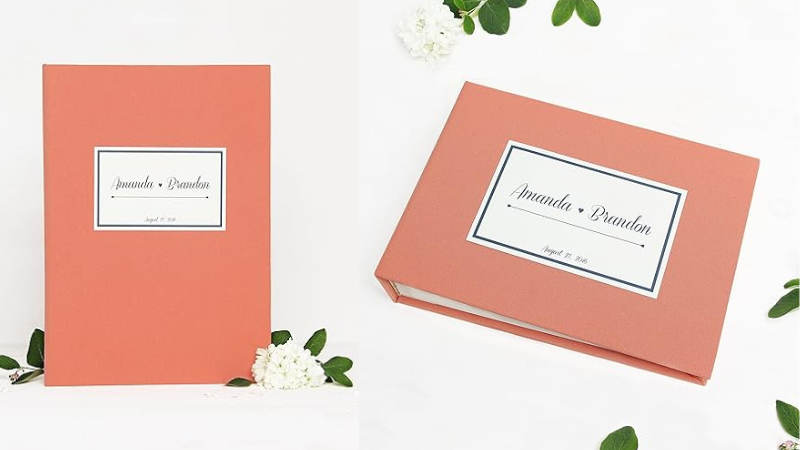 Celebrate your journey together with a Coral Photo Album! Choose a book featuring a coral hue cover or elegant coral hue accents. Choose for a lay-flat design to showcase panoramic shots, stunning landscapes, and group photos flawlessly.
Fill its pages with cherished snapshots from your wedding, honeymoon, early years, and recent adventures. Add engraved anniversary dates or sweet messages for that personal touch. A Coral Photo Album is more than a book; it's a heartfelt stroll down memory lane and the perfect 35th-anniversary keepsake.
13. Coral Throw Blanket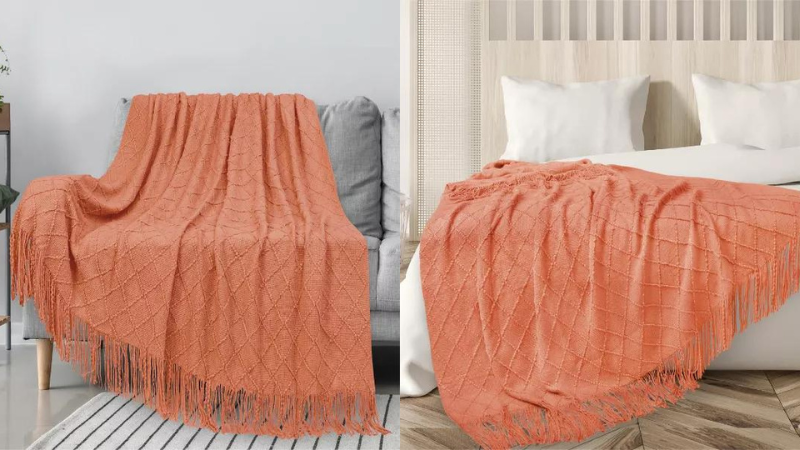 Cozy up and mark your special milestone with a soft coral throw blanket, perfect for 35th wedding anniversary gift. Choose a lightweight design in a beautiful coral shade or one adorned with charming coral hue accents. Choose for a comfy knit or woven style crafted from breathable cotton or wool. Personalize it with your name, wedding date, or a cherished quote, embroidered in a splendid gold or white hue.
Drape the coral blanket on your sofa or bed to add a pop of color and anniversary significance to your living space. Use it for family movie nights, date nights at home, or to stay warm while reminiscing over old photos and sharing your hopes for the years ahead.
14. Coral Pillows
Complement your new coral throw blanket with a set of coral-colored accent pillows. Choose pillows that either match the coral shade or go for a slightly different hue to achieve a unified appearance. Consider different textures like velvet, linen, or embroidered cotton for visual interest.
For a personalized touch, add your anniversary year or namesake initials. Place the coral pillows on your bed, sofa, or two favorite chairs to remind you both of three and a half decades of marriage memories.
Allow this lively color to infuse your shared spaces with vitality and serve as a constant reminder to keep loving, laughing, and savoring each other's company for many years ahead.
15. Coral Home Decor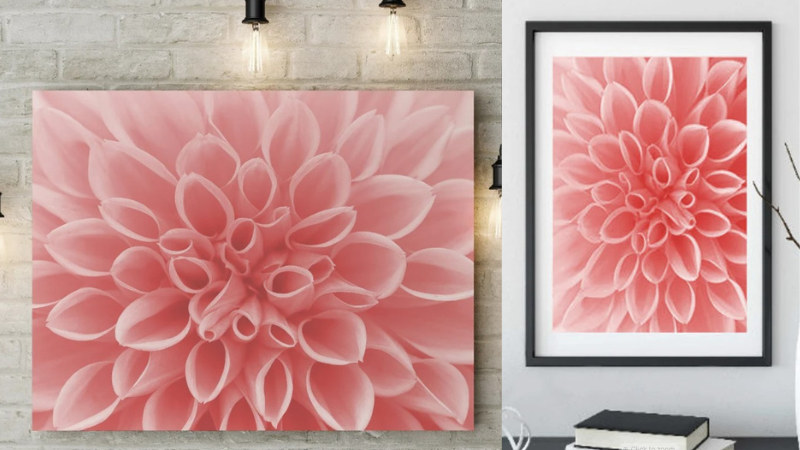 Bring the timeless and romantic essence of coral into your home with anniversary-themed decor. Look for coral candles to set a warm glow during your celebration dinner. Search for coral vases, trays, and other accent pieces to display anniversary flowers and gifts.
Consider a coral picture frame to hold your cherished wedding photo or a meaningful quote in a complementary font. For the wall, find coral prints or canvas art depicting two lovebirds, hearts, or your anniversary number. For outdoor charm, hang coral patio lights on your deck or cultivate coral-hued blooms like geraniums, zinnias, or petunias.
Let this vibrant shade serve as a daily reminder of the enduring love you've nurtured throughout 35 incredible years together.
16. Coral Wind Chimes
Add a soothing sound to your outdoor oasis with coral wind chimes, perfect for 35th wedding anniversary gift. The gentle tones will create a peaceful ambiance on your patio, porch, or garden. Let the warm color serve as a gentle reminder of the beauty you both continue to create together, even after celebrating 35 years of marriage.
17. Coral Garden Decor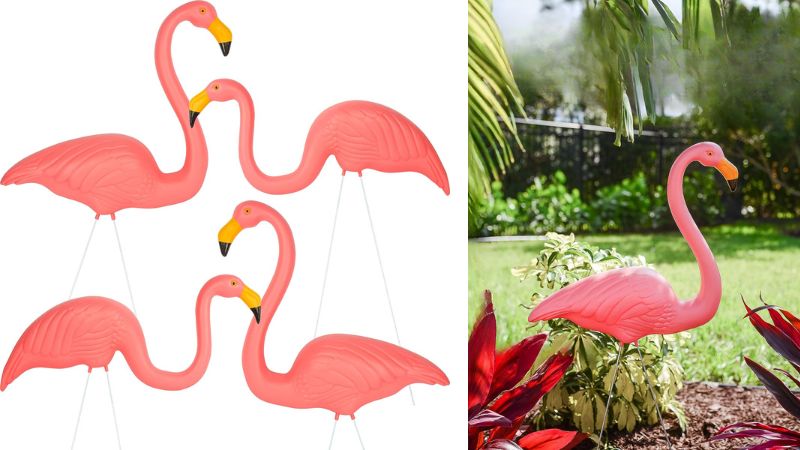 Bring cheerful coral hues into your garden or yard to celebrate 35 years of growing love. Look for coral planters, pots, or window boxes to display red geraniums, pink zinnias, orange marigolds, or other bright blooms. String coral cafe lights through bushes or trees to create a romantic anniversary dinner setting outdoors.
Use coral garden stakes or ornaments to mark special plants like your wedding rose bush or anniversary tree. For patio flair, search for coral doormats, cushions, or pillows. Or pick a coral bistro set for two so you can enjoy morning coffee or happy hour with your love.
Let these bursts of color mirror the enduring vibrancy you both continue to radiate after 35 magnificent years together.
18. Coral Picnic Basket
Make special memories with a coral picnic basket packed full of your favorite foods and drinks. Look for a vintage-style wicker basket in a bright shade of coral and fill it with cheeses, fruits, chocolates, or other delicious bites. Add a coral picnic blanket and reusable plates, cutlery, and napkins for an eco-friendly touch. Bring along a coral tablecloth and some fresh flowers in a coral vase to create a romantic picnic setting.
Write a love note on a coral notecard and tuck it in the basket for your partner to find. A personalized coral picnic backpack or tote bag also makes a fun gift for celebrating 35 years together. Fill it with snacks and take it along on your next adventure, whether in your own backyard or while traveling to new destinations.
19. Coral Picnic Blanket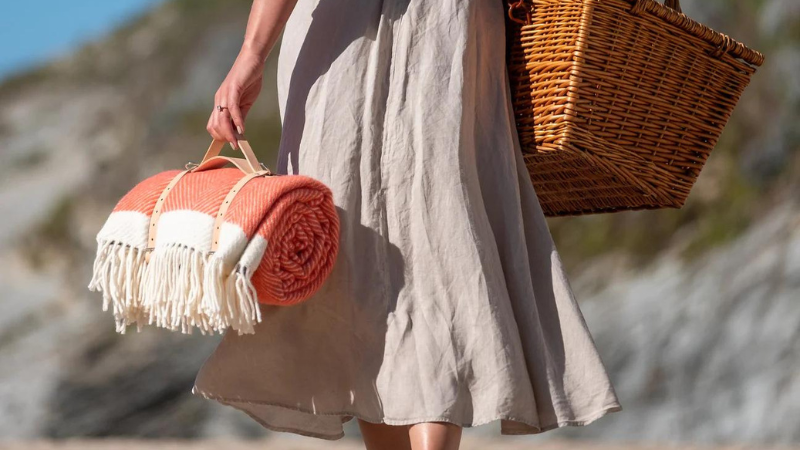 A cozy coral fleece picnic blanket is another thoughtful 35th wedding anniversary gift idea. Look for a soft, machine-washable blanket in a bright coral hue. Pack the blanket in a coordinating coral bag so you'll always be ready for impromptu picnics in the park, backyard barbecues, or outdoor concerts and festivals. Lay it out in your favorite scenic spot, then relax and savor quality time together. The vibrant color reminds you of carefree days spent at the beach.
It's perfect for celebrating 35 years of marriage while looking ahead to future adventures or surprising your partner with a romantic candlelit dinner for two right at home – just spread out the blanket and enjoy each other's company.
20. Coral Stemless Wine Glasses
Celebrate your 35-year journey of love with coral stemless wine glasses. These sturdy glasses sport a modern, chic look and feel substantial in your hand. With coral accents etched into them, they'll add a burst of color to your tabletop.
Whether you're filling them with your favorite vintage for a heartfelt toast at your anniversary dinner or gifting them, these stemless glasses hit the spot. Plus, they're perfect for backyard celebrations – no more worrying about delicate stems.
They're casual enough for picnics yet stylish for indoor use, ready for those spontaneous romantic moments. Picture yourself relaxing on the patio at sunset, sipping wine and reminiscing. These coral glasses bring back memories of beach vacations and are destined to become cherished keepsakes. It's also perfect for a 35th wedding anniversary gift.
21. Coral Travel Tumblers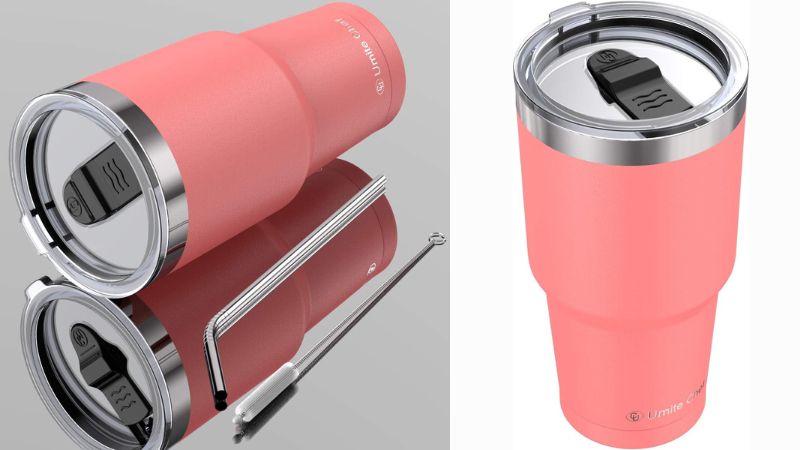 Enjoy 35 years of togetherness together by giving coral travel tumblers as an anniversary gift. These insulated stainless steel tumblers come in a vibrant coral color, representing the traditional 35th anniversary gemstone. The screw-on lids have a slide opening for sipping your favorite hot or cold beverages on the go.
Etched with coral accents, they add a pop of color wherever you take them. Fill them with coffee for your early morning commute, or take them along on weekend road trips and fill with water, tea, or a cocktail. The double-wall insulation keeps drinks hot for 6 hours or cold for 24. These useful tumblers allow you to enjoy your favorite drinks while celebrating 35 years of lasting love.
22. Coral Passport Holder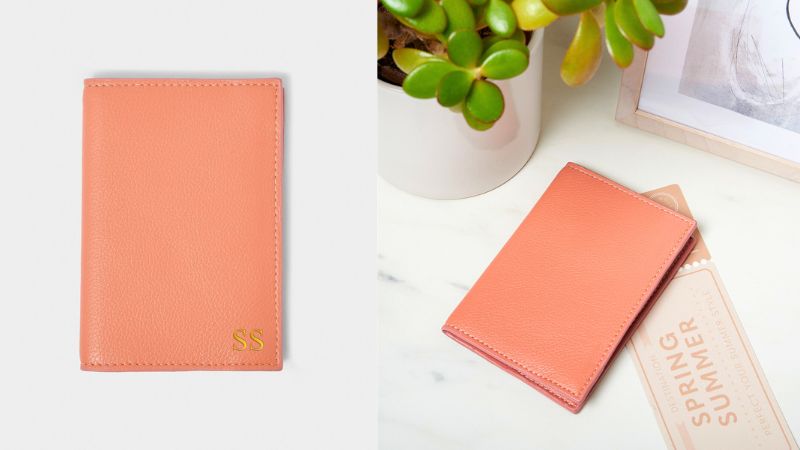 Keep 35 years of marriage by gifting a coral passport holder. This useful travel accessory allows you to protect your passport in style. Crafted from luxuriously soft leather, this holder boasts a vibrant coral exterior. The interior includes slots to hold your passport, boarding passes, cards, cash, and more. A clear ID window makes your passport easily accessible while keeping the details private.
The coral holder keeps everything in one place while you navigate airport security, customs, and immigration. Slip it inside your carry-on bag or wear it around your neck for convenient access. It also makes a practical everyday organizer for cards and cash.
A coral passport holder is a thoughtful way to celebrate 35 years of marriage while simplifying travels for your next adventure together. Whether jet setting to an exotic destination or taking a road trip closer to home, it will help keep your documents secure and organized for many more years of making memories around the world.
23. Coral Beach Bag
Pack up for a beach getaway with a coral-colored tote to commemorate 35 years of marriage. The durable material holds up even when loaded down. The bag's simple design and neutral canvas make it versatile for the park, market, or work too.
The generous size holds all your gear while the long straps keep your hands free to hold your sweetheart's hand as you stroll the shoreline and continue making new memories. It's a practical reminder of 35 years of making memories together every time you reach for it.
24. Coral Weekend Getaway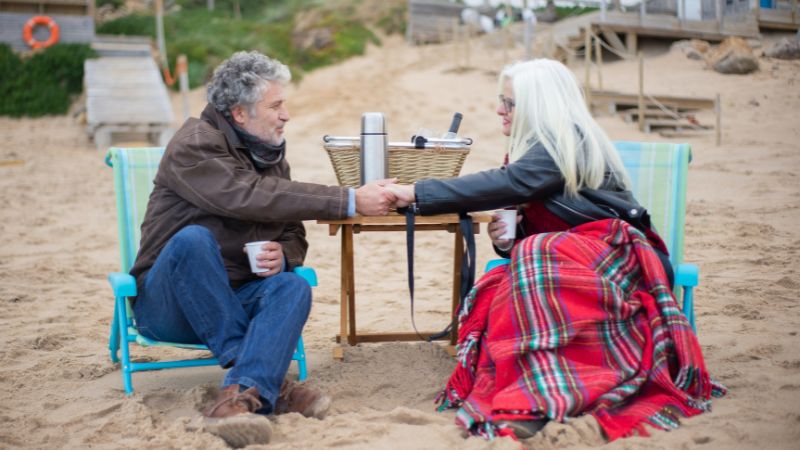 After 35 years of marriage, you deserve a romantic weekend away with your love. Look for a charming bed and breakfast or a cozy cabin rental near the ocean. Pack your new coral beach bag and head out on a seaside stroll to hunt for shells or admire the sunset. Enjoy lazy mornings cuddling in bed before wandering to a cafe for breakfast.
In the evenings, curl up together and reminisce over your decades together. Flip through a photo album of your wedding and early years of marriage. Talk about your favorite memories and funny moments over the years.
Reminisce about the places you've traveled together. Then dream up ideas for future adventures. End the weekend feeling closer than ever and start dreaming up plans for how to celebrate 40 years together.
25. Coral Spa Experience
Pamper yourselves with a relaxing couples massage or side-by-side pedicures at a spa for your 35th wedding anniversary gift. The coral hue reminds you of the gemstone for this milestone year. Schedule His and Hers massages and request coral-colored towels or aromatherapy. After your treatments, spend time in the whirlpool gazing up at the trees and blue sky. Then shower and change into plush robes before indulging in specialty teas and fruit in the relaxation lounge.
For an extra celebratory touch, bring a bottle of sparkling wine and two keepsake champagne flutes. Make a toast to 35 years of marriage and many more to come. Cap off the spa day by selecting coral-colored nail polish for manicures and pedicures while you hold hands.
This spa experience provides a peaceful retreat to reconnect as a couple and reflect on your relationship's staying power. You'll leave feeling relaxed and reminiscing over the decades of memories you've created together.
Frequently Asked Questions
What is the symbol for 35 years of marriage?
The traditional symbol for a 35th wedding anniversary is coral.
What stone is 35 years of marriage?
The traditional gemstone associated with a 35th anniversary is emerald.
What are some ideas to celebrate a 35th wedding anniversary for your parents?
Some other ideas to celebrate parents' 35th anniversary include making a photo album, or video montage, presenting a customized gift, hosting a surprise anniversary party with close family and friends, or planning a romantic getaway to a destination they've always dreamed of visiting.
What is the list of traditional 35th anniversary gifts?
The traditional 35th anniversary gift is coral. Modern gifts include jade and emerald jewelry.
Conclusion
The 35th wedding anniversary, often called the coral anniversary, is associated with traditional and modern gifts like coral and emerald, symbolizing longevity. To celebrate this significant milestone, consider thoughtful and personalized presents that honor the couple's enduring commitment, making the 35th anniversary celebration truly special.