Last Updated on September 30, 2023 by Ruby
While the breathtaking natural surroundings set the stage for an unforgettable event, selecting the perfect beach formal wedding attire is the key to ensuring you and your guests look as stunning as the coastal vista itself.
Picture the gentle waves as your backdrop, the sun-kissed sand beneath your feet, and the salty breeze weaving through your hair—such is the allure of a seaside ceremony.
This article offers 12 stylish beach formal wedding outfit ideas for brides, grooms, and guests looking to dress the part for a sophisticated seaside celebration.
These fashion inspirations will help you navigate the coastal elegance of a beach formal wedding with style and grace.
1. Linen Suit and Dress Beach Formal Wedding Attire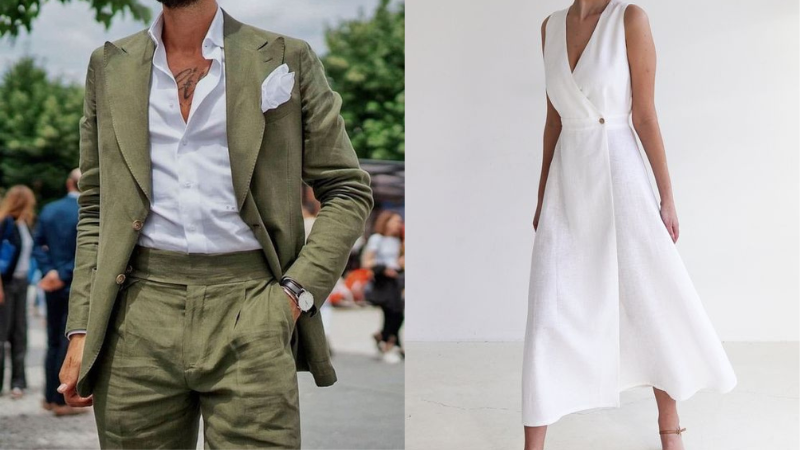 For a summer beach wedding, lightweight linen is a breathable and polished fabric choice. A linen suit in a solid, lighter color like tan or light gray makes a handsome look for grooms, paired with a crisp button-down shirt and brown leather shoes. Brides can don an elegant linen maxi dress, with delicate straps and a flowy skirt that flutters in the ocean breeze. Linen wrinkles easily, but embraces a natural beach vibe.
2. Light Chiffon Maxi Dress 
A long, flowing chiffon maxi dress is another excellent choice for brides or wedding guests for a beach formal wedding. The lightweight, sheer fabric of chiffon moves gracefully in the ocean breeze. Opt for a solid light color like blush, ivory, or seafoam green. A halter neckline and open back show just enough skin. Finish the breezy beach look with a pair of sparkly statement earrings. Chiffon offers a romantic, goddess-like vibe perfect for a waterfront ceremony.
3. Lace Gown with Sheer Sleeves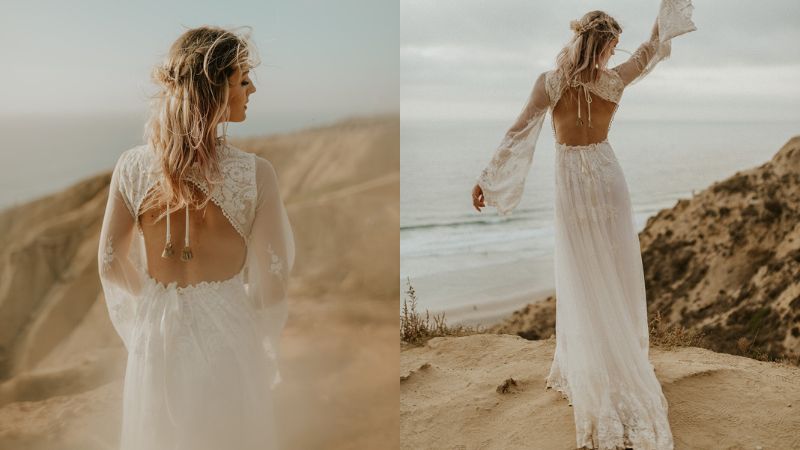 For brides seeking a more formal vibe, consider a lace gown with sheer sleeves. The lace overlay adds gorgeous texture and dimension, while the sheer sleeves keep the look light and beachy. A plunging neckline shows off a hint of skin. Pair this dress with sparkling jewelry like crystal earrings and a tennis bracelet.
Finish off with metallic strappy heels that won't sink into the sand. This look straddles the line between beach casual and black-tie elegance. The lace gown brings sophistication while the sheer sleeves and beach setting keep things fun and relaxed.
4. Floral Sundress and Panama Hat
Nothing says summer style like a breezy floral sundress. Go for a midi or maxi length in a lightweight, flowy fabric like chiffon or linen. Look for a sundress with a flattering silhouette and a fun, vibrant floral print. Accessorize with a classic Panama hat, woven leather sandals, and a rattan bag. This look epitomizes carefree, casual elegance.
The floral sundress keeps you cool and comfortable, while still looking put together. The Panama hat adds a resort-chic vibe. Stick to flat sandals to stay stable on the sand. This easy, fuss-free outfit allows you to focus on having fun with your sweetheart under the summer sun.
5. Palazzo Jumpsuit Beach Formal Wedding Attire
For beach formal wedding attire, consider a palazzo jumpsuit paired with a kimono-style jacket or wrap. The loose, flowing fabric of a palazzo jumpsuit provides comfort and breathability on a beach wedding day. Look for a jumpsuit in a lightweight material like silk, satin, or chiffon. Neutral colors like ivory, blush, or champagne are elegant choices.
Add a colorful floral kimono in a coordinating hue for a pop of color and a bit more coverage. Finish the look with metallic or beaded sandals and statement earrings. This chic ensemble is both stylish and practical for a wedding in the sand. The palazzo jumpsuit offers an alternative to a dress, with the comfort and ease of pants. The kimono provides a perfect lightweight layer for the ceremony.
6. Printed Maxi Dress with Ruffles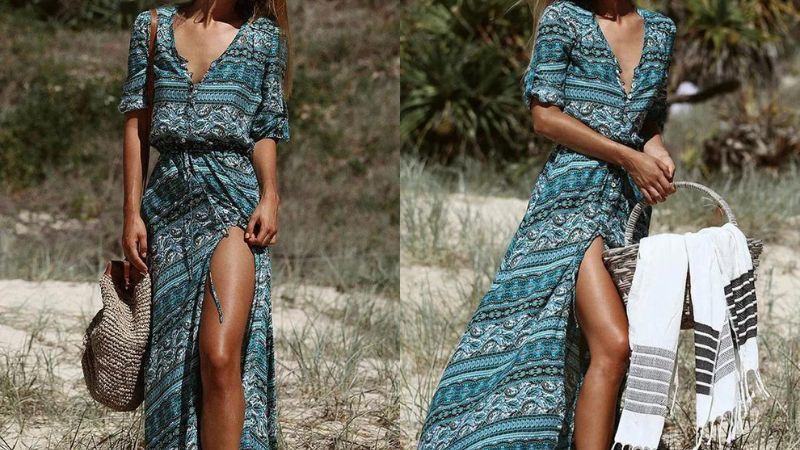 For a beach formal wedding, a long maxi dress is a gorgeous yet comfortable option. Look for a printed maxi in a lightweight, flowing fabric like chiffon or georgette. Subtle prints like floral, paisley, or abstract add visual interest. Add dimension with ruffled trims, tiered skirts, or flutter sleeves. A maxi dress with a slit up the leg also allows for easy movement on the sand. Accessorize with strappy metallic heels and statement earrings.
For a beach wedding, espadrilles, wedges, or embellished flats are chic alternatives to stilettos. A maxi dress with ruffles flatters the figure while providing coverage for outdoor nuptials. The breezy silhouette keeps you cool and comfortable by the water. With vibrant prints and feminine details, this style encapsulates beachside glamour.
7. Crochet Lace Dress with Train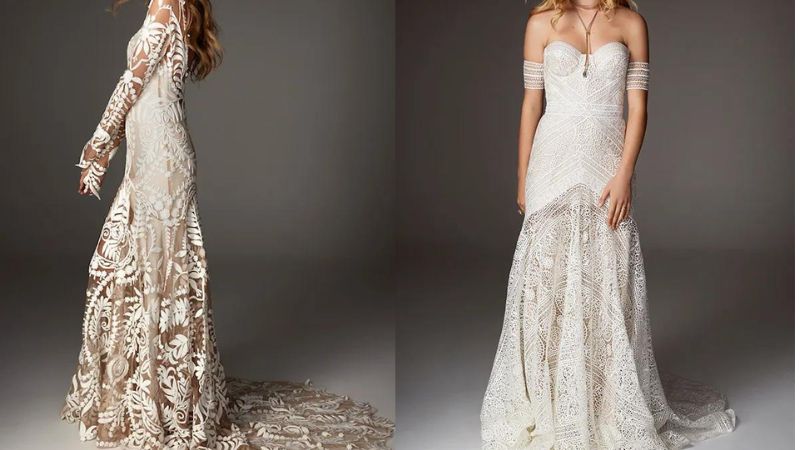 For a formal beach wedding, a crochet lace dress makes a romantic choice. Look for a style with an A-line or trumpet silhouette to highlight your figure. Crochet lace adds visual depth and texture. Opt for a neutral color like ivory, blush, or light blue. Add a sweeping train for drama as you walk down the aisle. This gives a formal touch while allowing movement on the sand. Pair with metallic or rhinestone-embellished heels and simple stud earrings to let the dress shine.
Finish with an elegant updo and mini veil or floral hair pins. The crochet lace and sweeping train balance beachside informality with wedding sophistication. This dress provides coverage while allowing ocean breezes to flow through the open knit.
8. Off-the-Shoulder Gown with Slit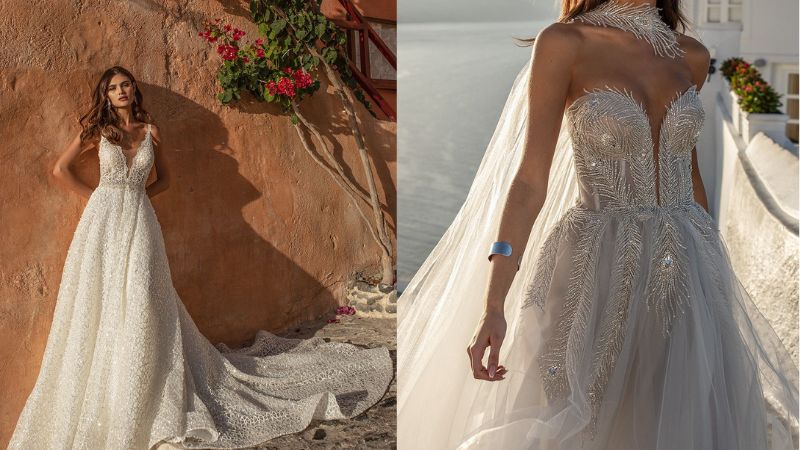 An off-the-shoulder gown makes a stunning choice for a beach wedding. The shoulder-baring neckline keeps you cool in the oceanfront setting. Look for a fitted mermaid or trumpet silhouette to flatter your figure. A front or side slit allows greater ease of movement on the sand. Choose for a lightweight fabric like chiffon, crepe, or georgette that will flutter gracefully in the breeze. Stick to solid lighter colors or simple patterns that won't compete with the beautiful natural backdrop.
Finish the look with sparkling chandelier earrings and crystal-encrusted heels. Wear your hair down in soft curls or an elegant low bun. The off-the-shoulder neckline and leg-baring slit add alluring style to your seaside nuptials. This gown combines romance with a modern, beach-perfect silhouette.
9. Embroidered Kaftan and Sandals
A kaftan is the quintessential beach wedding outfit. The loose, flowy silhouette keeps you comfortable in the tropical climate. Look for lightweight fabrics like chiffon or silk. Vibrant embroidery adds ornate detailing while keeping the overall look airy and beach-appropriate. Pair your kaftan with leather or beaded sandals. Strappy styles show off freshly pedicured feet.
Wedges or espadrilles give you a subtle lift on the sand. With the embroidered kaftan's breezy elegance and the support of casual sandals, you'll look and feel amazing saying your vows by the ocean. This effortlessly chic ensemble brings bohemian romance to your island nuptials.
10. Silk Slip Dress and Floral Crown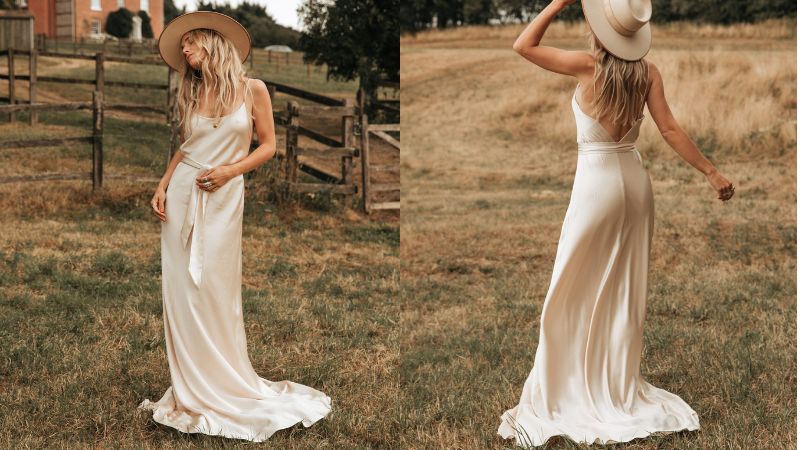 Escape the heat in a slinky silk slip dress. Look for lightweight, flowing fabrics like silk or chiffon that won't cling in the humidity. A floral print looks gorgeous and suits the garden venue and beach formal wedding attire. The spaghetti straps show off a fresh beach tan. Since it's a more revealing look, wear a lace bralette underneath if desired.
The gorgeous headpiece keeps hair off your face and adds a playful, boho accent. Strappy flat sandals are ideal for comfort while sinking your toes in the sand during the ceremony. Simple jewelry like diamond studs and a thin bracelet polish the look. With its effortless allure, the silk slip dress is a chic and comfortable option for beach brides seeking a laid-back vibe.
11. Seersucker Suit and Bow Tie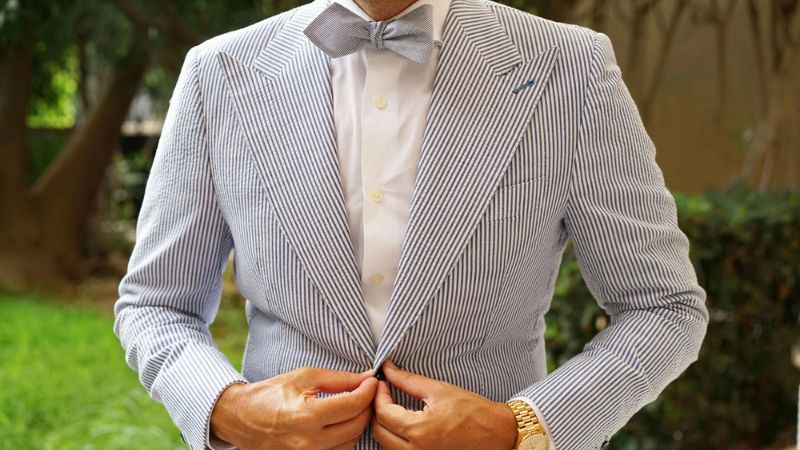 A seersucker suit is a classic choice for a beach wedding that keeps grooms looking sharp but beats the heat. The lightweight cotton suit with its signature puckered striped pattern offers a crisp, tailored look without overheating. Opt for a light blue or gray to complement the seaside setting. Pair it with a white button-down shirt, leather loafers, and a coordinating bow tie for timeless style. Bow ties feel playful and relaxed for a beach wedding.
Skip the tie and leave the top button undone for a more casual vibe. Add sunglasses and a boutonniere on the lapel to finish the dapper resort look. The breathable seersucker suit lets grooms make a sophisticated style statement while staying comfortable on the big day.
12. Tulle Ballgown with Sweetheart Neckline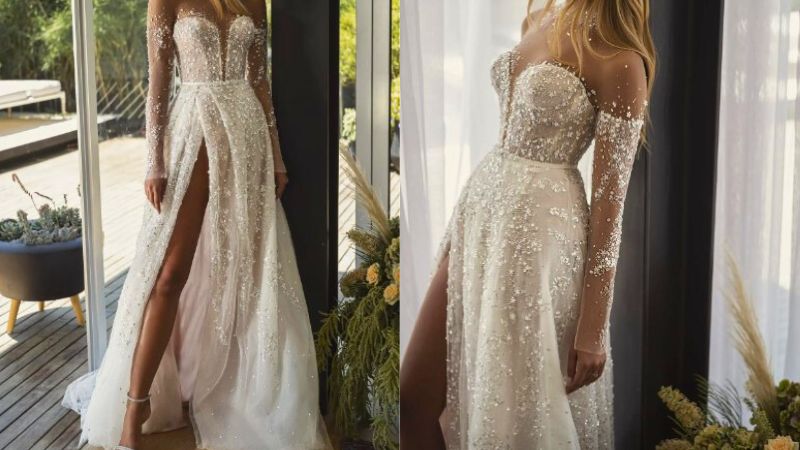 For brides seeking a romantic fairytale look, a tulle ballgown with a sweetheart neckline is a gorgeous option for a beach formal wedding attire. The voluminous skirt and cinched waist create a dramatic silhouette while the sweetheart neckline flatters the bust. A simple A-line cut is ideal for beach terrain.
Look for lightweight fabrics like silk, chiffon, or lace overlays to keep the dress airy. An all-tulle ballgown may be too heavy. Consider a skirt with removable layers to change into for the reception. The sweetheart neckline and full tulle skirt balance modesty and romance perfectly for beach nuptials.
Frequently Asked Questions
What is beach formal attire for a wedding?
Beach formal attire strikes a balance between formal and beach-appropriate clothing. For men, this often means a light-colored suit or linen suit with a dress shirt, tie, and dress shoes. Women can opt for elegant sundresses or lightweight maxi dresses, keeping the beach's relaxed atmosphere in mind.
What colors are suitable for beach formal wedding attire?
For beach formal attire, consider light and airy colors such as light blue, beige, pastel pink, or soft gray. These colors complement the beach's natural backdrop and help you stay cool under the sun.
Are there specific dress code requirements for guests at a beach formal wedding attire?
It's essential to follow the dress code specified by the couple in their wedding invitation. If they request beach formal attire, it's courteous to adhere to this guideline to respect their vision for their special day.
What accessories complement with beach formal wedding attire?
For men, a linen pocket square or a tie with a nautical theme can add a touch of beachy elegance. Women can accessorize with statement jewelry, beach-inspired hairpieces, and clutch purses.
Conclusion
Remember, the true essence of beach formal attire lies in finding that perfect blend of sophistication and comfort, allowing you to move gracefully across the sand and dance under the stars. From flowing sundresses and linen suits to tasteful accessories and comfortable footwear, you have all the tools to express your style while honoring the couple's vision for their special day.
So, as the waves kiss the shore and the sun sets over the horizon, let your beach formal ensemble be a testament to the romance and allure of a beachfront wedding—a timeless memory captured in the sands of time and fashion.