Last Updated on September 30, 2023 by Ruby
The allure of the Wild West, with its sweeping landscapes, rustic charm, and timeless romance, has long captivated our imaginations. When it comes to planning a wedding, embracing the Western wedding theme can infuse your celebration with a unique blend of rustic elegance and down-home charm.
Whether you're drawn to the idea of a classic barn wedding or a more modern take on Western chic, there are countless ways to incorporate this theme into your special day
In this article, we'll explore 10 Western wedding theme ideas that will help you create a rustic yet chic celebration that pays homage to the spirit of the Old West while adding your personal touch to every detail.
Saddle up and get ready to discover inspiration for a wedding that's as distinctive as it is unforgettable.
1. Rustic Ranch Romance
Transform your wedding venue into a picturesque ranch with wooden barns, hay bales, and twinkling string lights. Adorn your tables with wildflowers in mason jar centerpieces, and encourage your guests to embrace the Western spirit by donning cowboy boots and hats.
To keep your guests entertained, consider arranging activities like line dancing or square dancing, complete with a live country band. As the evening progresses, you can even set up a bonfire for everyone to gather around, sharing stories and toasting marshmallows for a truly memorable Rustic Ranch Romance celebration.
2. Vintage Barnyard Elegance
For a touch of rustic charm and vintage elegance, consider hosting your Western wedding in a beautifully restored barn. Decorate with lace curtains, antique wooden barrels, and chandeliers made from wagon wheels to create a warm and inviting atmosphere. As you walk down the aisle, scatter rose petals on the barn's weathered floorboards for a romantic and timeless effect.
To set the mood during the reception, opt for a playlist of classic country songs and even consider hiring a live band that can play folk and bluegrass tunes. With these added touches, your Vintage Barnyard Elegance wedding will transport your guests to a bygone era of rustic refinement and timeless love.
3. Desert Oasis Soiree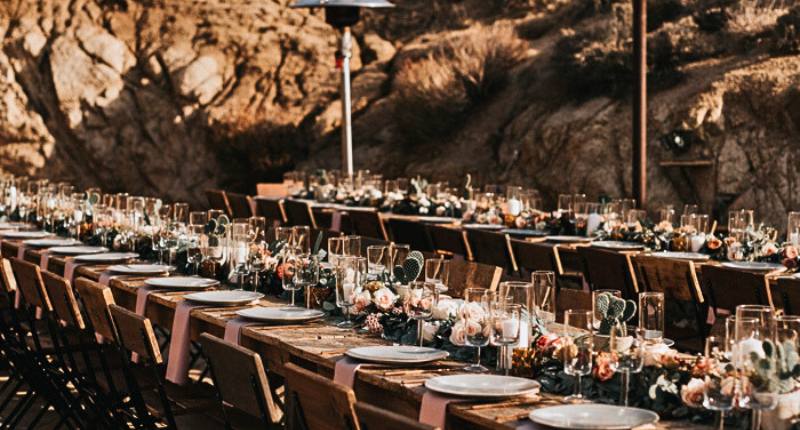 Embrace the rugged beauty of the desert with a Western wedding theme set amidst sand dunes and cacti. Use earthy tones like terracotta, sage, and dusty rose for your decor, and let the natural surroundings serve as your backdrop for a unique and breathtaking ceremony.
Consider incorporating Southwestern cuisine into your menu, featuring dishes like chili con carne, tacos, and prickly pear margaritas to tantalize your guests' taste buds. Enhance the enchanting atmosphere by hiring a local acoustic band to provide live music, serenading your loved ones as they revel in the desert's serenity.
4. Boho Cowboy Chic
Combine Western elements with bohemian flair for a trendy and laid-back vibe. Incorporate dreamcatchers, feathered accents, and vintage rugs into your decor. Opt for a relaxed dress code, allowing guests to mix cowboy boots with flower crowns and fringed vests. Keep your wedding color palette soft and muted, featuring earthy tones like ivory, blush, and faded denim for a harmonious blend of styles.
Create a cozy lounge area with a mix of vintage furniture and plush cushions, inviting your guests to relax and soak in the laid-back atmosphere. For a whimsical touch, consider releasing colorful balloons into the sky during your ceremony or as a joyful surprise later in the evening.
5. Country Fair Extravaganza
Host a fun-filled Western wedding with all the elements of a county fair. Set up carnival games, a pie-eating contest, and a photo booth with props like lassos and cowboy hats. Serve classic fair food like funnel cakes and corn dogs for a casual and entertaining celebration. Create a festive and colorful atmosphere with bunting, hay bales, and string lights, transforming your venue into a whimsical fairground.
For a unique twist, organize a "wedding cake walk" instead of a traditional cake cutting ceremony, where guests can win slices of cake by participating in a lively dance-off. Extend the fair theme to your wedding favors by offering mini jars of homemade jams, caramel apples, or bags of popcorn, providing your guests with sweet memories to take home.
6. Wild West Saloon Soiree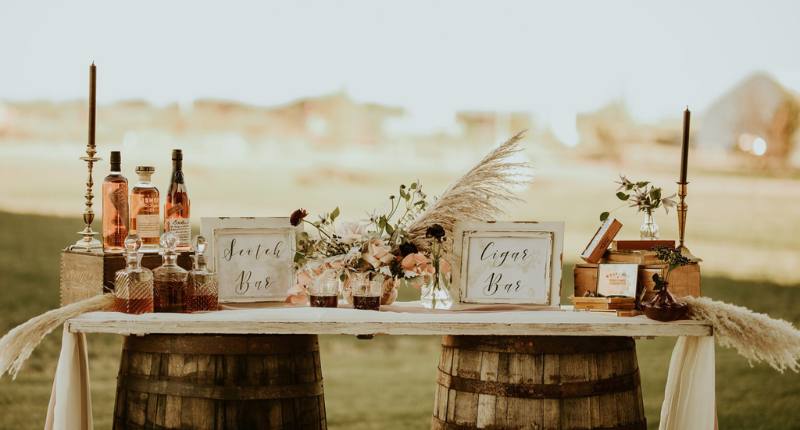 Transport your guests back in time to the Wild West era with a saloon-themed wedding. Decorate with whiskey barrels, rustic wooden bars, and vintage signs. Incorporate a whiskey or bourbon tasting station to add a unique twist to your reception. Set the mood with a playlist of classic country and Western swing music, ensuring the sounds of the Wild West echo through your celebration.
Extend the saloon theme to your wedding favors by gifting guests with personalized shot glasses or engraved flasks, serving as cherished mementos of your Wild West adventure. To cap off the evening, organize a staged Old West showdown complete with cap guns and theatrical flair, giving your guests a taste of the lawless frontier while celebrating your love in style.
7. Cowboy and Cowgirl Celebration
Celebrate your love with a Western wedding that pays homage to the iconic cowboy and cowgirl duo. Dress in complementary Western attire, complete with fringe and denim. Encourage your bridal party to follow suit and embrace the Western theme.
As you embark on this journey together, envision yourselves dressed in complementary Western attire, adorned with fringe and denim. Encourage your bridal party to join in the fun and fully embrace the captivating Western theme.
8. Sunset Rodeo Romance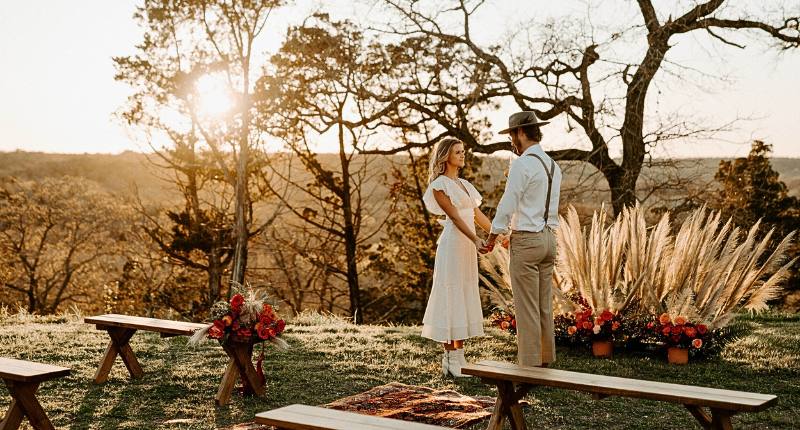 Embrace the warm, sunset-inspired colors like burnt orange, deep red, and rich purple in your decor, creating a visual symphony of colors that mirrors the twilight sky. Seek out a venue with a panoramic view, allowing you and your guests to bask in the breathtaking beauty of the moment as the sun dips below the horizon, casting its golden hues upon your special day. To set the stage for this memorable event, strategically schedule your wedding around a captivating Western sunset, adding a touch of magic to the atmosphere.
9. Horseback Ceremony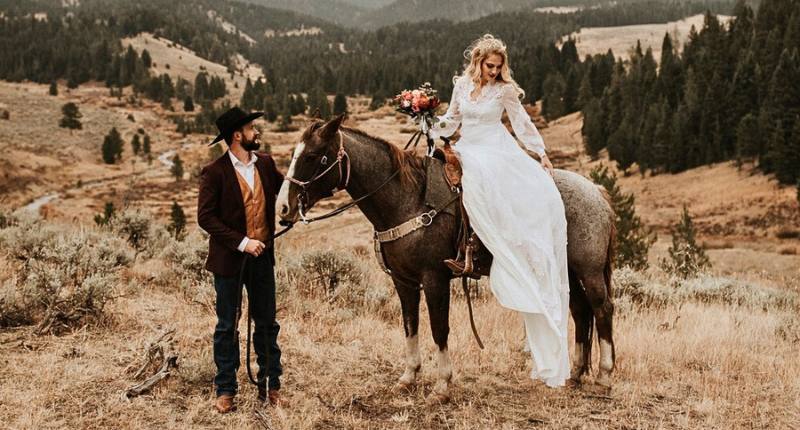 For the ultimate Western experience, exchange your vows on horseback. Whether you're both skilled equestrians or simply want to make a grand entrance, a horseback ceremony adds an unforgettable touch of Western romance to your special day.
10. Campfire Coziness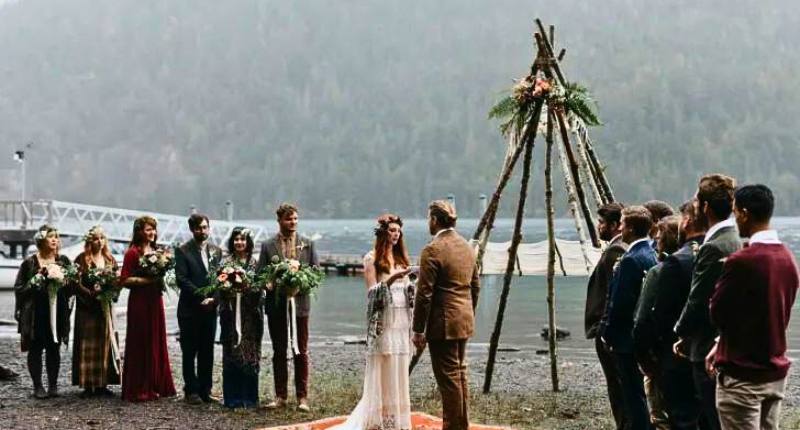 Create an intimate and cozy atmosphere with a campfire-themed wedding. Additionally, arrange seating in a circular fashion around a central fire pit and offer cozy blankets to your guests, ensuring their comfort throughout the evening.
As the night unfolds, invite everyone to gather around the warm crackling fire for the timeless pleasures of s'mores and storytelling, allowing you to forge enduring memories beneath the captivating canvas of the starry Western sky. This rustic setting promises an unforgettable experience for both you and your loved ones.
Frequently Asked Questions
What is a Western wedding theme, and how does it differ from a traditional wedding?
A Western wedding theme draws inspiration from the Wild West, incorporating elements such as cowboy boots, denim, wildflowers, and rustic decor. It often emphasizes a more laid-back and casual atmosphere compared to a traditional wedding, creating a unique and memorable experience.
What are some ideas for Western-inspired decor?
You can incorporate Western-inspired decor by using elements like mason jars, wooden crates, hay bales, and lanterns. Rustic floral arrangements, wildflower centerpieces, and wooden signage can also enhance the theme.
How to create a cozy atmosphere for a Western-themed wedding?
To achieve a cozy ambiance, use elements like campfires, string lights, and candles for lighting. Arrange seating around fire pits and provide blankets for guests to stay warm and comfortable as the evening progresses.
Where to find inspiration and ideas for planning a Western-themed wedding?
You can find inspiration on wedding websites, and social media platforms like Pinterest and Instagram, as well as in rustic chic wedding magazines and books. Additionally, consulting with a wedding planner or talking to couples who have had Western-themed weddings can provide valuable insights and ideas.
Conclusion
Embracing the Western wedding theme for your rustic chic celebration is a journey into a world of timeless romance, rugged elegance, and heartwarming simplicity. These Western wedding theme ideas have offered a range of inspiration, from classic barn weddings to more contemporary twists on Western charm. The Western theme allows you to blend rustic elements with chic details, resulting in a truly unforgettable celebration.
So, gather your inspiration, enlist the help of talented vendors, and let your creativity run free. With these Western wedding ideas as your guide, you're well on your way to crafting a day that beautifully reflects your love and the spirit of the Old West. Happy planning!