If you're planning a wedding, hiring a professional DJ should be at the top of your priority list.
A great DJ takes your celebration to the next level, keeping your guests entertained and ensuring your reception runs smoothly.
From playing the perfect mix of music to making key announcements, an experienced wedding DJ is invaluable.
Read on to learn why you absolutely need a DJ for your big day.
Keeps the Party Going All Night Long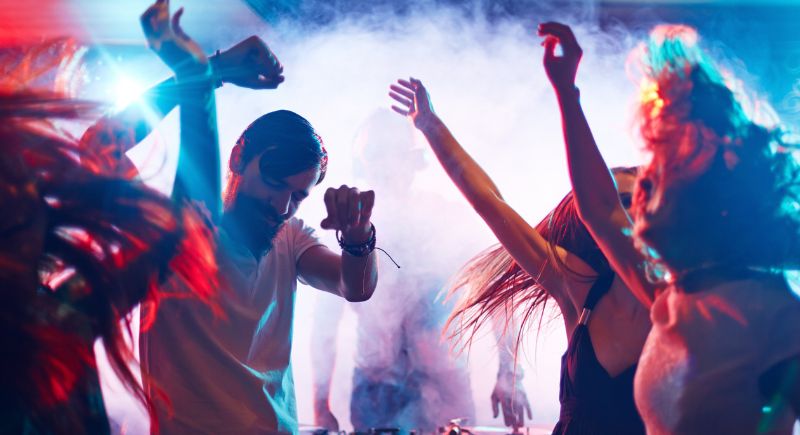 Photo: Canva
A talented wedding DJ will read the room and play songs to keep your guests on the dance floor all reception long. They know how to mix crowd-pleasing tunes that get people up and moving. An iPod playlist just can't compete with a seasoned DJ's ability to transition smoothly between songs and genres. Your DJ will work closely with you to build a customized setlist that reflects your taste and keeps the energy high from cocktail hour through the last dance.
A Wedding DJ Can Read the Crowd and Play Music Accordingly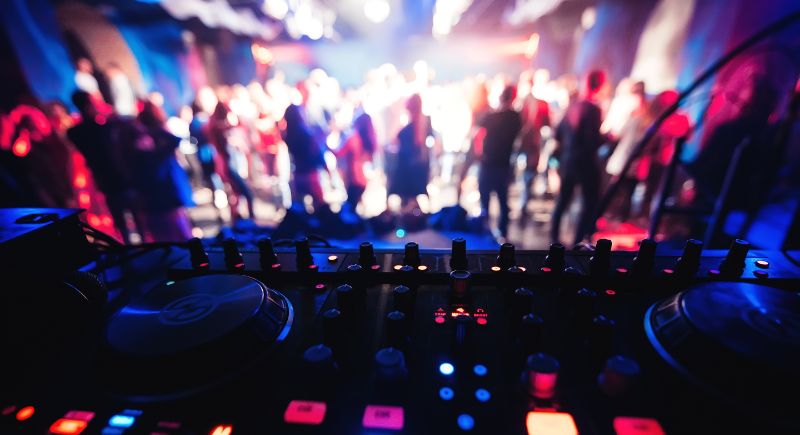 Photo: Canva
An experienced wedding DJ has a sixth sense for reading the dance floor and choosing songs that keep guests engaged. If they see people responding well to a certain genre or artist, they'll mix in similar music to build on that energy. Likewise, if guests don't seem into a song, a skilled DJ will smoothly transition to something more suitable.
A pre-programmed playlist can't adapt in real-time like an intuitive DJ can. With their ability to gauge the mood and adjust the music selection accordingly, your DJ will help create an unforgettable night for you and your guests.
Allows the Bride and Groom to Relax and Enjoy Their Wedding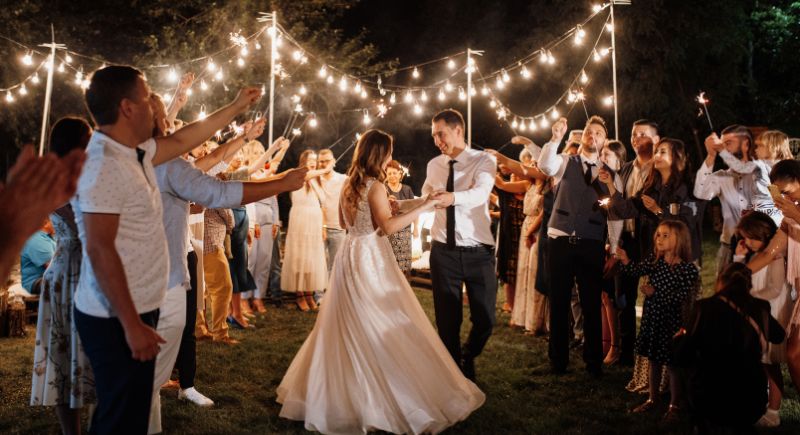 Photo: Canva
On your wedding day, you deserve to be fully present and savor each moment. Hiring a professional DJ lifts the burden of worrying about the music and entertainment. Rather than cueing up playlists or monitoring equipment, you're free to be in the joy of celebrating with loved ones.
An experienced DJ becomes your personal emcee, directing the reception from introductions to last call. They'll make announcements, coordinate with other vendors, and handle any hiccups. With your DJ running the show behind the scenes, you can relax knowing the party is in capable hands.
Make Special Announcements and Coordinate Key Moments
Photo: Canva
Your wedding day involves many special traditions and celebrations beyond just dancing. An experienced DJ acts as your personal assistant, guiding guests seamlessly through each meaningful event. They'll announce the grand entrance, first dance, parent dances, cake cutting, bouquet toss, garter removal, and more.
Your DJ keeps everything on schedule and makes sure no special moment is missed. With clear directions and announcements, your guests will know when and where to be for each highlight of your reception. Lean on your DJ to direct the flow of your event and enable you to be fully present for each cherished memory.
A Wedding DJ Can Provide Lighting, Speakers and Microphones
Photo: Canva
Beyond playing music, your wedding DJ brings an array of technical elements to elevate your celebration. Professional DJ companies invest in state-of-the-art sound systems to fill any venue with dynamic audio for speeches, toasts and music. They can set up microphones and mixers to optimize sound projection and clarity. Uplighting along walls or LED dance floor lighting adds a splash of color and vibrancy.
Intelligent lighting synced to the music creates a club or concert feel. Relying on your DJ for audio-visual services ensures top-quality equipment tailored to your event space for an immersive experience. With their gear and expertise, your DJ transforms the room into an atmospheric party space.
A Wedding DJ Can Take Song Requests From Guests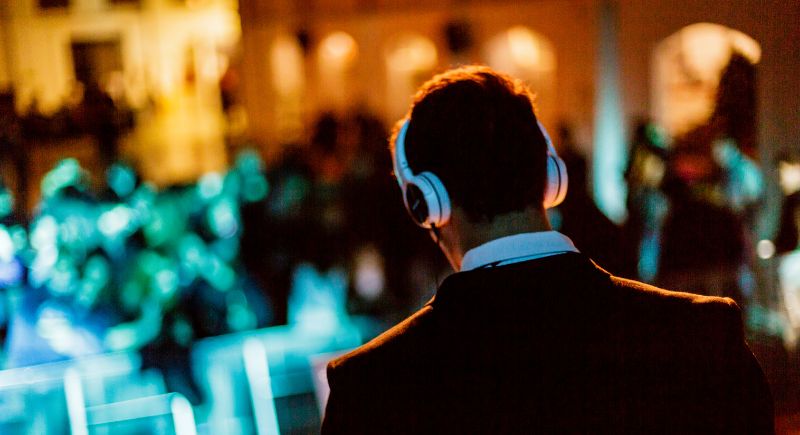 Photo: Canva
Your wedding DJ can engage your guests and get everyone on the dance floor by taking music requests. While you provide your DJ with a must-play song list, taking live requests allows guests to hear their favorites too. A skilled DJ will blend guest picks into the existing music program seamlessly. They can filter inappropriate or irrelevant songs. With access to an extensive music library, your DJ can find and queue up virtually any requested tune.
By monitoring the dance floor momentum, they'll know when to sneak in an upbeat guest request to liven the party. Allowing guests to directly influence the soundtrack makes them feel included in the event. And hearing their songs played will get friends and family of all ages more excited to dance.
Brings Experience Hosting Weddings and Keeping Energy High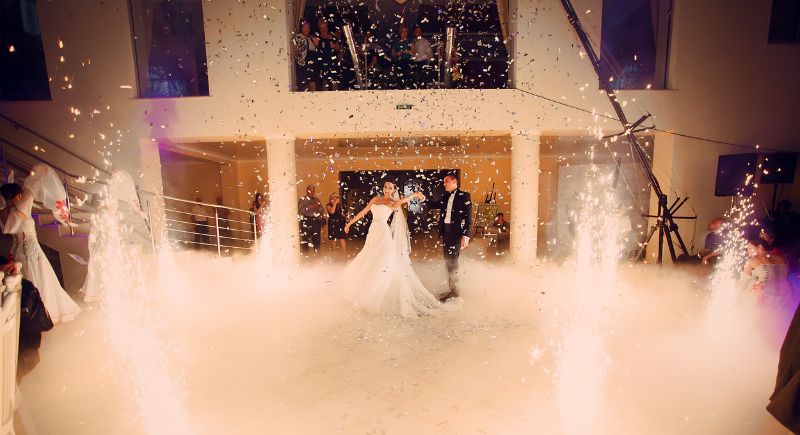 Photo: Canva
An experienced wedding DJ understands how to keep the party going strong all night long. They have hosted countless weddings before yours. So they know how to read a crowd and adjust the music selection to keep guests engaged. A pro DJ comes equipped to handle any curveballs, like changes in the schedule or timing. They know how to pump up the energy after slower moments like the cake cutting or speeches.
And they have backup equipment in case of any technical issues. A seasoned wedding DJ can draw from their expertise to make your reception flow smoothly. They'll use fun games, dances, and interactions to include all your guests. Lean on your DJ's talents to throw an unforgettable party where the dance floor stays packed until the very last song.
Frequently Asked Questions
Is it necessary to have a wedding DJ?
While not absolutely essential, having a professional DJ at your wedding can greatly enhance the atmosphere and flow of the event. A DJ helps curate the musical vibe, make announcements, and keep the celebration moving smoothly.
Can you DJ at your own wedding?
It's generally not recommended for logistical reasons. As the bride/groom, you'll be quite busy on your wedding day. Hiring a professional DJ allows you to relax and be fully present with guests.
Can you just play a playlist at a wedding?
Simply playing a pre-made playlist doesn't provide the flexibility a live DJ does. A DJ can read the room and make real-time adjustments to keep guests engaged.
Is a DJ better than a band for a wedding?
DJs and bands both have pros and cons. A DJ provides a wide variety of musical genres and seamless transitions between songs. Bands bring energy and audience interaction. Consider your budget and preferences.
Conclusion
Having a professional DJ at your wedding can truly enhance the celebration. A DJ helps set and maintain the musical vibe, make key announcements, and keep the party flowing smoothly. With their ability to read the crowd and make real-time adjustments, a quality wedding DJ helps create an unforgettable experience for you and your guests. For these reasons, booking a wedding DJ should be strongly considered by couples planning their special day.